November 05, 2015
News Briefs
Food Drive Continues Through Nov. 16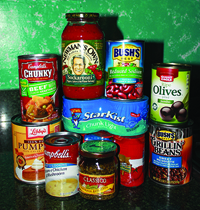 Carnegie Mellon's 22nd annual Food Drive, sponsored by Staff Council to benefit the Greater Pittsburgh Community Food Bank, runs through Monday, Nov. 16. Collection containers have been placed in many university buildings, including the Cohon University Center.
Mark your calendars for these important Food Drive events:
Nov. 12 - Snack Bags for Kids
Deliver snack item donations to Gates 7117 or Mellon Institute 406, from 9 a.m. to 4 p.m. through Nov. 11. Help pack the snack bags on Nov. 12, from 11:30 a.m. - 1 p.m. in Gates 7101.
Nov. 16 - Cans Across the Cut
Bring donations to the Cut from 9 a.m. - 4 p.m. to help make a line that will reach across campus. A trophy will be awarded to the group that brings the most donations.
Make Your Benefit Elections for 2016 

Open Enrollment for 2016 benefits is underway. You must make your elections through Workday by 5 p.m. ET, Monday, Nov. 16. Open Enrollment is employees' annual opportunity to review benefit coverage options and make choices for the upcoming calendar year.
There are no changes to plans or providers for 2016, with many plan rates remaining consistent with 2015 rates. Moderate rate increases will apply to a few plan options. In addition, the Health Care Flexible Spending Account limit is increasing to $2,550.
Representatives from HR Benefits and the CMUWorks Service Center will be available at a Workday Open Enrollment Workshop Nov. 10 at Hunt Library to provide one-on-one assistance to employees as they enroll through the system. Registration for the Workshop through FocusU is encouraged.
For information about 2016 benefits, visit the 2016 Open Enrollment site.
Cyert Center Educators To Participate in National Conference
Cyert Center for Early Education educators have created and will be participating in a national conference in Pittsburgh, Nov. 9 – 10, titled "Bridging Partnerships on the Path of Learning: Action and Industry as Agents for Change."
A panel of Cyert Center educators — Mary Moore, Barbara Moser, Sheena Krug, Brianna Moskal, Mary Rose Debor and parent Bernardine Dias — moderated by former Cyert Center Director Judy Abrams, will share how their experiences with the Reggio Emilia Approach for preschool and primary education have changed their teaching and learning. The Reggio Emilia Approach is based on the principles of respect, responsibility and community through exploration and discovery in a supportive and enriching environment based on the interests of the children through an emergent curriculum. Discussion topics at the conference will include negotiated curriculum, project work, partnering with parents and professional development initiatives.
The conference is being held in conjunction with "The Wonder of Learning: Hundred Languages of Children" exhibition, which the Cyert Center, as members of the Reggio Emilia Pittsburgh Initiative, brought to Pittsburgh's David L. Lawrence Convention Center. The 7,000 square foot exhibit highlights the work of the children and teachers from the infant toddler centers and preschools in Reggio Emilia, Italy.
Student Projects Selected for CMU Crowdfunding
Five student projects have been selected to kick off CMU Crowdfunding for the 2015-16 school year.
Sponsored by University Advancement through the Office of Alumni Relations & Annual Giving, CMU Crowdfunding is open to students, faculty and staff who have projects that directly impact and benefit CMU students and have funding goals between $2,000 and $10,000.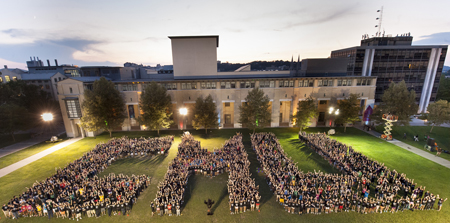 Projects are live on crowdfunding.cmu.edu for approximately 30 days each, when individuals can make gifts directly to the project of their choice via credit card. Payments are processed through CyberSource, a secure payment processing system used by Carnegie Mellon.
Current projects are:
Future Ten: Future Ten is Future Tenant's annual 10-minute play festival. This year, the production is being taken in-house for the first time. Funds will help with compensation for local artists, lights, props, stage settings and production.
CMU Global Medical Brigades: Carnegie Mellon Brigadiers are setting up a free medical clinic in Panama this spring break. All funds go directly to purchasing medications to stock their clinic.
CMU Figure Skating Club: The CMU Figure Skating Club is headed to Cornell for its first competition on its way to becoming a nationally recognized collegiate figure skating team. Funds will help cover hotel costs, transportation, registration fees and ice time expenses.
CMU Formula SAE Racing: Carnegie Mellon Racing competes in Formula SAE Racing, a collegiate competition in which students design, build, test and race Formula 1 style racecars. Funds will be used to purchase raw materials for mechanical parts and other electronic components for the car.
Heritage Scholarship Campaign: The Heritage Scholarship Campaign is a student-run effort to endow a substantial undergraduate merit scholarship in the School of Music.
All gifts to CMU Crowdfunding projects also are gifts to CMU, are eligible for a tax deduction and count toward eligibility in CMU donor recognition societies, such as the Andrew Carnegie Society and Order of the May.
Learn more, submit a project application, and/or support a project today at https://crowdfunding.cmu.edu.
Engineering Seeks Staff Award Nominations
The College of Engineering Staff Awards Committee is seeking nominations for the Annual College of Engineering Staff Recognition Awards. The nomination deadline is Nov. 9.
Details on the nomination process and a list of eligible staff are available online. 
Seeking Applications for Posner Fine Arts Internship
The Posner Fine Arts Foundation funds one internship per semester for a CMU student to do individual research in the Posner Memorial Collection (rare books) and prepare a public exhibit. Interns receive a $3,000 stipend and work 15 hours per week to create their exhibits in collaboration with librarians. Hear recent interns talk about their experiences.
To apply, submit an application essay (project proposal) by Nov. 30. To earn academic credit for the internship, the student must obtain permission from the department or school before the internship begins and it is helpful to have a faculty adviser. The Posner Center internship program fulfills the Posner Fine Arts Foundation's mission for education, visibility and use of the Posner Memorial Collection by enabling students to participate in an active, collaborative learning experience; integrate knowledge from a variety of sources and fields; and present ideas in an exhibit and online project.
If you have questions about the internship, contact Mary Catharine Johnsen at 412-268-6622 or mj0g@andrew.cmu.edu.
Swimming Lessons Offered
CMU is offering private 30-minute swimming lessons for children, ages 3 and up, and adults. Two lessons are $60, five lessons are $150 and 10 lessons are $300. You must purchase a punch card at the Cohon University Center equipment desk. Cards must be purchased via debit card or credit card.
For a registration form, please contact Aquatics Director and Head Diving Coach Alicia Gorman at aliciag@andrew.cmu.edu. Once you have submitted your registration form you will be assigned an instructor. The instructor will contact you to schedule your lesson. You will need to bring your punch card to every lesson to have it punched.
Contact Gorman with questions at aliciag@andrew.cmu.edu or 412-268-2627.
PSO Offers Discounts to West Side Story
The Pittsburgh Symphony is offering discounts to CMU students, faculty and staff for their upcoming shows at Heinz Hall. Students can purchase tickets for $15, and faculty and staff tickets are available for $20.
The PNC Pops season continues with West Side Story at 8 p.m., Friday, Nov. 6, 2:30 and 8 p.m., Saturday, Nov. 7 and at 2:30 p.m., Sunday, Nov. 8. This cinematic event features the Pittsburgh Symphony playing Leonard Bernstein's electrifying score live while the newly remastered film is shown in high definition on the big screen. Don't miss the chance for you and your gang to fall in love with the magic of West Side Story all over again!