December 08, 2015
First Class
CMU Post Office Delivers With Care
By Leigh Kish /
lkish@andrew.cmu.edu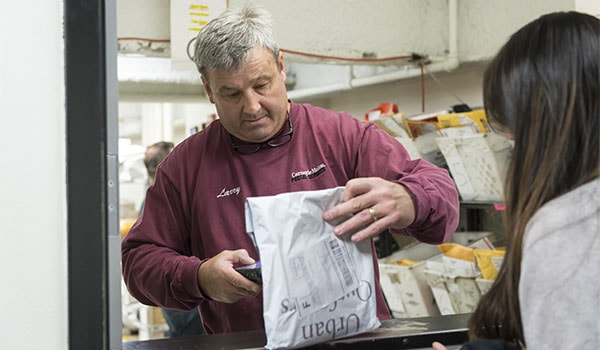 Larry Whiteherse, mailroom distribution services supervisor, scans a package before handing it over to its owner.
The hustle and bustle of the holiday season will hit the U.S. Postal Services hard on Dec. 21, when a predicted 30 million letters, cards and packages will be delivered to homes and businesses around the country.
But Ray Perret and his staff at CMU's Postal Services will be feeling quite merry.
Their busiest time of year has come and gone and thanks to the handy work of CMU industrial engineering students and a new tracking system they handled it quite well, thank you.
In the six-week period between mid-August and the end of September, the post office receives nearly 4,000 packages a day. By October, the rate levels off to between 4,000—5,000 per week.
And the numbers are growing.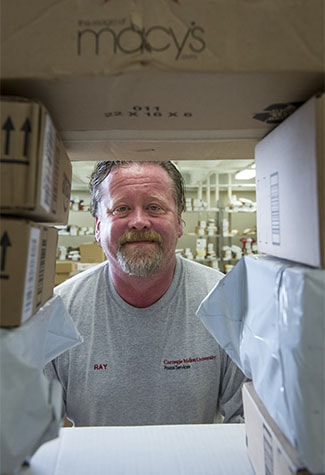 Ray Perret, manager of postal services at CMU,
peers out through a gap in packages.
Perret estimates the total number of packages has increased more than 50 percent over the last six years. In 2008, CMU's post office received 107,015 packages, compared to 165,489 in 2014. Package deliveries for the university departments add an additional 32,500 parcels annually to the workload.
CMU's Postal Services team has online retailers to thank for the increase in packages. Perret said he's seen a "greater student reliance on online retailers such as Amazon."
Textbooks, as well as living essentials and food, are now making their way to students via the post office instead of by trips to the brick-and-mortar bookstores or supermarkets. Perret noted that for students living on campus, receiving goods through the mail can certainly be more convenient than hauling bags of groceries onto a bus.
Much like USPS, the postal service team at CMU has been working to improve processes and facilities to handle and deliver the ever-growing number of packages. One improvement came from CMU industrial engineering students.
"The students made excellent recommendations on layout and how to improve our workspace," said Perret, who explained that packages are now placed into zones according to size making it easier to retrieve them.
Technologies also have improved. A state-of-the-art tracking system allows the mail staff to keep tabs on packages in their possession and instantly alerts students via email that a package is available for pick up. Not only are the packages more secure with this system, the process is more efficient and timely, helping the mail team stick to their goal of keeping parcels moving.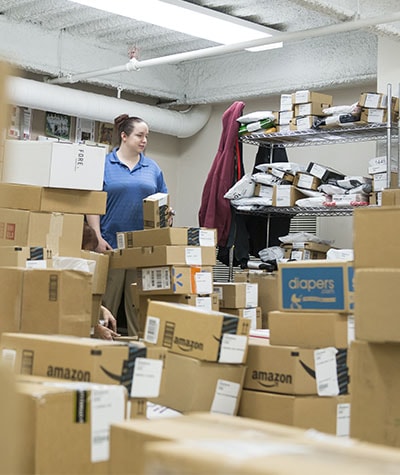 Courtney Gesky was hired full-time as a
package handler after her stellar
performance as an intern.
Perret said it's important for his staff to follow the "one day in and one day out" mantra as many packages are of utmost importance, sometimes containing medicines or VISA and passport paperwork.
As helpful as the new layout and technology are, Perret says the system wouldn't work as well without the dedicated, "student-centered staff that really cares that the correct package gets to the correct student as soon as possible."
The university's postal services team comprises 11 full-time employees who help to prepare the mail for delivery, work the pickup window and post office counter, and deliver mail to CMU buildings throughout the city.
Interns from the Pittsburgh Public Schools Start on Success program also are critical to the success of the Postal Service Department. The Start on Success program was developed to increase the career potential of students with learning disabilities and provide those students with real-world employment experience at different partner worksites. Perret said five or six students per year work each afternoon after school to help sort and deliver parcels.
Perret said the student interns see the value they bring to the CMU community and how they can succeed in the workplace. Courtney Gesky, after stellar work performance as an intern, was hired as a full-time staff member after graduating from Taylor Allderice High School three years ago.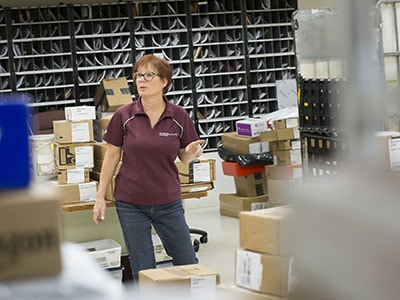 Shirley Brown, student mail package associate, carefully thinks
through her next steps to keep the mail moving.
"Start on Success is a good program to help students get out there and experience what the real world will bring, and what jobs are really like, not what we think they are like," Gesky said.
Now Gesky has the opportunity to work with and give advice to new Start on Success participants.
"I tell them to 'take it easy. Don't rush around, but focus on one box at a time.' Students think they need to hurry up to be good. It's pretty overwhelming to walk in and see all of the packages."
"The students are very proud to work here and are happy to be associated with Carnegie Mellon," Perret said.
And Perret is proud, too. The CMU Postal Service Department was named the Start on Success Mentor of the Year in 2012 and Worksite of the Year in 2014.
Perret and his staff will be enjoying the holidays, but they know it won't be long until the hustle and bustle starts all over again when classes resume in January.