May 07, 2015
News Briefs
Parking Open Enrollment Runs Through May 15
Open enrollment for campus parking is now underway and will continue through May 15 at http://www.cmu.edu/parking/permits/index.html. You may apply at any time during this period as the date of your application has no bearing on the prioritization of your permit allocation. New assignments will be announced in July and become effective Sept. 1.

Construction for the Tepper Quad, set to begin this month, will result in a reduced number of spaces available in the Morewood Lot. During the 2015-2016 parking year, Morewood will have 245 of the current 636 spaces available.
To compensate for the space reduction, additional parking will be added in the following locations: Filmore Street Lot (37 spaces), South Neville Lot (134 spaces), and South of Forbes Lot (100 spaces). Pricing for these new lots will be the same as the Morewood Lot. Additional spaces also will be available in the Collaborative Innovation Center Garage, the Electric Garage Lot and the Clyde Street Lot. The new parking areas can be found on the map at http://www.cmu.edu/parking/forms/Parking%20Diagram.pdf.
With the new spaces for 2015-16, the overall reduction due to Tepper Quad construction stands at 62 spaces, a 1.9 percent reduction from last year's 3,422 available spaces.

As in recent years, the average rate increase for the coming year will remain at 3 percent.
Anyone wanting a permit to park on campus during the coming year must apply using the online system. Everyone must re-apply each year. Individuals applying for a carpool permit must complete a paper application, which can be faxed (412-268-7825) or returned to the Cohon University Center Parking Office.
For those holding permits for the Morewood Lot, please note initial construction work during this summer will affect only about 100 spaces. This should not be a problem during the summer, but in the event the lot is full, Morewood permit holders may use their ID card to access the East Campus Garage through Aug. 31.
Questions can be directed to Michelle Porter at mporter@andrew.cmu.edu.
CMU's Electric Racecar Is Tops in Design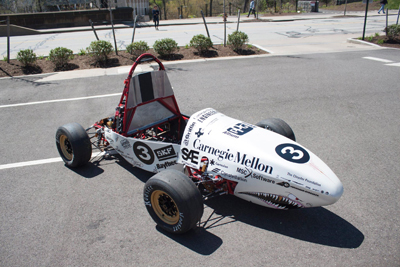 Carnegie Mellon Racing enjoyed its best finish ever with a first-place finish in Electric Design and a second-place standing overall in the Electric Class at the Society of Automotive Engineers (SAE) Formula 1 Hybrid Championships at the New Hampshire Motor Speedway last week. CMU also won the IEEE Excellence in Electric Vehicle Engineering Award.
Carnegie Mellon Racing comprises more than 100 undergraduate CMU students from across a range of disciplines within CMU and its College of Engineering. Each year students collaborate to design, build and test a brand new Formula 1 style racecar. This year is the second in which CMR has built a 100 percent electric vehicle to compete in the electric competitions of the Formula 1 SAE circuit.
Learn more about Carnegie Mellon Racing. 
Alumni, Students Organize Earthquake Relief Efforts
CMU alumni and students are creating and supporting numerous relief efforts for victims of the 7.8-magnitude earthquake that hit Nepal on Saturday, April 25. Here are examples of efforts underway:
Pittsburgh-based watchmaker Michael Kobold (DC'01) recently co-founded the Soarway Foundation to provide disaster relief and development aid to Nepal. Kobold has reached the summit of Mount Everest twice, and Nepal's prime minister appointed him a goodwill ambassador in 2012. Kobold's connections to the region and the foundation have been featured on Forbes.com and in the Pittsburgh Post-Gazette and Pittsburgh Tribune-Review.
Suman Giri (E'13, '15) is working with fellow Nepali students at CMU and the University of Pittsburgh and the Nepali Association of Pittsburgh to raise funds online for the American Nepal Medical Foundation's relief fund and International Medical Corps. Both organizations are providing resources and manpower for medical personnel in the regions affected by the earthquake. Facebook is matching donations made to IMC up to $2 million.
The Nepali students also worked with the FORGE student organization and Taste of India to raise more than $2,000 through the Stay Strong Nepal: Nepali Tea Fundraiser on April 28 outside Doherty Hall. Email cmupittnepal@gmail.com to connect with Giri and the Nepali student group regarding additional fundraising efforts.
Margaret Morrison Street Closing for Commencement
On Commencement Sunday, May 17, Margaret Morrison Street will be closed to all vehicular traffic from 6 a.m. to 2 p.m. to accommodate commencement shuttles.
Emerging Leaders Stand Up for Homeless Children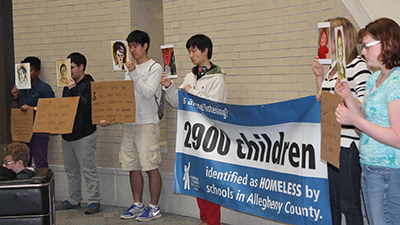 CMU's Emerging Leaders and friends recently presented the "Stand Up for Homeless Children" performance art installation in the Cohon University Center. They stood in silence for 15 minutes holding a drawing of the face of a child in front of their own face to represent the 2,900 Allegheny County children and youth who were identified by their schools as experiencing homelessness last year.
The installation has been performed eight times at Duquesne, five times at Pitt, once at Slippery Rock and Point Park and at various schools and malls.
For more information, contact Kristen Smith at kdsmith@andrew.cmu.edu or Susy Robison at srobison@homelessfund.org or 412-562-0154.
The Emerging Leaders program is a unique leadership opportunity for approximately 100 first-year students every spring at Carnegie Mellon. The program strives to promote the development of leadership skills through collaborative civic engagement and service in the Pittsburgh community by focusing on a self-planned community service project.
Carnegie Mellon Women's Association Presents Awards to Four Graduating Seniors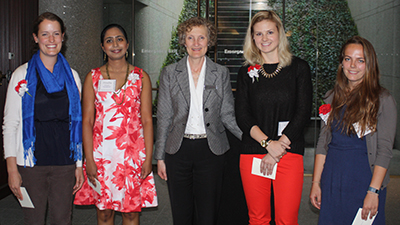 On April 22, the Carnegie Mellon Women's Association (CWMA) presented four $1,000 awards to graduating seniors. Pictured (l-r) are Emma Livne (DC'15), Nivedita Chopra (SCS'15), CMWA Honorary President Mary Suresh, Penelope Hopen (CFA'15) and Kathryn McKeough (MCS'15).
The award tradition began in 1964 with the club providing financial support to outstanding women, rotating between the six undergraduate colleges, in support of their plans upon graduation.
Each year the CMWA works with deans and department heads to nominate three outstanding senior undergraduate women. A fourth scholarship is given in honor of Mary Suresh and her dedication to the health care industry. For more information on the CMWA, visit the organization's website.
Blum's Academic Descendants Gather for Celebration

The academic descendants of Manuel Blum, a University Professor and the Bruce Nelson Professor of Computer Science, will gather at Carnegie Mellon this weekend to pay tribute to their mentor and friend at the Magic 77 conference in the Gates and Hillman centers.
The "77" in the conference title not only refers to Blum's age, but is an example of a Blum integer, a semiprime number with "magical" properties that have been useful in such applications as cryptography. Blum is a 1995 recipient of the Turing Award, the highest honor in computer science, in recognition of his contributions to the foundations of computational complexity theory and its application to cryptography and program checking.
Magic 77 will include a Friday night reception and dinner, and a Saturday conference at which all of the session chairs and speakers will be Blum's former Ph.D. students and their students. Blum now has about 520 academic descendants; even some great-great-grandstudents are expected to attend the conference. A number of the speakers are scientists prominent in their own right, including Turing, Kanellakis, Knuth and MacArthur award winners.
Carnegie Mellon and Astrobotic Awarded NASA Contracts
NASA's Small Business Technology Transfer (STTR) Program has awarded $375,000 in contracts to Astrobotic Technology and Carnegie Mellon to develop sensing and navigation technologies for finding minerals and other resources on the moon, Mars and other planets.
 
"Water, minerals, and volatiles are critical resources for exploration of the solar system, but they are trapped in rugged, dark, and remote terrain," said Kevin Peterson, Astrobotic's chief technology officer. "The technology we are developing in this research will enable robots to robustly search and explore dark and dangerous environments."
 
Astrobotic and CMU will work together to develop sensors and software to detect the location of minerals in lunar soil, imaging and mapping technologies to help robots navigate shadowed areas within craters, and navigation and perception technologies that would enable flying robots to explore craters and caves without communication back to Earth.
 
"Today's robots are great at driving on the surfaces of planets, but they cannot reach or explore the caves that lie below," said William "Red" Whittaker, professor of robotics and Astrobotic's chairman and chief science officer.
 
"These caves are important," he added, "because they could protect explorers from radiation, meteorites, and extreme temperatures on the surface. We will develop technology to guide flying robots into steep, confined underground spaces where traditional robots cannot tread."
 
Learn more
New Look for News Home
Carnegie Mellon's online news site has unveiled a new design to better communicate with the growing number of visitors using mobile devices and to complement the recent refresh of CMU's homepage.
The news website is a resource where reporters, visitors and members of the CMU community can find stories about university research, education and events, as well as students, alumni, faculty and staff.

Created by Marketing & Communications, the new look, which features larger images and a more streamlined design, is part of a longer-term Web redesign project that will include a discovery process and an overhaul of the site architecture.
PSO Offers Discounts for CMU
The Pittsburgh Symphony Orchestra is offering discounts to CMU students, faculty and staff for upcoming shows at Heinz Hall. For this series, students can purchase tickets at a special discounted rate of $5; faculty and staff tickets are available starting at $20.
At 7:30 p.m., Friday, May 15 and Saturday, May 16, and at 2:30 p.m., Sunday, May 17, the Pittsburgh Symphony will strut its stuff in The Sound of a Modern Symphony — a performance of Bartok's Concerto for Orchestra — showcasing the power and versatility of the modern orchestra. This program also includes a premiere of Bates' Alternative Energy and Jake Heggie's The Work at Hand, featuring the symphony's principal cellist Anne Martindale Williams and mezzo-soprano star Jamie Barton.
To purchase tickets, go to www.pittsburghsymphony.org/cmu.
Kennywood Park Picnic is June 13
CMU's Staff Picnic at Kennywood Park, presented by Staff Council, will be Saturday, June 13. CMU employees can purchase two Funday tickets for $15 each (valid only on June 13) and additional Funday tickets for $22 each (limit 10). Pavilion 7 will be reserved for the CMU community. The children's prize giveaway and ice cream distribution will be at 1 p.m. at Pavilion 7. Ticket sale times and dates are as follows:
June 2, Cohon University Center, 11:30 a.m. - 1 p.m.
June 3, Mellon Institute, 11:30 a.m. - 1 p.m.
June 3, Cohon University Center, 4:30 - 5:30 p.m.
June 5, Cohon University Center, 11:30 a.m. - 1 p.m.
June 10, Cohon University Center, 11:30 a.m. - 1 p.m.
June 11, Cohon University Center, 11:30 a.m. - 1 p.m.
June 12, Cohon University Center, 11:30 a.m. - 1 p.m.
You must have your own CMU ID to purchase tickets. Cash only.