Google VP Returns To Lead Computer Science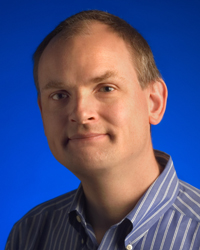 Google Vice President Andrew W. Moore has been selected as the new dean of Carnegie Mellon's renowned School of Computer Science (SCS), effective this August. Moore, a distinguished computer scientist with expertise in machine learning and robotics, served as a professor of computer science and robotics at CMU before being named founding director of Google's Pittsburgh engineering office in 2006.

"Andrew Moore combines an expansive vision, scientific expertise, and leadership strength that make him extraordinarily well suited to be dean of the School of Computer Science," said Carnegie Mellon President Subra Suresh. "As computing grows ever more critical to our global society, the scope of SCS and its importance to the world will continue to expand and its impact on the human condition will be more evident. Andrew is particularly well positioned to lead the school at this time."
Related Links: Read the press release | School of Computer Science
__________________________________________________________
Unplug It! Workplace Dashboard Can Save Energy

A team at Carnegie Mellon's School of Architecture and the Center for Building Performance has developed a dashboard that helps people to see how much energy they use at work and how they can reduce their use to help the environment.
Ray Yun,
a doctoral student, has developed an Intelligent Dashboard to evaluate plug load energy savings in the workplace. Plug load refers to how many things are actually plugged into outlets at your desk and, as a result, use energy.
A CMU study showed that using the CMU Intelligent Dashboard offered significant energy savings for corporations. Those savings were most visible when laptops, computer monitors, lights and phones were turned off at night and on weekends.
Related Links:
School of Architecture
|
Plugwise
|
Center for Building Performance and Diagnostics
|
Read the release
_______________________________________________________________________
Couple Contributes $1M Toward Tepper Quad

Carnegie Mellon has received a $1 million gift from alumna Gunjan Kedia (TPR '94) and her husband, Sridhar R. Tayur, the Ford Distinguished Research Chair and professor of operations management at the Tepper School of Business, in support of the David A. Tepper Quadrangle.
Announced last fall, the Tepper Quad will include a new home for the Tepper School while integrating programs, curricula and research from across the university's world-class schools and colleges.
"Our 20-plus years of association with the Tepper School and Carnegie Mellon have been rewarding, both professionally and personally. We are excited to contribute toward and to be a part of the new Tepper Quadrangle, and we look forward to many more decades of being engaged with the university," Kedia and Tayur said.
Kedia earned her MBA, with distinction, at the Tepper School in 1994 and is currently executive vice president in State Street Corporation's Investment Services division.

Related Links: Tepper Quadrangle | Tepper School of Business | Read the release