Launching a New Approach to Brain Research
Carnegie Mellon will host
Tom Insel
(pictured), director of the National Institute of Mental Health, for a keynote address, an inside look into what's behind the NIH BRAIN Initiative, at 10:30 a.m., Tuesday, Aug. 26 in Rangos 1 and 2 of the Jared L. Cohon University Center. CMU President
Subra Suresh
will provide opening remarks.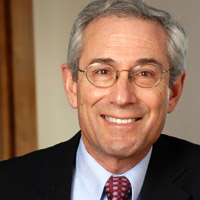 Insel's talk will be followed by a panel discussion on CMU's interdisciplinary brain research and how the work will tackle challenges on a global scale by harnessing new technology to explore brain and behavior.
Joining Insel on the panel will be CMU faculty and research partners from the University of Warwick in the U.K., and Sun Yat-sen University (SYSU) in China.  
The panelists are:
Marlene Behrmann, the George A. and Helen Dunham Cowan Professor of Cognitive Neuroscience at CMU, and co-director of the Center for the Neural Basis of Cognition;
Alison Barth, CMU professor of biological sciences;
Tom Mitchell, the E. Fredkin University Professor and chair of the Machine Learning Department at CMU;
Theodoros N. Arvanitis, professor of e-Health Innovation and head of research at the Institute of Digital Healthcare, WMG, at the University of Warwick;
Dr. Mengfeng Li, vice president of SYSU, the Cheong-Kung Professor of Medicine and dean of the SYSU Zhongshan School of Medicine; and
Tom Insel, director of the National Institute of Mental Health.
CMU Interim Provost Nathan Urban, professor of biological sciences, will moderate the discussion and provide closing remarks.
Related Links: Read More | About Tom Insel 
_______________________________________________________________
Alumna Wins an Emmy Award, Two Up for Prime-time Honors Monday on NBC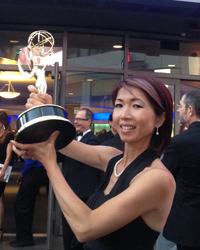 It's another awards show in the entertainment industry and once again Carnegie Mellon alumni are shining in the spotlight.

Chikako Suzuki (A'04), pictured, won her first Emmy Award last weekend for her art direction in the Showtime comedy series "House of Lies." Suzuki, who earned a master's degree in scenic design from the School of Drama, won in the category of Outstanding Art Direction for Contemporary Art Program (half-hour or less). She received the award during the Creative Arts Emmys Show, Aug. 16.
Two alumni hope to join her as 2014 Emmy winners on Monday, Aug. 25, during the 66th Annual Prime-time Emmy Awards broadcast beginning at 8 p.m. EDT on NBC-TV. Matt Bomer (A'00) is nominated for Outstanding Supporting Actor in a Miniseries or a Movie for his performance in "The Normal Heart," and Jeffrey Klarik (A'69) is a nominee for Outstanding Writing for a Comedy Series for his work in "Episodes."

In all, 13 Carnegie Mellon alumni were nominated for 2014 Emmy Awards; 11 were in the creative arts platform.
Related Links: Read More | CMU's Emmy Award Winners