Computational Method Could Help Treat Cancer

Computer scientists at Carnegie Mellon, working with breast cancer biologists at Lawrence Berkeley National Laboratory, have devised a computational method to determine how gene networks are rewired as normal breast cells turn malignant and as they respond to potential cancer therapy agents.
The method could provide new insights into cancer and identify the most promising molecular targets for drug therapy. In their study, for instance, the researchers were able to show how changes in these gene networks led breast cancer cells to develop resistance to several different agents being evaluated as drugs for targeted therapy.
"With our system, pharmaceutical developers wouldn't need to go to expensive clinical trials to discover that a drug isn't going to work," said
Wei Wu
(right), associate research professor in CMU's Lane Center for Computational Biology. "It could save them a tremendous amount of money and a tremendous amount of time."
Related Links: Read More | Lane Center for Computational Biology | Lawrence Berkeley National Laboratory | School of Computer Science
________________________________________________________________
Tackling Sexual Assault With Mobile Apps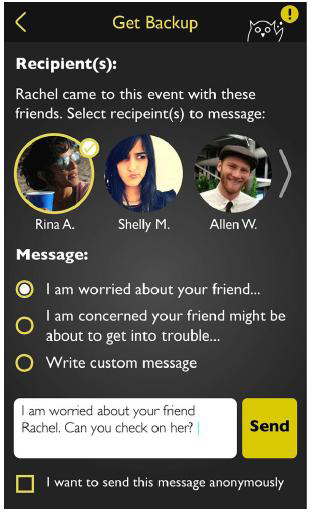 Graduate-student teams at Carnegie Mellon's Integrated Innovation Institute have created two novel product prototypes — NightOwl and SPOT (A Problem) — that employ mobile technology to encourage peers and bystanders to intervene against sexual assaults.

NightOwl (right) is a mobile application that provides users with an anonymous way to report dangerous situations to the host or other attendees at social events.

SPOT (A Problem) combines a mobile app and wristband, and seeks to provide incentive to fraternities to take responsibility for keeping events safe. Event guests use the app to send information about aggressive or unsafe behavior to fraternity risk managers, who receive messages through a wristband that vibrates and emits lighted alerts. Incentives include reduced assaults and improved reputation, both of which are linked to lower fees, dues and insurance costs.
Related Links: Read More | NightOwl | Spot (A Problem) | Integrated Innovation Institute

________________________________________________________________
Weighing the Milky Way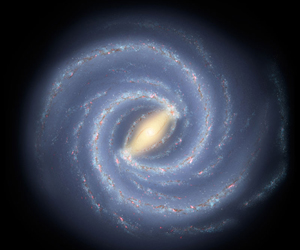 Does the Milky Way (top right) look fat in this picture? Has Andromeda (bottom right) been taking skinny selfies? It turns out the way some astrophysicists have been studying our galaxy made it appear that the Milky Way might be more massive than its neighbor down the street, Andromeda.
In previous studies, researchers were only able to estimate the mass of the Milky Way and Andromeda based on observations made using their smaller satellite dwarf galaxies. In the new study, researchers culled previously published data that contained information about the distances between the Milky Way, Andromeda and other close-by galaxies — including those that weren't satellites — that reside in and right outside an area referred to as the Local Group.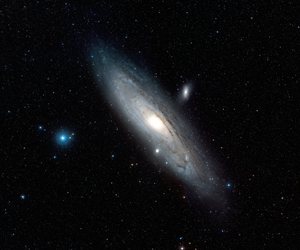 Not true, says a study published in the journal Monthly Notices of the Royal Astronomical Society by an international group of researchers, including Matthew Walker of Carnegie Mellon's McWilliams Center for Cosmology. In the paper, they demonstrate a new, more accurate method for measuring the mass of galaxies. Using this method, the researchers have shown that the Milky Way has only about half the mass of its neighbor, the Andromeda Galaxy.
Related Links: Read More | McWilliams Center for Cosmology | Mathew Walker