Henry Hillman Gives $5M To Support BrainHub(SM)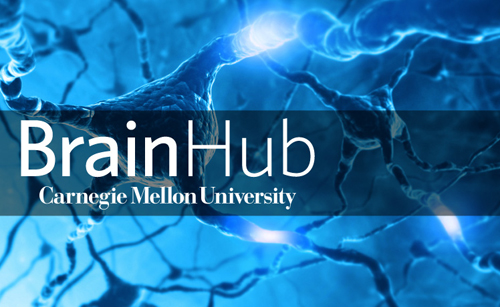 Just weeks after the launch of a global initiative to leverage its unique strengths to impact brain research, Carnegie Mellon has received a major boost from renowned Pittsburgh philanthropist Henry L. Hillman in the form of a new $5 million gift to support CMU's BrainHubSM. And later today (Sept. 30), CMU will be recognized by the White House as part of an Office of Science and Technology Policy event to highlight the brain research being done at U.S. universities.
Launched last month, CMU established BrainHub to bring together global strategic partners from the government, public, private and philanthropic sectors to develop innovative computational and technological approaches for studying the links between brain and behavior. This effort will lead to new insights into topics such as cognition, learning and perception, and will shed light on brain disorders such as autism and Parkinson's disease. BrainHub also will leverage CMU's well-known interdisciplinary culture, bringing together computer science, humanities, science, engineering, business, public policy and the arts to conduct research on the brain and the related fields of data science and the science of learning.
Related Links: Learn more | BrainHub
_____________________________________________________________________________
President Suresh, Two Alumni Meet India's New Prime Minister
Carnegie Mellon President Subra Suresh and two alumni were among top Indian-American CEOs, venture capitalists and higher education leaders who attended a personal briefing with India's new Prime Minister Narendra Modi on Saturday, Sept. 27, prior to a large-scale gathering of Indians and Indian-Americans at Madison Square Garden in New York.
Francisco D'Souza (TPR '92), CEO of Cognizant Technologies, and Romesh Wadhwani (E '70, '72), CEO of Symphony Technology Group, joined Suresh in greeting the prime minister. D'Souza earned an MBA from the Tepper School of Business and serves as a member of the university's board of trustees. Wadhwani earned his master's degree and doctorate in electrical engineering from CMU.
Their meetings preceded a Sept. 28 Community Reception at Madison Square Garden, where Modi addressed a crowd of almost 20,000 attendees.
Related Links: Subra Suresh | Francisco D'Souza | Romesh Wadhwani | Community Reception
___________________________________________________________________
Drama Raises the Curtain With "Seven Guitars"   
Carnegie Mellon's School of Drama, one of the elite drama programs in the U.S. as rated by The Hollywood Reporter, opens its 2014-15 season with August Wilson's "Seven Guitars," Oct. 2-11 in the Purnell Center's Philip Chosky Theater.

Wilson, the Pittsburgh-born, Pulitzer prize-winning playwright known as "the American Shakespeare," brings the 1940s Hill District back to life in this classic production. Set in 1948, "Seven Guitars" shows the laughter, beauty, struggle and hope of seven African-Americans as they dare to dream for a brighter future.

"We are honored to bring August Wilson back home to a Pittsburgh stage as the opening performance that signals the beginning of our next 100 years of theatrical innovation and education," said Peter Cooke, head of the School of Drama
Related Links: Learn more | Purchase Tickets | School of Drama
___________________________________________________________
Showcasing Technology Startups
The Center for Innovation and Entrepreneurship is hosting another installment of LaunchCMU, a showcase of Carnegie Mellon technology startups and research, from 11:30 a.m. - 4 p.m., Friday, Oct. 3 in the Cohon University Center's Rangos Ballroom.
 
Demos and poster sessions kick off the event in the first 90 minutes. The founders and creators of more than 20 startups will exhibit their work and products. The startups include Breathwise, IAM Robotics, Innovesca, Nebulus, RistCall LLC, LifeShel, Piecemaker Technologies Inc. and Romeo Delivers. Learn about the startups.

From 1 - 3 p.m., CMU's famed roboticists William "Red" Whittaker and Howie Choset will highlight a session of insightful and provocative talks from the scientists and entrepreneurs behind:
Anki, creator of Anki DRIVE, a video game in which toy cars react to their surroundings using artificial intelligence to analyze the best action to take in a given situation;
4Moms, a robotics company that makes high-tech baby gear like a power-folding stroller; and
Blue Belt Technologies Inc., creators of technology that can improve minimally invasive techniques for orthopedic surgeries.
Related Links: Read More | About the Startups | RSVP