1,000 Kilometers!
For three years, a group of robots, known as CoBots, has been navigating the corridors of Carnegie Mellon's Gates and Hillman centers and Newell-Simon Hall, running errands and guiding visitors without human supervision. On Nov. 18, their collective odometer reached 1,000 kilometers — more than 620 miles — a first-ever accomplishment for indoor autonomous robots.
______________________________________________________________
CMU Unveils Lunar Rover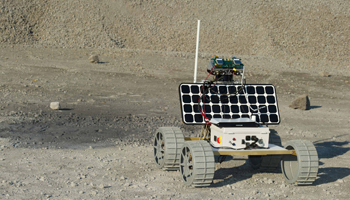 Carnegie Mellon has unveiled Andy, a four-wheeled robot designed to scramble up steep slopes and survive the temperature swings and high radiation encountered while exploring the moon's pits, caves and polar ice.
Andy, named after university namesakes Andrew Carnegie and Andrew Mellon, is CMU's contribution to an effort led by Pittsburgh's Astrobotic Technology to land a robot on the moon and win the $20 million-plus Google Lunar XPrize. It also represents a larger ambition.

"We don't do anything just to win a prize," said William "Red" Whittaker, professor of robotics and director of the Field Robotics Center.  "If we're on the moon anyway, we're going to do something while we're up there."
____________________________________________________________________
Shaw Receives Award at White House

Mary Shaw, the Alan J. Perlis University Professor of Computer Science in CMU's Institute for Software Research, received the prestigious National Medal of Technology and Innovation from President Barack Obama in a Nov. 20 White House ceremony. View the ceremony (forward to 49:23 of the video to see Shaw accept her award.)

Shaw was named a recipient of the nation's highest honor in technology and innovation "for pioneering leadership in the development of innovative curricula in computer science."

Learn more.