Graduates Urged To Stand for Truth

Commencement Speaker Meg Whitman, president and chief executive officer of Hewlett Packard Enterprise, encouraged graduates at CMU's 120th Commencement to stand for truth, free speech and civility.
---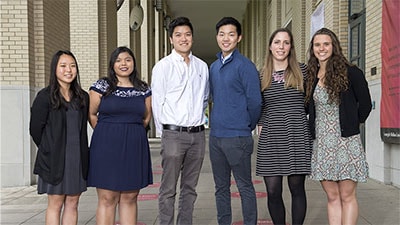 Headed Abroad
Six Fulbright award winners for 2017 will teach and conduct research in Spain, Taiwan, Mexico, Ecuador, Switzerland and Germany.
---
The Piper
Staff Spotlight: Jane Ditmore
Jane Ditmore, the School of Design's receptionist, has seen a lot of changes at CMU over the past 35 years.
---
Carnegie Mellon Today
Make America Dinner Again
Two CMU alumnae have come up with a tasty idea to help bridge the nation's political divide.