May 14, 2015
News Briefs
Last Call: Parking Open Enrollment Ends Tomorrow
Open enrollment for campus parking at http://www.cmu.edu/parking/permits/index.html will end tomorrow, Friday, May 15. New assignments will be announced in July and become effective Sept. 1.

Construction for the Tepper Quad, set to begin this month, will result in a reduced number of spaces available in the Morewood Lot. During the 2015-2016 parking year, Morewood will have 245 of the current 636 spaces available.
To compensate for the space reduction, additional parking will be added in the following locations: Filmore Street Lot (37 spaces), South Neville Lot (134 spaces) and South of Forbes Lot (100 spaces). Pricing for these new lots will be the same as the Morewood Lot. Additional spaces also will be available in the Collaborative Innovation Center Garage, the Electric Garage Lot and the Clyde Street Lot. The new parking areas can be found on the map at http://www.cmu.edu/parking/forms/Parking%20Diagram.pdf.
With the new spaces for 2015-16, the overall reduction due to Tepper Quad construction stands at 62 spaces, a 1.9 percent reduction from last year's 3,422 available spaces.

As in recent years, the average rate increase for the coming year will remain at 3 percent.
Anyone wanting a permit to park on campus during the coming year must apply using the online system. Everyone must re-apply each year. Individuals applying for a carpool permit must complete a paper application, which can be faxed (412-268-7825) or returned to the Cohon University Center Parking Office.
For those holding permits for the Morewood Lot, please note initial construction work during this summer will affect only about 100 spaces. This should not be a problem during the summer, but in the event the lot is full, Morewood permit holders may use their ID card to access the East Campus Garage through Aug. 31.
Questions can be directed to Michelle Porter at mporter@andrew.cmu.edu.
Waterproofing To Begin at Wean Hall Plaza; Pedestrian Restrictions Will Be in Effect
Work to waterproof the Wean Hall Plaza will begin at 6 p.m., Monday, May 18. The existing pavers will be removed to install a new waterproofing system. Once the waterproofing work is completed, new pavers will be installed.
During the work, which is scheduled to last through the summer, pedestrian access to Wean, Porter and Hamerschlag halls will be open but restricted. Signs will be posted.
Please note that construction is weather dependent, and could cause work shifts to be adjusted to off hours, weekends or nights. Additionally, access to the adjacent buildings is subject to change.
Student Activities Honors "SOARing" Students, Organizations and Advisers
The Office of Student Activities recently hosted the third annual SOAR (Student Organization Award Recognition) reception and announced this year's winners. The SOAR program pays tribute to undergraduate and graduate student organizations, undergraduate and graduate officers/members and advisers.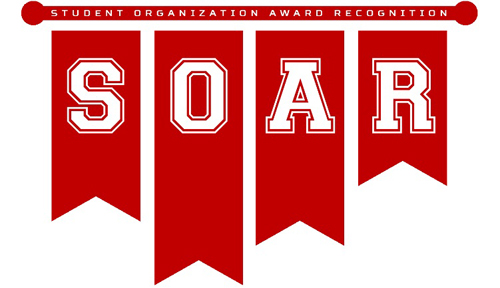 This year's winners are:
Outstanding Student Organization Adviser:
Coordinator of Student Activities Kaycee Palko — Adviser to Sweepstakes, Undergraduate Student Senate, & Graduate Student Assembly
Outstanding Student Organization Program:
Shot for Shot Student Film Festival – CMU Filmmaking Club
Outstanding New Initiative:
Proud to Be Plaid – Student Government Executive Committee
Rising Star Award:
Nicole Tom — sophomore chemical engineering and biomedical engineering major
Loyal Scot Alumni Engagement Award:
CMU Vets
Outstanding Student Organization:
Society of Women Engineers (SWE)
Outstanding Student Organization Leader:
Carolyn Commer — chair Graduate Student Assembly and Ph.D. candidate in English
Spirit of Andrew Carnegie Award:
Juan Acosta — senior modern languages major
Find out more about the SOAR awards. 
Study Finds More Sex Doesn't Lead to Increased Happiness
In the first study to examine the causal connection between sexual frequency and happiness, Carnegie Mellon researchers led by George Loewenstein found that simply having more sex did not make couples happier, in part because the increased frequency led to a decline in the desire and enjoyment of sex.
One hundred and twenty-eight healthy individuals between the ages of 35–65 who were in married heterosexual relationships participated in the research. The researchers randomly assigned the couples to one of two groups. The first group received no instructions on sexual frequency. The second group was asked to double their weekly sexual intercourse frequency.
Daily during the experimental period, the participants answered questions online to measure health behaviors, happiness levels and the occurrence, type and enjoyableness of sex. The exit survey analyzed whether baseline levels changed over the three-month period.
The couples instructed to increase sexual frequency did have more sex. However, it did not lead to increased, but instead to a small decrease, in happiness.
Find out more about the study. 
CMU Joins Open Library of Humanities' Partnership System
Carnegie Mellon has joined the Open Library of Humanities' Library Partnership Subsidy system. The Open Library of Humanities is an academic-led, gold open-access publisher with no author-facing charges. With initial funding from the Andrew W. Mellon Foundation, the platform covers its costs by payments from an international library consortium, rather than any kind of author fee.
"In recent years we have seen great support for open access from all parts of the disciplinary spectrum. The Open Library of Humanities offers an academically rigorous approach for humanities scholars seeking an appropriate and open outlet for their work," said Dean of Libraries Keith Webster.
"If the academic community is to drive sustainable change in scholarly publishing, it is important for major research universities to lend whatever support is possible. With this in mind, I am delighted that Carnegie Mellon University has joined the OLH membership model. We look forward to participating in this important international venture," Webster said.
Research Administration Training Completes Inaugural Series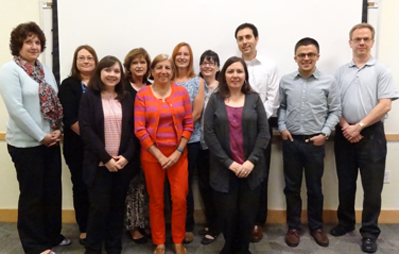 Earlier this month, the Research Administration Training cohort attended the final session of the inaugural Research Administration Training Series. This new cohort-style training program, led by Carnegie Mellon's own subject matter experts, covered a wide variety of general research administration topics, as well as processes and procedures that are unique to Carnegie Mellon.

The series began in September 2014 and featured a curriculum of 15 core sessions, ranging from proposal initiation through award closeout and audit. During the closing session, Farnam Jahanian, vice president for Research and provost-designate, spoke about research at Carnegie Mellon and participants were presented with certificates.
Pictured are (l-r): Colleen Mantini (Engineering), Tiffany Fitzgerald (Sponsored Projects Accounting, SPA), Autumn DePalma (SPA), Elizabeth Auld (SCS), Angelina Yanez (Tepper), Emily Christian-Michaels (Dietrich), Anita Connelly (Engineering), Angela Pusateri (Engineering), Stefan Hadricky (SCS), Gregory Smith (Office of Sponsored Programs) and Richard Ling (Tepper). Not pictured: Nathan Kotecki (Engineering) and Cathy O'Domes (Office of Research Integrity and Compliance).
Study Suggests Vial Size Can Have Large Impact on Vaccine Supply Chain
Vaccine vial size — the total number of doses a single vaccine vial contains — can have a significant impact on vaccine distribution, costs and use, according to a new study by researchers at the Pittsburgh Supercomputing Center (PSC) and the Johns Hopkins Bloomberg School of Public Health.
In a computer model of the vaccine supply chain of the West African nation of Benin, vial-size decisions had far-reaching and reverberating effects throughout the vaccine supply chain. Vial size greatly impacted supply chain logistics, increasing and decreasing constraints and bottlenecks depending on the combination of vial sizes used, with considerable effect on the availability of vaccines. The output of the model, generated by the HERMES software platform developed at Hopkins and the PSC, holds great promise for improving the supply of vaccines and other medical tools in Benin, low-income nations and the entire world.
Hear Me 101 Student Documentaries Premiere Today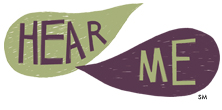 Students from three local high schools will screen documentary videos they produced through the Hear Me 101 Project at 6 p.m., this evening (Thursday, May 14) at Pittsburgh Filmmakers Melwood Screening Room in North Oakland.
Following the screening the videos will be available for online viewing. 
Hear Me 101 is a project of Carnegie Mellon's CREATE Lab and several other local organizations. A panel discussion following the videos will feature, among others, Nico Slate, associate professor of history; Halle Stockton, a reporter for PublicSource; and filmmaker Gabe Colombo.
Students at Clairton and Steel Valley high schools and the McKeesport Technology Center produced the documentaries, which address such topics as student voice, activities for young people and overcoming stereotypes.
"Hear Me 101 is focused on creating a legitimate and safe platform for young people to participate in crucial dialogues — or even start them, in some cases," said project co-director Jessica Pachuta of the CREATE Lab. "Some of the students will continue working on their messages this summer as paid interns of the CREATE Lab with support and resources to connect youth stories to stakeholders and decision-makers."
Other partners in Hear Me 101 include Pittsburgh Filmmakers Youth Media Program, the Consortium for Public Education and The Western Pennsylvania Writing Project. It is supported by the Heinz Endowments, the Grable Foundation and the Pittsburgh Foundation.
Purchase Discounted Tickets to the Opera Theater
The Opera Theater of Pittsburgh is selling tickets to its annual SummerFest at 
the Twentieth Century Club in Oakland. This year's SummerFest, which includes over 30 operas and recitals as well as the musical "Damn Yankees," runs from July 10 - August 2.
See the schedule.  Please use Code CMU15213 to receive 10 percent off the ticket price. Students can attend recitals for free with valid ID at the door.
PSO Offers Discounts for CMU
The Pittsburgh Symphony Orchestra is offering discounts to CMU students, faculty and staff for upcoming shows at Heinz Hall. For this series, students can purchase tickets at a special discounted rate of $5; faculty and staff tickets are available starting at $20.
At 7:30 p.m., Friday, May 15 and Saturday, May 16, and at 2:30 p.m., Sunday, May 17, the Pittsburgh Symphony will strut its stuff in The Sound of a Modern Symphony — a performance of Bartok's Concerto for Orchestra — showcasing the power and versatility of the modern orchestra. This program also includes a premiere of Bates' Alternative Energy and Jake Heggie's The Work at Hand, featuring the symphony's principal cellist Anne Martindale Williams and mezzo-soprano star Jamie Barton.
To purchase tickets, go to www.pittsburghsymphony.org/cmu.
Kennywood Park Picnic is June 13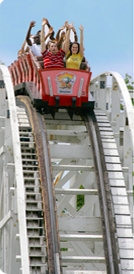 CMU's Staff Picnic at Kennywood Park, presented by Staff Council, will be Saturday, June 13. CMU employees can purchase two Funday tickets for $15 each (valid only on June 13) and additional Funday tickets for $22 each (limit 10). Pavilion 7 will be reserved for the CMU community. The children's prize giveaway and ice cream distribution will be at 1 p.m. at Pavilion 7. Ticket sale times and dates are as follows:
June 2, Cohon University Center, 11:30 a.m. - 1 p.m.
June 3, Mellon Institute, 11:30 a.m. - 1 p.m.
June 3, Cohon University Center, 4:30 - 5:30 p.m.
June 5, Cohon University Center, 11:30 a.m. - 1 p.m.
June 10, Cohon University Center, 11:30 a.m. - 1 p.m.
June 11, Cohon University Center, 11:30 a.m. - 1 p.m.
June 12, Cohon University Center, 11:30 a.m. - 1 p.m.
You must have your own CMU ID to purchase tickets. Cash only.