May 14, 2015
CMU Plays Major Role in Global Pre-College Science Extravaganza
By Bruce Gerson / 412-268-1613 / bgerson@cmu.edu

The Intel International Science and Engineering Fair is in good hands.
Luis von Ahn, associate professor of computer science, was the keynote speaker and 44 faculty, researchers, graduate students and staff from Carnegie Mellon are serving as judges for the world's largest pre-college science competition at Pittsburgh's David L. Lawrence Convention Center this week (May 10-15). They'll be among those evaluating more than 1,700 high school students from over 80 countries, regions, and territories, who will be showcasing their research and competing for more than $5 million in prizes.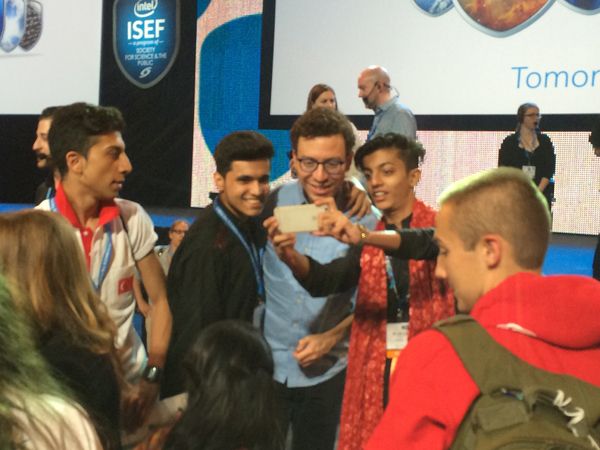 Judith Hallinen, assistant vice provost for Educational Outreach and director of the Gelfand Center for Service Learning and Outreach, is once again serving as chair of the Pittsburgh Local Arrangements Committee, a position she's held since 2010.
"We mobilize people from industry, academia and the nonprofit sector to support the event through judging, being a general volunteer or serving as an interpreter. We have many CMU students who will be serving as interpreters," Hallinen said.
"I think it's great for so many faculty to come forward to volunteer as judges during this very busy time of year. These students are the cream of the crop and I believe our presence at the event reflects well on these very bright and talented prospective students," she said.
A part of the Intel Fair is the Broadcom Masters International Program, an initiative that provides an opportunity for advanced middle school students with exceptional talents in science, engineering, technology and math to attend the activities.
Two dozen of the middle school attendees visited CMU on Monday (May 11), where they toured Mechanical Engineering Professor Jonathan Malen's lab, got a chance to work in Associate Teaching Professor Tom Sullivan's Radio Building Lab, and viewed student projects in civil and environmental engineering. They also stopped on the Pausch Bridge to see how many penguins cut into the wall they could find.
Today, Thursday, May 14, is Public Day at the convention center and more than 3,500 local students will participate in educational activities and have the opportunity to meet some of the international students who are in Pittsburgh. The Gelfand Center is hosting a booth during Thursday's "Expo" featuring hands-on activities.
In 2010, Pittsburgh, Phoenix and Los Angeles won the privilege to host the fair and it has been rotating between the cities since. Pittsburgh hosted in 2012 and will host again in 2018.
In the photo above, students participating in the Intel International Science and Engineering Fair take a selfie with CMU's Luis von Ahn.
CMU Judges:
David Klahr, Psychology
Jonathan Malen, Mechanical Engineering
Julien Delange, Software Engineering Institute
Ira Rothstein, Physics
Danielle Rager, Center for the Neural Basis of Cognition
Alexander Dowling, Chemical Engineering
Randy Weinberg, Information Systems
Shomir Wilson, Language Technologies Institute
John Michael, Chemical Engineering
Emily Wallitsch, Chemical Engineering
Yoosuf Picard, Materials Science and Engineering
Rebecca Dalton,
Cheryl Telmer, Biology
Juan Jorge Schaffer, Mathematics
William Alba, Science and Humanities
Sarah Feicht, Chemical Engineering
Gabriel Weisz, Computer Science
Elizabeth Traut, Mechanical Engineering
Koushil Sreenath, Mechanical Engineering
Prahlad Menon, Computer Science
Sujata Telang, Institute for Software Research
Ran Liu, Psychology
Chante Boyd, Psychology
Richard Koepsel, Institute for Complex Engineered Systems
Barry Luokkala, Physics
Daniel Siewiorek, Human-Computer Interaction Institute
Aimon Iftikhar, Biomedical Engineering
Ankit Jain, Mechanical Engineering
Joseph Elm, Software Engineering Institute
Raja Sambasivan, Computer Science
Karen Thickman, Computational Biology
T.D. Jacobsen, Hunt Institute for Botanical Documentation
Christopher Szent-Gyorgyi, Molecular Biosensing & Imaging Center
Raja Sooriamurthi, Information Systems
John Stamper, Human-Computer Interaction Institute
Helmut Vogel, Physics
Christopher Bettinger, Materials Science and Engineering
Sarah Sheard, Software Engineering Institute
Sheng Shen, Mechanical Engineering
Satbir Singh, Mechanical Engineering

Keith Regner, Mechanical Engineering
Gloria Silva, Chemistry
Stephanie Tristram Nagle, Physics
Reid Simmons, Robotics