June 04, 2015
News Briefs
Seven Alumni, One Undergrad Earn Fulbrights
Seven recent CMU graduates will be making a global impact through this year's Fulbright U.S. Student Program, and one undergraduate has been selected to attend a Fulbright Summer Institute in the U.K.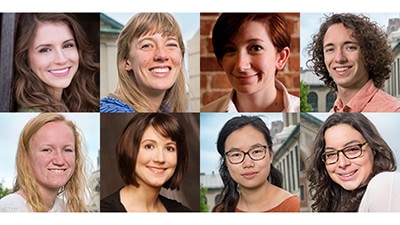 "These young researchers, artists and educators have successfully carved out distinct paths within their respective disciplines and are uniquely positioned to serve as ambassadors for Carnegie Mellon and the United States," said Joanna Dickert, Fulbright program adviser in CMU's Fellowships and Scholarships Office.

The U.S. Department of State, Bureau of Educational and Cultural Affairs sponsors the Fulbright U.S. Student Program to "increase mutual understanding between the people of the United States and the people of other countries." It provides fellowships for U.S. graduating seniors, graduate students, young professionals and artists to study abroad for up to one academic year.

The Fulbright Awardees (clockwise, from top left) Alexa Beaver, Erin Kiekhaefer, Tegan McDuffie, Jacob Klingensmith, Alexandria Hernandez, Veda Sun, Carolyn Kras and Sara Kelly.  
 
Learn more about the Fulbright Award recipients.
CMU-Q Receives Five NPRP Grants
Researchers at Carnegie Mellon University in Qatar have received five grants in the eighth cycle of the Qatar National Research Fund's flagship National Priorities Research Program (NPRP). As the major funding program in Qatar, NPRP encourages research activities that are aligned with the four pillars of the Qatar National Research Strategy: energy and environment; health and life sciences; social sciences, arts and humanities; and computer science and ICT.
The awarded proposals are:
"SLATE Q-Scaffolding Literacy in Academic and Tertiary Environments: The Case of Communication in Information Systems" by Silvia Pessoa, associate teaching professor of English at CMU-Q;
"Testing English Reading Comprehension Through Deep Text Analysis and Question Generation" by Kemal Oflazer, teaching professor of computer science at CMU-Q;
"New mathematical models for the large strain swelling response of biological tissues: Applications to Edema, Inflammation, and Pregnancy" by Thomas Pence, professor of mechanical engineering at Michigan State University, and Hasan Demirkoparan, associate teaching professor of mathematics at CMU-Q;
"Towards Mobile Opportunistic Cloud Computing: Enabling Generic Computational Offloading to Extreme Heterogeneous Entities" by Khaled Harras, associate teaching professor of computer science at CMU-Q; and
"Development of Novel Antibiotic, Antiparasitic and Anticancer Agents" by Gordon Rule, professor of biological sciences, CMU.

CERT/CC Team Wins Government Information Security Leadership Award
The Vulnerability Analysis Team of the Software Engineering Institute's CERT Division has won a 2015 Government Information Security Leadership Award (GISLA) for Most Valuable Industry Partner for its responsible coordinated disclosure strategy for software vulnerabilities. Award winners were named during a gala dinner on May 14 in Washington, D.C.
"[The CERT/CC team] pioneered efforts in vulnerability research automation for existing and emerging computing domains that have significantly strengthened the larger US-CERT mission of improving information security and providing value to industry partners," according to the award presentation.
"The team deployed the Tapioca automated vulnerability discovery tool and applied it to the … Google Play Store. Within a period of several days, over 20,000 vulnerabilities — or 15 percent of the total vulnerabilities identified in 2014 — were discovered. These results are enabling this new community of developers and vendors of the platforms they utilize to adopt better security practices and bring increased utility to the expanding universe of mobile devices."
Find out more about the GISLA awards. 
Tool Helps States Meet New Emission Standards
Researchers led by Paul Fischbeck, department head and professor of social and decision sciences, have developed an easy-to-use but technically detailed interactive tool to help states decide how to meet the Environmental Protection Agency's new carbon dioxide emission standards.

In June 2014, the EPA proposed a Clean Power Plan under Section 111(d) of the Clean Air Act for the state-level regulation of carbon dioxide (CO2) emitted from existing electric generating plants. The proposal, which will be finalized this summer, sets state-specific goals for CO2 emissions but provides each state with flexibility to choose how to meet its goal.

The proposed regulation offers four "building blocks" from which states can build their plan: make coal plants more efficient; use more natural gas generation; build more renewable generators like wind or solar; and improve energy efficiency. These building blocks allow states to construct many possible plans, but understanding which specific combinations of power plants come together to an EPA-compliant solution is difficult. Low-cost solutions can be hidden from view because of nuances in the regulation and details about power plants in a state. To meet this need, a team of CMU engineering researchers developed the Interactive State On-site Mitigation Analytical Policy tool (ISOMAP).

Designed for easy exploration of the regulatory space, ISOMAP can be used by a variety of stakeholders from state officials to electric utilities to environmental nonprofits. The tool allows users to evaluate a range of plant-specific technical options that will reduce CO2 emissions from each major U.S. coal-fired power plant.

Find out more.
Spots Still Available for Gelfand Center's K-8 Classes in July
There are still some spots available for the Gelfand Center's Outreach Summer Classes for K-8 students in July. Classes are developed by CMU faculty and staff to be fun, engaging, rigorous and hands-on. Available classes include Green Engineering (grades 5-8), Beginning Alice Programming (grades 3-4), Science and Engineering Summer Sampler (grades 3-5), Science of Everyday Stuff (grades K-2), and Robotics Programming and Design (grades 6-8). Register online.
Tennis Anyone?
CMU Tennis Coach Mike Belmonte is offering tennis lessons this summer at the CMU courts. One-hour lessons can be scheduled from 7 a.m. to 9 p.m, weekdays and weekends, based on Belmonte's availability. To register complete the registration form and contact Belmonte at mgbelmon@andrew.cmu.edu. The cost is $60 per hour. 
Abandoned Bicycles To Be Removed Wednesday, June 10
University Police and Facilities Management Services will be removing abandoned bicycles from the main Pittsburgh campus on Wednesday, June 10. University Police identified and tagged bikes for removal last weekend.
 
Abandoned bikes are those that are in poor condition from not being used. Bikes in poor condition are identified by such features that include, but not limited to, two flat tires, missing major parts, frozen brakes and rusted chains that make the bike unusable.
 
Tagged bikes, bike parts and locks will be removed June 10. Those that are deemed to be operational will be stored on campus for six months. Owners seeking to claim their bikes should contact University Police at 412-268-2323. Non-operational bikes and bike parts will be donated to approved charitable or neighborhood organizations.
 
A separate round-up of bikes stored at Housing Facilities will be scheduled in the near future.
Housing Services, Dining Services & Student Affairs Operations Relocated
In order to allow for the expansion of the offices of Health Services and Counseling and Psychological Services in Morewood E-Tower, Housing Services, Dining Services and Student Affairs Operations have been relocated to the Residence on Fifth (4700 Fifth Avenue) and the Margaret Morrison Storefront (5134 Margaret Morrison Street). Housing Services and Dining Services are no longer located in the Morewood E-Tower office.
 
Below is a breakdown of services offered at each location.
 
Residence on Fifth:
Oakland hard key services for Fairfax, Webster, Shady Oak, Neville and the Residence on Fifth
Electronic key concerns and lock outs
Room changes for Oakland apartments
Facilities/maintenance questions
General housing inquiries
Main Dining Services office
Main Student Affairs Operations office


Margaret Morrison Storefront:
Electronic keys and lock outs
Room changes and assignments
Residency verifications
Extension and early arrival requests
Special access requests
Facilities/maintenance questions
General housing inquiries
Remote assistance for Dining Services
The mailing address for Housing Services, Dining Services and Student Affairs Operations is the Residence on Fifth, 4700 Fifth Avenue, Pittsburgh, PA 15213.

Questions can be directed to Jenn Dutkiewicz at jennd@andrew.cmu.edu or 412-268-7979.
Purchase Discounted Tickets to the Opera Theater
The Opera Theater of Pittsburgh is selling tickets to its annual SummerFest at 
the Twentieth Century Club in Oakland. This year's SummerFest, which includes over 30 operas and recitals as well as the musical "Damn Yankees," runs from July 10 through August 2.
See the schedule.  Please use Code CMU15213 to receive 10 percent off the ticket price. Students can attend recitals for free with valid ID at the door.
PSO Offers Discounts for CMU
The Pittsburgh Symphony Orchestra is offering discounts to CMU students, faculty and staff for upcoming shows at Heinz Hall. Students can purchase tickets for $15, and faculty and staff tickets are available for $25.
At 7:30 p.m., Friday, June 5, and Saturday, June 6, and at 2:30 p.m., Sunday, June 7, music director Manfred Honeck conducts "BeethovenFest: The Immortal," summing up the creative life of the eminent composer with Beethoven's only violin concerto and the infamous Ninth Symphony. The Mendelssohn Choir of Pittsburgh joins the symphony for the harmonious Ode to Joy.
Kennywood Park Picnic is June 13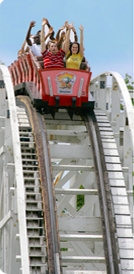 CMU's Staff Picnic at Kennywood Park, presented by Staff Council, will be Saturday, June 13. CMU employees can purchase two Funday tickets for $15 each (valid only on June 13) and additional Funday tickets for $22 each (limit 10). Pavilion 7 will be reserved for the CMU community. The children's prize giveaway and ice cream distribution will be at 1 p.m. at Pavilion 7. Ticket sale times and dates are as follows:
June 5, Cohon University Center, 11:30 a.m. - 1 p.m.
June 10, Cohon University Center, 11:30 a.m. - 1 p.m.
June 11, Cohon University Center, 11:30 a.m. - 1 p.m.
June 12, Cohon University Center, 11:30 a.m. - 1 p.m.
You must have your own CMU ID to purchase tickets. Cash only.
Idlewild & Soak Zone Offers Discounts for CMU Employees
Order tickets online at $31.99 per ticket and save $10 off the regular ticket price of $41.99. All online orders will be assessed a $1.25 processing fee per ticket. Tickets must be ordered at least seven days prior to your date of visit.
To purchase tickets go to idlewild.com. In the top right-hand corner of the home page, enter PROMO CODE: GSAF1546 and "ENTER." Follow the instructions to check out and finish the transaction with your credit card information.
Print your ticket voucher immediately and take it with you to the park.
Tickets are valid any operating day during the 2015 summer season, beginning seven days after your purchase date. A surcharge of $11 per ticket must be paid if the ticket is used prior to the valid start date printed on the ticket voucher.
The CMU discount cannot be combined with any other discount offer.
Discount Tickets Offered to Hershey Park
Staff Council is pleased to offer discount tickets to Hershey Park this summer. Visit http://tinyurl.com/cmu2015 to purchase tickets via Hershey's website. CMU's participant code is 95336.
If you purchase tickets before July 5, you will receive extra savings and tickets can be used ALL summer long.
Purchases made before July 5
Regular 1-day pass (ages 9-54) - $40.95*
*Admission tickets purchased online before 7/5/15 are VALID for the entire 2015 summer season.
Regular 1-day pass (ages 9-54) - $47.95*
Jr/Sr 1-day pass (ages 3-8; 55-69) - $35.95
Senior+ 1 day pass (ages 70+) - $23.25
Regular 2 day (ages 9-54) - $80.20
Jr/Sr 2-day (ages 3-8; 55-69) - $58.70
*Rate for purchases beginning 7/6/15
The gate rate for regular passes is $62.80 and the Jr/Sr rate is $39.80. Each ticket is subject to a $.75 processing fee.
If you have any questions, please contact Sharon Cavlovich at sharonw@cmu.edu or Nicole Stenger at nstenger@cs.cmu.edu.
For more summer discounts, including offers to Cedar Point and Sandcastle, visit the Staff Council Discounts Web page.