July 16, 2015
News Briefs
Update: Power Shutdowns in Hamerschlag, Scaife and Roberts Halls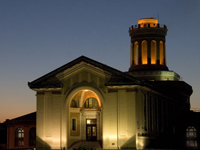 Facilities Management Services and Campus Design and Facility Development have planned two full power shutdowns affecting Hamerschlag Hall, Scaife Hall and Roberts Hall. 
The times and dates of the shutdowns have been revised and are now scheduled for:
7 p.m., Tueday, July 28 through 7 a.m., Wednesday, July 29; and
7 p.m., Tuesday, Aug. 4 through 7 a.m., Wednesday, Aug. 5.
These shutdowns are necessary to make high voltage power connections for the Scott Hall Project.
The power outages will impact all building systems not connected to the life safety generators. Therefore, during the power outage, the buildings will be closed.
If you have a special requirement that requires access into Hamerschlag Hall, Roberts Hall or Scaife Hall, you can obtain information on arranging a University Police escort by calling FMS Service Response at 412-268-2910.
Improving Lithium Air Batteries for Electric Vehicles
A research team from Carnegie Mellon and the University of California, Berkeley, has found that blending together different types of salts in the electrolytes within lithium air batteries can increase the batteries' capacity while preserving their ability to be recharged.
Lithium air batteries will soon be a strong competitor to lithium ion batteries, which currently dominate the battery-run electronics market. Lithium air batteries are especially promising for the electric car industry, as they allow electric car battery packs to be smaller and more lightweight and could hold more than twice as much energy as lithium ion batteries.
Earlier this year, a team led by Venkat Viswanathan, an assistant professor of mechanical engineering at CMU, and assistant professor Bryan McCloskey of the University of California, Berkeley, published a paper in Nature Chemistry, which showed that by adding just a little bit of water into the batteries' electrolyte mixture, the researchers were able to make the lithium air batteries last four to five times longer.
Online Research Compliance Training Moves to Single Sign-On
Effective immediately, all individuals taking Collaborative Institutional Training Initiative (CITI) courses should access the CITI website using their CMU credentials (Single Sign-On – SSO). CMU uses CITI courses for training on Human Subject Research, Responsible Conduct of Research, Care and Use of Animals, and Export Controls.
By using the SSO, users will link their training records to the Sponsored Programs and Research Compliance System (SPARCS). If someone has existing CITI training records they will be linked with their CMU credentials when they log in via SSO.
To access CITI, go to https://www.citiprogram.org/, clinck on "Log in via SSO," select Carnegie Mellon University and log in with your Andrew ID and password.
Trouble? Contact the CITI help desk.
Electronic System To Automate Research Administration
The Institutional Review Board (IRB) and SPARCS (Sponsored Programs and Research Compliance System) team will launch the IRB module of SPARCS on July 27. As a reminder, SPARCS is an electronic system that will automate many paper processes related to sponsored research administration. When fully implemented, SPARCS will integrate information for research compliance (Conflict of Interest, IRB, Institutional Animal Care and Use Committee) with proposal and award. The Conflict of Interest module has been operational since October 2014.
Features of the IRB module include:
An online protocol builder;
Workflow – allows the researcher to see where protocol is in the review process;
Communication – houses comments and responses;
Review - IRB committee members and reviewers conduct reviews within the system;
Documentation - all approved IRB protocols, consent documents, advertisements, etc. are stored in the system; and
Integration with other SPARCS modules.
As of July 27, all new IRB protocols must be submitted via SPARCS. Implementation will be in phases and all active IRB protocols will be in SPARCS by November 2016.
Last Call: Summer Classes for K-8 Students
There are still some spots available for the Gelfand Center's Summer Outreach Classes for K-8 students that start next Monday, July 20. Classes are developed by CMU faculty and staff to be fun, engaging, rigorous and hands-on. Available classes include Science and Engineering Summer Sampler (grades 3-5) and Science of Everyday Stuff (grades K-2). Register online.
PSO Offers Discounts for Summer Concerts
The Pittsburgh Symphony Orchestra is offering discounts to upcoming shows at Heinz Hall. Students, faculty and staff receive a 10 percent discount off single ticket prices.
For all summer concerts in July and August, you can buy tickets to three concerts and receive 20 percent off the ticket price, or buy tickets to four or more concerts and receive 30 percent off the ticket price. Packaged ticket deals must be purchased in person at the Heinz Hall box office or by phone at 412-392-4900. Single tickets with the university discount can be purchased online.
2015-16 Wall Calendars Now Available
The 2015-16 official Carnegie Mellon wall calendars are now available in the University Store at $1.99 each. Bulk orders over 50 can be delivered on campus or sent via campus mail. For quantities under 50, please visit the Bookstore on the lower level of the Cohon University Center. Please coordinate with your department before placing an order, to determine if a bulk order is being placed.
Order requests of 50 and over should be sent to art-store@andrew.cmu.edu. Your email should include your name, department, campus address, Oracle String and phone number. Orders under 50 must be placed and picked up at the lower level of the Bookstore using an Oracle number or Tartan card.
Off-campus orders will require an additional charge for a mailing tube.
Athletics Hosts Summer Sports Camps
The Athletics Department is offering several summer sports camps for children of all ages. Camps include boys and girls soccer, boys basketball and girls volleyball.

The department also is hosting a FITT camp in which campers will participate in activities such as basketball, tennis, racquetball, badminton, soccer, ping-pong and frisbee.

Learn more about the camps.
Discounts Available to Cedar Point, Sandcastle, Idlewild and Hershey Park
Staff Council is offering discounted tickets to CMU employees for Cedar Point, Sandcastle, Idlewild and Hershey Park. For ticket prices and purchasing information, go to Benefits & Discounts on the Staff Council website and click on Summer Discounts.
If you have any questions, please contact Sharon Cavlovich at sharonw@cmu.edu or Nicole Stenger at nstenger@cs.cmu.edu.