January 29, 2015
News Briefs
CMWA Presents "Why Women Struggle in the Workplace"
The Carnegie Mellon Women's Association (CMWA) presents "I Just Can't Say 'No'": Why Women Struggle in the Workplace," a panel discussion from noon - 1 p.m., Wednesday, Feb. 11 in the Cooper Auditorium at the Tepper School of Business.

Discuss the challenges of women in the workplace, why saying "no" seems to be harder than it should be, and strategies for being more assertive with a distinguished panel of CMU faculty, including:
Linda Babcock, the James M. Walton Professor of Economics, Heinz School of Public Policy & Management and Social & Decision Sciences Department;
Brenda Peyser, associate dean and adjunct faculty, Heinz School of Public Policy & Management; and
Laurie Weingart, senior associate dean and Carnegie Bosch Professor of Organizational Behavior and Theory, Tepper School of Business.
Admission is $10, which includes a light lunch. Open to CMWA members only. CMWA members may RSVP. Not a member of the CMWA? Become one today and bring your dues to the event, along with the admission fee.
Give Your High School Students a SPARK
SPARK Saturdays, an educational program for high school students created and run by volunteers studying electrical and computer engineering at Carnegie Mellon, is now accepting applications. SPARK aims to introduce beginners to concepts in electrical and computer engineering and expose them to engineering as a potential career choice.
Workshops are held on campus on four Saturdays from 9:45 a.m. - 12 p.m. Dates and topics are:
Feb. 14: Mechanical Logic;
Feb. 28: Programming;
March 21: Smart Light; and
April 4: Radio Building.
Go to http://eceoutreach.ece.cmu.edu/index.html for additional information and to register. The cost is $5 to reserve a space.
MIT's Ed Boyden Named Winner of Carnegie Prize in Mind and Brain Sciences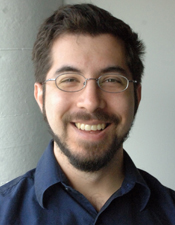 Carnegie Mellon will award the third annual Andrew Carnegie Prize in Mind and Brain Sciences to Ed Boyden, associate professor of biological engineering and brain and cognitive sciences at the MIT Media Lab and the MIT McGovern Institute. Boyden leads the synthetic neurobiology group at MIT, which develops tools for analyzing and engineering the circuits of the brain.
The prize, given by the Center for the Neural Basis of Cognition (CNBC) and funded by the Carnegie Corporation of New York as part of its centennial celebration, recognizes trailblazers in the mind and brain sciences whose research has helped advance the field and its applications. The CNBC will present the award to Boyden at 4 p.m. on Thursday, April 9 in the Rashid Auditorium in CMU's Hillman Center for Future Generation Technologies.
"Boyden is a pioneer in bioengineering and neuroscience," said Marlene Behrmann, the George A. and Helen Dunham Cowan Professor of Cognitive Neuroscience at Carnegie Mellon and co-director of the CNBC. "His work has opened a new window into our ability to study brain function with the development of optically activated ion channels for the precise temporal control of neural activity. He embodies all the criteria for this award with his discoveries, their basic science impact and their potential therapeutic applications. We are delighted to recognize his contributions."
Student Employee of the Year Award Nominations Now Open

Student Employee of the Year Award nominations are due on Friday, Feb. 20. This award program, sponsored by the National Student Employment Association (NSEA), recognizes the outstanding contributions of students who work while attending college. All undergraduate student employees are eligible for nomination.
Nominated students will be recognized and honored at the Student Employee Appreciation Lunch on April 8, which is part of Student Employee Appreciation Week.
 
The nomination process and forms are available at http://www.cmu.edu/career/student-employment-experiential/.

Questions? Contact Pati Kravetz at pk13@andrew.cmu.edu.
Preview CMU Libraries New Home Page
University Libraries invites you to take a look at its new website, which will become its new home page on Feb. 20.

Here are a few of the enhancements:
Clean design and improved navigation make it easier to find what you're looking for. Tabs expand to explore Search & Find, Using the Libraries, Research Support, Data & Publishing and more.
Searching! Access a wide spectrum of resources from the big blue box — from CMU collections to Google Scholar, WorldCat and media searches (ebooks, images, music, film & video). A powerful single search box at the top of every page.
Unique @ CMU highlights the university's archives and special collections, many of them digital.
Getting Started pages introduce library services for undergraduates, graduates, staff, faculty, alumni and more.
Library news you can use in a concise visual display "above the fold."
University Libraries asks if you find typos, or something doesn't work for you, please send email to ul-websitecomments@andrew.cmu.edu.
PSO Offers Discounts "A Night in Russia"
The Pittsburgh Symphony Orchestra is offering discounts to CMU students, faculty and staff for their upcoming shows at Heinz Hall. Students can purchase tickets for $15 and faculty and staff tickets are available for $20.

At 7:30 p.m. on Friday and Saturday, Jan. 30-31, and at 2:30 p.m., Sunday, Feb. 1, the PSO presents BNY Mellon Grand Classics: "A Night in Russia." This show features the Pittsburgh premiere of Prokofiev's Russian Overture with a debut appearance by conductor Krzysztof Urbaňski. Noah Bendix-Balgley is soloist in a piece from Khachaturian filled with exotic harmonies and dance rhythms.

Purchase tickets online.
Children's Hospital Seeks Overweight Teens for Health Study
Are you concerned with your teen's weight gain and inactive lifestyle? Researchers at Children's Hospital of Pittsburgh of UPMC share your concern and are investigating the benefits of regular exercise on reducing teens' risk for cardiovascular disease and diabetes.
If your child is between the ages of 12 and 17, overweight, and leads a physically inactive lifestyle, they may be eligible for this study. Interested parents should call 412-692-7567 or 412-692-5914. 
Conduct of Research Seminar Series Begins Feb. 24
CMU's Office of Research Integrity and Compliance (ORIC) is sponsoring the Responsible Conduct of Research (RCR) Seminar Series during the spring 2015 semester for faculty, students and staff. All sessions for the spring 2015 semester are from 12 – 1 p.m. in the CUC, except where noted**.  Upcoming session dates and topics are scheduled as follows:
Tuesday, Feb. 24: Using the IRB and Ethical Issues with Research Involving Human Subjects;
Wednesday, March 4: Overview of Research Compliance;
Wednesday, March 18: Data Management;
Wednesday, March 25: Data Security;
Wednesday, April 1: Safeguarding Your Writing: Fair Use and Proper Attribution;
Wednesday, April 8: Intellectual Property at CMU, (time is 1 – 3 p.m.); and
Wednesday, April 22: Human Subject Research Best Practices.
More information is available on the RCR website. Space is limited, so please register early.
Tepper School Seeks Alumni Award Nominations
Nominations for the Tepper School of Business Alumni Awards are due by Jan. 31.
Nominations are being accepted for the Tepper Alumni Achievement Award, recognizing the nominee's accomplishments and leadership in his or her profession; the Tepper Alumni Service Award, recognizing volunteer service to the Tepper School community or its alumni organizations; and the Tepper Recent Alumni Award for Exceptional Achievement or Service, recognizing either professional accomplishment and/or service to the Tepper School community by those who have graduated within the last 10 years.
An awards committee from the Tepper School Alumni Board will select the winners from the pool of nominations. The awards will be presented at the Tepper School Welcome and Awards Reception in August 2015.
Nominate Graduate Students for Teaching and Service
The Graduate Student Service and Teaching Award nominations are now open and will be due on Friday, Feb, 6. The award committees encourage faculty, staff and students to nominate graduate students who have excelled in teaching or service so their efforts can be recognized by the university community.

The awards will be presented Thursday, April 9, during "Innovation with Impact: Celebration of Graduate Students," which is part of Graduate Student Appreciation Week (April 6-10). Award recipients will receive an engraved tray and monetary award and have their names added to the plaque in the Cohon University Center. Awardees also will be recognized at the Celebration of Education in April.
Learn more about the Graduate Student Teaching and Service awards.