January 15, 2015
News Briefs
Solution to Poker Game Just the Beginning
A University of Alberta research group, headed by School of Computer Science (SCS) alumnus Michael Bowling, reports in the Jan. 9 issue of Science that it has essentially solved the game of two-player limit Texas Hold'em poker, which CMU's Tuomas Sandholm says marks a significant milestone in solving imperfect-information games.

Sandholm, who has developed poker programs that successfully compete in the Annual Computer Poker Competition, says solving imperfect-information games has applications in business, including auctions and negotiations; in medicine, such as in making sophisticated sequential plans for disease treatments at the individual or population levels; and in fields such as cybersecurity. Sandholm's research group already has worked on applications in each of these areas.
A New Breed: Reconfigurable Robots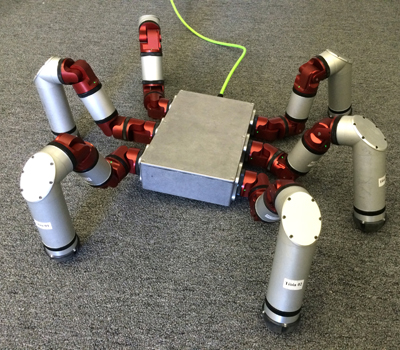 Carnegie Mellon's latest robot is called Snake Monster, however, with six legs, it looks more like an insect than a snake. But it really doesn't matter what you call it, says its inventor, Howie Choset — the whole point of the project is to make modular robots that can easily be reconfigured to meet a user's needs.

Choset, a professor in CMU's Robotics Institute, said the walking robot, developed in just six months, is only one example of the robots that eventually can be built using this modular system. His team already is working on modules such as force-sensing feet, wheels and tank-like treads that will enable the assembly of totally different robots.
Learn more and watch the video
Brain Research Shows Different Pathways Responsible for Person and Movement Recognition
Each time you see a person that you know, your brain immediately recognizes that person by his or her face and body. Just as easily, your brain understands a person's movements, allowing you to perform critical skills such as interpreting social cues, detecting threats and determining the difference between skipping and jumping.

Researchers from UCL (University College London), Carnegie Mellon University and the University of California, San Diego have found that the ability to understand different movements, such as walking, skipping and jumping, engages different brain mechanisms from those that recognize who is initiating the action. Published in the Jan. 12 issue of the Proceedings of the National Academy of Sciences (PNAS), the study illustrates for the first time how individuals with prosopagnosia, or face blindness, are still able to recognize other people's movements.

Marlene Behrmann, the George A. and Helen Dunham Cowan Professor of Cognitive Neuroscience at Carnegie Mellon and co-director of the Center for the Neural Basis of Cognition, said discovering that there is a neural process for comprehending actions independent of the actor also explains how it is possible to understand what people are doing from very far away without recognizing who they are due to the distance.
Fitness Open House is Friday
The Athletics, Physical Education and Recreation Department is hosting a Fitness Open House from noon–1 p.m. on Friday, Jan. 16 in the Cohon University Center recreation spaces. Learn about the fitness equipment available and how to properly use it.
And don't forget to sign up for the "2015 Fitness Challenge: Body under Construction." Challenge yourself: exercise for 20 minutes, four times per week from Jan. 26 through March 6.
Questions? Contact Pattye Stragar at pls@andrew.cmu.edu.
CTTEC Sponsors Seminars on America Invents Act and Its Impact on University Research
The central provisions of the Leahy-Smith America Invents Act (AIA) went into effect on March 16, 2013, regarded by many to be the most significant change to the patent system in U.S. history. Of its notable changes, the switch from a 'first-to-invent' to a 'first-to-file' system has had an impact on scientific research and development. Although this change synchronizes the U.S. patent system with the rest of the world, this and other revisions introduced in the AIA have implications for university research, invention disclosures and patent strategy.
 
CMU's Center for Technology Transfer and Enterprise Creation (CTTEC) and expert attorneys will host two interactive information sessions on this topic. The Jan. 22 session also will have relevant information from the U.S. PTO's preliminary examination guidelines regarding patent eligibility after the decision in Alice Corp. v. CLS Bank (June 19, 2014).

The sessions are:
11 a.m., Jan. 22 at Gates Hillman 6115 (simulcast to NREC)
Speaker: Dave Oberdick, Meyer, Unkovic & Scott LLP
12:30 p.m., Jan. 29, Doherty Hall 2302
Speaker: Christine Etheridge, K&L Gates
Weight Watchers Open House Jan. 21
Did you know that Weight Watchers offers meetings at Carnegie Mellon at 11:30 a.m. every Wednesday in Cyert Hall B6-A? Would you like to learn more before you decide to join? Come to an open house at 11:30 a.m., Wednesday, Jan. 21 to find out more. 
                                  
If you can't make the campus meetings, or prefer your community meeting, you can purchase your membership through Weight Watchers on a special website just for Carnegie Mellon staff, faculty & students — and their family members — for only $39.95 a month (regular price is $42.95). The website is https://wellness.weightwatchers.com, the CMU ID is 21025 and the pass code is WW21025.
 
Membership includes all Weight Watchers material, weekly meetings and online tools. Contact Rita Motor at 421-268-8071 or rita@cmu.edu with questions.
CMU Named to Community Service Honor Roll
For the seventh consecutive year, Carnegie Mellon has been named to the President's Higher Education Community Service Honor Roll in the General Community Service and Educational Service categories. The Honor Roll's Presidential Award is the highest federal recognition an institution can receive for its commitment to community, service-learning and civic engagement.
 
According to Judy Hallinen, assistant vice provost for Educational Outreach and director of the Leonard Gelfand Center for Service Learning and Outreach, CMU students completed more than 297,000 hours of community service in 2012-13.

Read more about the Honor Roll | Learn more about the Gelfand Center
Tepper School Seeks Alumni Award Nominations
Nominations for the Tepper School of Business Alumni Awards are due by Jan. 31.
Nominations are being accepted for the Tepper Alumni Achievement Award, recognizing the nominee's accomplishments and leadership in his or her profession; the Tepper Alumni Service Award, recognizing volunteer service to the Tepper School community or its alumni organizations; and the Tepper Recent Alumni Award for Exceptional Achievement or Service, recognizing either professional accomplishment and/or service to the Tepper School community by those who have graduated within the last 10 years.
An awards committee from the Tepper School Alumni Board will select the winners from the pool of nominations. The awards will be presented at the Tepper School Welcome and Awards Reception in August 2015.
Nominate Graduate Students for Teaching and Service
The Graduate Student Service and Teaching Award nominations are now open and will be due on Friday, Feb, 6. The award committees encourage faculty, staff and students to nominate graduate students who have excelled in teaching or service so their efforts can be recognized by the university community.

The awards will be presented Thursday, April 9, during "Innovation with Impact: Celebration of Graduate Students," which is part of Graduate Student Appreciation Week (April 6-10). Award recipients will receive an engraved tray and monetary award and have their names added to the plaque in the Cohon University Center. Awardees also will be recognized at the Celebration of Education in April.
Learn more about the Graduate Student Teaching and Service awards.
Calling All Ph.D.s: 3MT @ CMU

Three Minute Thesis (3MT®) is an internationally recognized competition that challenges Ph.D. students to present a compelling oration on their thesis and its significance in just three minutes, in language that anyone can understand. 3MT is not an exercise in trivializing or "dumbing-down" research but requires students to consolidate their ideas, crystallize their research discoveries and capture the imagination of their audience.

CMU's 2015 3MT competition begins with qualifying rounds in February and March, followed by a championship round in April. Any currently enrolled CMU Ph.D. student is eligible to compete. To participate, register online by Jan. 31.

Qualifying round winners receive iPads or the equivalent value as a research/travel grant. Championship winners receive $3,000, $2,000 and $1,000 research/travel grants.