February 26, 2015
News Briefs
Staff Council Seeks At-Large Nominees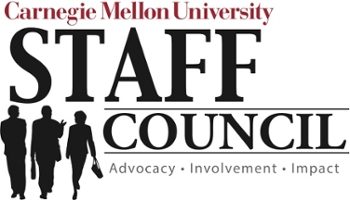 Staff Council's nomination period for at-large representatives is now open through March 6. If you know a staff member who is interested in playing an active role in contributing to the Carnegie Mellon community, Staff Council encourages you to nominate them to become an at-large representative for the 2015-2017 term. You also can nominate yourself.
As a representative you agree to serve on a Staff Council committee, attend the general body meetings at noon on the third Thursday of each month and complete a two-year term.
All full-time and part-time CMU staff not represented by Faculty Senate or a collective bargaining unit are eligible for nomination. Staff Council seeks representatives from all departments and areas.
To nominate up to five eligible staff members, use the SurveyMonkey link at 
https://surveymonkey.com/s.aspx?sm=UYfzwTCIdga_2brTJevSG75A_3d_3d. This is a one-time link uniquely tied to your Andrew ID. Forwarding it to anyone else will prevent you from using it yourself. Note that once you click the submit button, you will be unable to change your nomination.


Please submit your nominations by Friday, March 6. If you have questions, feel free to contact the Elections Committee at staff-council@andrew.cmu.edu.

 For more information about the election and serving as a representative, visit the Staff Council website at www.cmu.edu/staff-council/nominations-elections
. 

PSO Offers Discounts for Romeo and Juliet and Swan Lake
The Pittsburgh Symphony Orchestra is offering discounts to CMU students, faculty and staff for its upcoming shows at Heinz Hall. Students can purchase tickets for $15 and faculty and staff tickets are available for $25.

At 7:30 p.m., Friday, Feb. 27,  7:30 p.m., Saturday, Feb. 28, and 2:30 p.m., Sunday, March 1,  the Pittsburgh Symphony Orchestra will perform suites from two of the most popular ballet scores: Prokofiev's Romeo and Juliet and Tchaikovsky's Swan Lake. Musical storytelling at its best, these masterpieces are distilled into symphonic suites by Manfred Honeck and the Pittsburgh Symphony — and recognizable to music and dance lovers alike.
To purchase tickets, go to www.pittsburghsymphony.org/cmu.
Carnegie Bosch Institute Seeks Proposals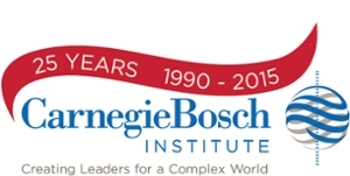 The Carnegie Bosch Institute is seeking research and seed grant proposals from CMU faculty.

To learn more about the CBI Research Award program, faculty are invited to join members of the Award Review Committee for a coffee break open house from noon to 1:30 p.m., March 11 in 341H Posner. The award program aims to identify and support cutting-edge research and outstanding Carnegie Mellon faculty in fields relevant to the CBI research agenda. Available grants include:
Mid-sized Project Grants: 1 - 2 Awards: $30,000 - $50,000; and
Small Project Grant or Seed Funding: Up to 5 Awards: $2,000 - $10,000.
The application deadline is April 15. Visit www.tepper.cmu.edu/CBIResearchAward for grant details, a proposal template and an online application, or call 412-268-7344.
JCC Open Houses Today and March 5
In anticipation of the Cohon University Center (CUC) swimming pool closing on March 22 due to construction for the CUC addition, the Jewish Community Center (JCC) in Squirrel Hill invites members of the CMU community to an open house today and on Thursday, March 5, to tour its facilities and to learn about special membership offers for CMU students and employees.
The JCC has two heated indoor pools, a 25-yard lap pool and training pool. Additional facilities include:
state-of-the-art cardio equipment;
weight-training rooms;
two full-court gymnasiums;
two dance studios;
indoor running/walking track
;
squash/racquetball courts; and
fitness programming for all interests, including personal training and group exercise classes, yoga, Spinning and Pilates.
For more information on the JCC aquatic facilities, go to http://www.jccpgh.org/page/aquatics. For more on the JCC, visit http://www.jccpgh.org/.
I-Corps Site Chooses 16 Startups for Spring

The Carnegie Mellon Innovation Corps (I-Corps) Site has announced its 2015 spring cohort of 16 startup companies that are commercializing innovations ranging from online tools for identifying sex traffickers to technologies for bio-printing 3-D tissues for regenerative medicine.
The objective of the I-Corps Site is to help students and faculty members hone their entrepreneurial skills and collaborate with industry professionals as they transition research out of the lab and into commercial sectors.
The I-Corps Site at CMU was created with the support of a three-year, $300,000 grant from the National Science Foundation to the Carnegie Mellon Center for Innovation and Entrepreneurship (CIE). CIE supports the culture of innovation across Carnegie Mellon and works to accelerate the commercialization of university research and innovative ideas.
Learn more about I-Corps and the 16 startups.
Seeking Presenters and Volunteers for Daughters and Sons To Work Day
Staff Council's Take Our Daughters and Sons to Work committee is looking for activity leaders/presenters and general volunteers to contribute their time and enthusiasm to this year's Take Our Daughters and Sons to Work Day event on Thursday, April 23.

The organizing committee is looking for individuals who would like to create and lead an activity or presentation for one or two sessions in the afternoon. Each session will run roughly 45 minutes. If you volunteer for both sessions, your total commitment will be from approximately 12:40 – 3:20 p.m., including set-up and tear down. Depending on the nature of your activity/presentation, you will have either a small group of children (15 maximum) or a larger group (30 maximum).

If you would like to lead a session, please register online. If you would like to be a general volunteer to help that day, please contact Gloria Gruber at ggruber@andrew.cmu.edu by Monday, March 23.
AED/CPR Training Offered
The Environmental Health & Safety Department is offering three upcoming AED/CPR training classes for the university community. Those who have been certified more than two years ago also can attend to renew your certification. All classes are from 10 a.m. to noon in Rangos 2, Cohon University Center. Dates are March 11, March 24 and April 21.

Register for classes at https://cmu.bioraft.com/node/284547/sessions
Innovative Health Care Proposals Due March 9
The Disruptive Health Technology Institute (DHTI) has kicked off its third request for proposals. The deadline is March 9.

DHTI is seeking proposals from CMU faculty directed at addressing pressing issues in health care and improving community health and wellness. Grants are intended to support research that identifies disruptive health care innovations that can be clinically tested and rapidly delivered to a clinical setting or practice in the field.

DHTI seeks proposals in several technical focus areas in which innovation is likely to lead to rapid gains in health care quality and affordability: Medical Diagnostics, Transforming Care Delivery, Chronic Disease Management, Computational Health Care and Wearable Devices. DHTI specifically seeks proposals in the above focus areas but is open to any proposals that faculty deem relevant, provided they meet the criteria for leading to measurable, short-term impact on health care quality and affordability.

Please visit www.dhti.cmu.edu/dhti/ for information and submission instructions. You may also contact Charlotte Emig at cemig@cmu.edu with questions.
Conduct of Research Seminar Series Underway
CMU's Office of Research Integrity and Compliance (ORIC) is sponsoring the Responsible Conduct of Research (RCR) Seminar Series during the spring 2015 semester for faculty, students and staff. All sessions for the spring 2015 semester are from 12 – 1 p.m. in the CUC, except where noted**.  Upcoming session dates and topics are scheduled as follows:
Wednesday, March 4: Overview of Research Compliance;
Wednesday, March 18: Data Management;
Wednesday, March 25: Data Security;
Wednesday, April 1: Safeguarding Your Writing: Fair Use and Proper Attribution;
Wednesday, April 8: Intellectual Property at CMU, 1 – 3 p.m.; and
Wednesday, April 22: Human Subject Research Best Practices.
Friday, May 1: Export Control Topics and Fundamental Research, 1 – 3 p.m., presented by Kevin King of Cooley, LLP
More information is available on the RCR website. Space is limited, so please register early.