February 19, 2015
News Briefs
China May Lead U.S. in Adopting Electric Vehicles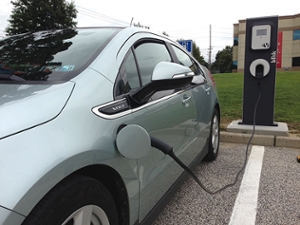 A new study by Carnegie Mellon researchers finds that mainstream Chinese car buyers are more willing to adopt pure electric vehicles than American consumers.

Engineering professors Jeremy Michalek and Erica Fuchs, Ph.D. student John Helveston and their co-authors surveyed automobile consumers in China and the U.S.

The research team asked prospective car buyers in China and the U.S. to choose among gasoline, hybrid, plug-in hybrid, and pure electric vehicles with varying range, performance, cost, brand, styling and recharging capabilities. They then used statistical methods to infer which attributes were driving their choices.

"We found that, on average, American consumers are only willing to purchase a pure electric vehicle if it costs $10,000 to $20,000 less than an otherwise equivalent gasoline vehicle, depending on its range and recharging capabilities," said Helveston, a doctoral candidate in engineering and public policy. "In contrast, we found a smaller average disparity for Chinese consumers, who are willing to pay even more for pure electric vehicles if they have sufficient range and recharging capabilities."

Learn more. 
There's Proof: Mindfulness Affects Your Health
Studies have suggested that mindfulness training can improve your health. But, exactly how has remained unclear, until now.

"We offer one of the first evidence-based biological accounts of mindfulness training, stress reduction and health," said J. David Creswell.

Creswell and Emily Lindsay have developed a model suggesting that mindfulness influences health via stress reduction pathways. Their work, published in "Current Directions in Psychological Science," describes the biological pathways linking mindfulness training with reduced stress and stress-related disease outcomes.

When an individual experiences stress, activity in the prefrontal cortex — responsible for conscious thinking and planning — decreases, while activity in the amygdala, hypothalamus and anterior cingulate cortex — regions that quickly activate the body's stress response — increases. Studies have suggested that mindfulness reverses these patterns during stress; it increases prefrontal activity, which can regulate and turn down the biological stress response.

Learn more.
Seeking Presenters and Volunteers for Daughters and Sons To Work Day
Staff Council's Take Our Daughters and Sons to Work committee is looking for activity leaders/presenters and general volunteers to contribute their time and enthusiasm to this year's Take Our Daughters and Sons to Work Day event on Thursday, April 23.

The organizing committee is looking for individuals who would like to create and lead an activity or presentation for one or two sessions in the afternoon. Each session will run roughly 45 minutes. If you volunteer for both sessions, your total commitment will be from approximately 12:40 – 3:20 p.m., including set-up and tear down. Depending on the nature of your activity/presentation, you will have either a small group of children (15 maximum) or a larger group (30 maximum).

If you would like to lead a session, please register online. If you would like to be a general volunteer to help that day, please contact Gloria Gruber at ggruber@andrew.cmu.edu by Monday, March 23.
AED/CPR Training Offered
The Environmental Health & Safety Department is offering three upcoming AED/CPR training classes for the university community. Those who have been certified more than two years ago also can attend to renew your certification. All classes are from 10 a.m. to noon in Rangos 2, Cohon University Center. Dates are March 11, March 24 and April 21.

Register for classes at https://cmu.bioraft.com/node/284547/sessions
PSO Offers Discounts to "BeethovenFest: The Hero"
The Pittsburgh Symphony Orchestra is offering discounts to CMU students, faculty and staff for its upcoming shows at Heinz Hall. Students can purchase tickets for $15 and faculty and staff tickets are available for $25.
At 7:30 p.m., Friday, Feb. 20, and 2:30 p.m., Sunday, Feb. 22, the PSO presents the second of three Beethoven programs this season as part of the BNY Mellon Grand Classics series. "BeethovenFest: The Hero" features the music of Beethoven's "Heroic" middle period, highlighting his transformation from acolyte to revolutionary. Guest pianist Lars Vogt joins music director Manfred Honeck and the Pittsburgh Symphony for this explosive performance.
To purchase tickets, go to www.pittsburghsymphony.org/cmu
Gelfand Center Offers Outreach Classes for Students in Grades K-9
The Gelfand Center is presenting a new series of STEM-focused workshops that are designed by Carnegie Mellon faculty and staff. The next workshops will be held on Saturday, April 25.  

Class titles are "Science of Everyday Things," "Building Up," "It's a Material World," "Additive Manufacturing," "Extreme Weather Trends, Climate Science & Public Opinion," and "Puzzles, Games and Problem Solving."

Advance registration for families affiliated with Carnegie Mellon can be found online.
Work To Begin on Forbes for New Utility Lines
PennDOT has announced that crews from Test Boring Services Inc. will be drilling test holes in the roadway and along the sidewalks along Forbes Avenue., between S. Neville Street and Morewood Avenue, for new utility lines.

Single-lane and sidewalk closures will occur as needed on Forbes Avenue from 9 a.m. to 3 p.m. on weekdays. Work will continue through Friday, Feb. 27.

Motorists and pedestrians are advised to use caution and allow extra time when traveling through the area.
Innovative Health Care Proposals Requested
The Disruptive Health Technology Institute (DHTI) has kicked off its third request for proposals. The deadline is March 9.

DHTI is seeking proposals from CMU faculty directed at addressing pressing issues in health care and improving community health and wellness. Grants are intended to support research that identifies disruptive health care innovations that can be clinically tested and rapidly delivered to a clinical setting or practice in the field.

DHTI seeks proposals in several technical focus areas in which innovation is likely to lead to rapid gains in health care quality and affordability: Medical Diagnostics, Transforming Care Delivery, Chronic Disease Management, Computational Health Care, and Wearable Devices. DHTI specifically seeks proposals in the above focus areas but is open to any proposals that faculty deem relevant, provided they meet the criteria for leading to measurable, short-term impact on health care quality and affordability.

Please visit www.dhti.cmu.edu/dhti/ for information and submission instructions. You may also contact Charlotte Emig at cemig@cmu.edu with questions.
Last Call: Student Employee of the Year Award Nominations Due
Student Employee of the Year Award nominations are due tomorrow, Friday, Feb. 20. This award program, sponsored by the National Student Employment Association (NSEA), recognizes the outstanding contributions of students who work while attending college. All undergraduate student employees are eligible for nomination.
Nominated students will be recognized and honored at the Student Employee Appreciation Lunch on April 8, which is part of Student Employee Appreciation Week.
 
The nomination process and forms are available at http://www.cmu.edu/career/student-employment-experiential/.

Questions? Contact Pati Kravetz at pk13@andrew.cmu.edu.
Conduct of Research Seminar Series Begins Feb. 24
CMU's Office of Research Integrity and Compliance (ORIC) is sponsoring the Responsible Conduct of Research (RCR) Seminar Series during the spring 2015 semester for faculty, students and staff. All sessions for the spring 2015 semester are from 12 – 1 p.m. in the CUC, except where noted**.  Upcoming session dates and topics are scheduled as follows:
Tuesday, Feb. 24: Using the IRB and Ethical Issues with Research Involving Human Subjects;
Wednesday, March 4: Overview of Research Compliance;
Wednesday, March 18: Data Management;
Wednesday, March 25: Data Security;
Wednesday, April 1: Safeguarding Your Writing: Fair Use and Proper Attribution;
Wednesday, April 8: Intellectual Property at CMU, 1 – 3 p.m.; and
Wednesday, April 22: Human Subject Research Best Practices.
Friday, May 1: Export Control Topics and Fundamental Research, 1 – 3 p.m., presented by Kevin King of Cooley, LLP
More information is available on the RCR website. Space is limited, so please register early.