February 17, 2015
Engineering Crossroads
Scott Hall Construction "On a Roll"
By Bruce Gerson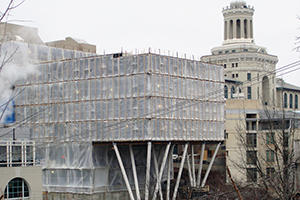 Overlooking the hollow between 
Hamerschlag Hall and the Carnegie Museum of Art, 
it appears to be standing proudly … 
chest out … on all 13 of its steel legs.
It's currently wrapped in plastic providing shelter for workers who are busy working inside, but a year from now the glass enclosed architectural marvel will be bursting with energy.
It's t-minus 12 months for Scott Hall, the new 108,000 square foot, six-story building that will be home to the Wilton E. Scott Institute for Energy Innovation, the Biomedical Engineering Department, the Institute for Complex Engineered Systems (ICES), a nanofabrication lab, or cleanroom, and last but not least, a café.
"We came up with the concept about six years ago," recalled Gary 
Fedder, the associate dean for research in the College of Engineering and the driving force and faculty liaison for the project. "We saw the need for infrastructure that would pull together science and engineering."
Scheduled for completion by January 2016, Scott Hall also will link together the classrooms, labs and offices in buildings along the west end of the Pittsburgh campus at the end of what's commonly referred to as "the mall."
"It will create physical connections that we haven't had before. So we can have a day like today and not have to go outside to meet colleagues," Fedder said during a recent construction update on a cold and snowy Monday in late January.
Connections indeed.
Through a series of exterior and interior ramps, pedestrian bridges, 
stairways and hallways, Scott Hall 
will connect to the three surrounding structures, Hamerschlag, Roberts and Wean halls, on multiple levels.
An exterior walkway passing in between Wean and Hamerschlag halls will bring pedestrians to the fourth floor of Scott Hall, home to its 10,000 square foot cleanroom, café and biomedical engineering offices.
Biomedical engineering labs will occupy the third floor, the Scott Institute will be on five and ICES will reside on the top floor. Mechanical rooms will be housed on levels one and two.
Construction began in 2012 with 
the relocation of utility lines, foundation 
work, building footers and retaining walls.
"It's a very tough site for construction and it took us a while to get out of the ground," said Ralph Horgan, associate vice president for Campus Design and Facility Development (CDFD).
"It was complicated, but now we're on a roll. It will be a major physical and discipline connector for the College of Engineering," Horgan said.
CDFD Project Manager Max Dorosa and Brian Miller, project manager for Jendoco Construction, outlined the tasks to be done in the next several months.
Work will include the installation 
of the exterior glass panels, interior framing, mechanical work, two stairways, the roof and the bridge connecting to Roberts Hall.
Dorosa said a comprehensive four-month project to repair and waterproof the leaky Wean Hall Plaza will begin 
after commencement and interior-finishing work will be the focus in the fall.
Conrad Zapanta, associate head of the Biomedical Engineering Department, was excited to finally be talking about the building's completion. He asked Dorosa when he could expect to move into his new office next year.
"It would be nice to be able to move in before classes started [in January]," Zapanta said.
"Everything will be scheduled," Dorosa said smiling, offering no 
guarantees.
Construction for Scott Hall began after the Scott Institute was established in 2012 with a founding gift from CMU alumni Sherman Scott (E'66), president and founder of Delmar Systems, and his wife, university trustee Joyce Bowie Scott (A'65). Additional support for research in energy was provided by a generous grant from the Richard King Mellon Foundation of Pittsburgh in 2013.
CMU President Emeritus and University Professor Jared L. Cohon serves as director of the institute, which leverages the expertise of more than 100 faculty and researchers across campus to improve energy efficiency, expand the mix of energy sources in a clean, reliable, affordable and sustainable way, and create innovations in energy technologies, regulations and policies.