January 16, 2014
News Briefs
Tutoring Program Earns Excellence Award
Carnegie Mellon's Academic Development Tutoring Program has received the 2014 National Tutoring Association's Excellence Award at the University Level. The award honors CMU for its quality of service to students as recognized by peers, community leaders and school administrators. CMU's program, under Director
Linda Hooper
and Program Coordinator
John Lanyon,
will be presented with the award at the NTA 21st Annual Conference Awards Luncheon April 7 in Tampa, Fla. Read about the Tutoring Program at
http://www.cmu.edu/acadev/programs/tutoring/
.
Heinz College Partners with City of Chicago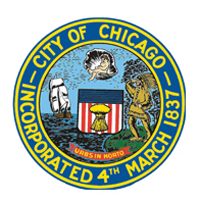 The Heinz College's Event and Pattern Detection (EPD) Laboratory is partnering with the City of Chicago's Department of Innovation and Technology to get smart about preventing violent crime, addressing public health issues and maintaining critical infrastructure.

The City of Chicago and the EPD Lab are creating the Chicago SmartData Platform, an open-source predictive analytics platform that will help city leaders respond to a range of issues before they become full-fledged crises — saving money, time and lives.

The platform originated from the work of EPD Lab Director Daniel Neill and his Heinz College colleague Wilpen Gorr, professor of public policy and information systems. They began working with the Chicago Police Department five years ago to develop CrimeScan, a software package that helps police target patrols by predicting emerging violent crime hotspots.

The EPD Lab generalized the CrimeScan approach to create CityScan, which now forms the analytical core of the Chicago SmartData platform. Chicago Mayor Rahm Emanuel recently announced CityScan is being used in a 10-week pilot program with the Department of Streets and Sanitation to predict 311 calls about rodent complaints.

Analysis has determined that 31 different call types not directly related to rodents — such as stray animals, abandoned buildings or restaurant complaints — made within seven days in the same general area often result in a service request to eliminate rodents. By proactively mining this data, the city can deploy crews to bait for rodents before they can take advantage of conditions.

Learn more at http://www.heinz.cmu.edu/news/news-detail/index.aspx?nid=1690.

Watch a video about Chicago's SmartData platform: http://www.youtube.com/watch?v=XSNq7Wg_PxA
Student Art on Display at Future Tenant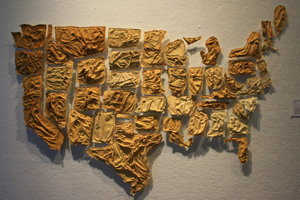 "Fabrications," a group exhibition at the Future Tenant art gallery, highlights the work of nine Carnegie Mellon art students, who first presented their work at the CFA Open Studio Day in December 2013.
In this showcase there is a recurring emphasis on subtle narratives and stories woven from paint, thread and wood. The tactile quality of the work tempts the viewer to explore the structures and to touch the various textiles and textures. A balance between craftsmanship and concept is achieved in a variety of mediums and styles.

The exhibiting artists are Nicole Anderson, Zechariah Choi, Adelaide Cole, Cristina David, Claire Gustavson, Michael Importico, Justin Lin, Sejal Popat and Laurel Michel-Schottman.

Future Tenant is at 819 Penn Ave. in downtown Pittsburgh. Hours are 1 – 6 p.m., Thursday and Sunday, and 1 – 8 p.m., Friday and Saturday.

Pictured above: "America, As Imaged By," Nicole Anderson. Laser-cut fabric, 3 feet x 2 feet x 2 inches
See-Through System Could Improve Road Safety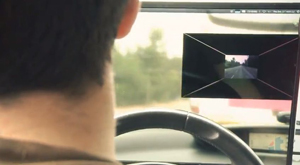 CMU Portugal researchers have developed a See-Through System (STS) that lets you see through the car you are trailing, enhancing the visibility of the road ahead. The technology is one of the outcomes of DRIVE-IN, a project of the CMU Portugal Program. The system has the potential to improve road safety by reducing accidents.

For instance, passing large trucks on highways can be dangerous — especially on two-lane roadways — due to their length and the low visibility around them. With STS, the driver can see what's ahead while staying behind the truck.
How so, you ask?

In an ideal scenario, large vehicles will drive with a forward-facing webcam on their windshield, while cars will have a transparent LCD screen on their windshield, which will enable the driver to see the road in front of the large vehicle. Read more.
PSC Projects Make Top Discovery List
Two public health projects at Pittsburgh Supercomputing Center have made HPCwire's list of "The Top Supercomputing-Led Discoveries of 2013."
The HERMES project is analyzing vaccine supply chains in lower-income countries to identify and repair under-appreciated choke points. The VecNet Cyberinfrastructure project has created a prototype computational system to support a global malaria eradication effort.
HPCwire, the major trade publication of the high-performance computing industry, named the two PSC projects among 30 supercomputing discoveries chosen from their news archives. According to the publication, these discoveries are "set to change the world in 2014 and beyond …"
Read the full article at http://www.hpcwire.com/2014/01/02/top-supercomputing-discoveries-2013/.
Safe Driving Classes Scheduled
Environmental Health & Safety has scheduled two free Safe Driving classes this semester that, depending on your insurance company, may result in lowering your insurance premiums.

University protocol requires that anyone whose job requires them to drive a vehicle on behalf of the university take this class once every three years. The class also is recommended for those who aren't required to drive as part of their job but who may drive on occasion.
 
Classes will be held from 8:30 – 11 a.m. on the following days:
Tuesday, March 11
Tuesday, April 8
To register, go to www.cmu.edu/ehs/training/index.html and click on the Defensive Driving link.
AED Training Offered
Two more classes for Automated External Defibrillator (AED) training have been scheduled for those who have never had the training or for those whose two-year certifications have expired or are about to expire. Classes will be as follows:
10 a.m., Jan. 30
10 a.m., Feb. 18
For those interested in either of these, please go to www.cmu.edu/ehs and click on the Training tab at the top of the page, then go to AED Training. The link to the registration page is at the end of the course description. The classes are open to everyone affiliated with CMU, including students. Class sizes are limited, so register early. Registrants will be notified regarding class location.
Close Windows and Check Spaces
FMS is encouraging members of the campus community to protect their work spaces during the winter months by:
Checking your department's occupied and unoccupied areas;
Closing and locking windows; and
Turning thermostats ON and checking for heat.
Please pay attention to cold spots in your buildings. During extreme cold temperatures, occupants with offices on exterior walls should leave their door open and stairwell doors open to allow warm air to circulate.

There have been more than 20 major incidents of frozen pipes and coils across campus in recent weeks. Please check your areas often and report problems to Service Response at 412-268-2910. Now is the time frozen split pipes will begin to thaw and do damage to buildings.
Nominations Now Open for Graduate Student Awards
The nomination period for the Graduate Student Service and Teaching Awards is now open and nominations are due on Friday, Feb. 7, 2014. The committees would greatly appreciate your support in soliciting and submitting nominations of graduate students who have excelled in teaching or service so that their efforts can be recognized by the university community. Nomination information can be found at http://www.cmu.edu/celebration-of-education/graduate-student/index.html. 

The awards will be presented on Thursday, April 3, 2014, at "Innovation with Impact: Graduate Student Celebration of Research, Teaching and Service" during Graduate Student Appreciation Week. Recipients also will be recognized at the Celebration of Education on Tuesday, April 22, 2014.