April 07, 2014
Celebration of Education
Award Winners To Be Honored April 22
When teaching centers on making connections and students become fearless in asking questions to push boundaries, lives are changed.
This year's winners of Carnegie Mellon's Education Awards include the first recipient from Carnegie Mellon in Qatar, alumni and professors whose outreach goes beyond CMU's boundaries to impact lives in the communities where they live. They will be honored at a Celebration of Education beginning at 4:30 p.m., Tuesday, April 22 in Rangos 1 and 2 of the University Center. The event is free and open to the public.
The Celebration of Education consists of five main awards, all of which will be given this year: the Ryan Award, the Gelfand Award, the Doherty Award, the Academic Advising Award and the Barbara Lazarus Award.
In addition to the awards noted above, seven up-and-coming junior faculty members will receive Wimmer Faculty Fellowships, faculty will receive College Teaching Awards and graduate students will be presented with the Graduate Student Teaching and Graduate Student Service awards.
The Robert E. Doherty Award for Sustained Contributions to Excellence in Education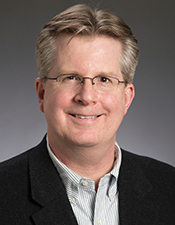 As an educator and administrator Michael Murphy (HNZ'86) has helped shape every part of the CMU educational experience.
Murphy, who has been a part of CMU for more than 30 years, is this year's winner of the Robert E. Doherty Award for Sustained Contributions to Excellence in Education.
Nominators, who include CMU President Emeritus Jared L. Cohon, former Vice Provost for Education Indira Nair, and Amy Cyphert (DC'01), called Murphy a "total educator" who has contributed substantively to CMU's excellence in intellectual, professional and personal development.
"It is impossible to itemize all that Michael has done for our university and our students," the nominators wrote. "Mentor, educator, visionary, catalyst, true teacher and student, Michael has been instrumental in transforming the educational experience of all Carnegie Mellon students."
Murphy spends hundreds of hours each year working with students both within and outside of the classroom. Through numerous letters of nominations students and colleagues shared stories of Murphy's dedication and commitment to students and their growth and well-being. In addition, he led development of the university's master plan, and he has been involved in strategic planning, university accreditation and crisis management.
Murphy started at the university as an area coordinator and also served as director of Residence Life, student ombudsman, associate dean of Student Affairs, dean of Student Affairs and assistant vice president. He currently is vice president for Campus Affairs.
Megan Larcom (TPR'10) wrote that Murphy's role as a mentor was defined by his ability to guide without directing and listen without expecting.
"His ability to relate learning and student life to life and professions outside the ivory tower was incredibly valuable during a transition from student to alumnus, and nonetheless impressive given his career inside the tower," she wrote.
In addition, Murphy built the current Division of Student Affairs, which has been recognized nationally for its work in improving the quality of life and inspiring and supporting students "to engage in a transformative university experience that shapes their evolving understanding of self, community and their contributions to a global society."
A number of staff members under Murphy have gone on to become deans of student affairs or similar positions at CMU and elsewhere.
The William H. and Frances S. Ryan Award for Meritorious Teaching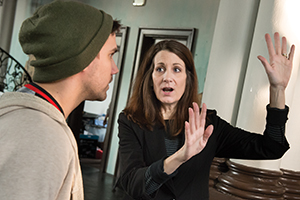 Anne Mundell sets the scene for her students to explore new ideas.
Mundell, an associate professor of scenic design, is this year's winner of the William H. and Frances S. Ryan Award for Meritorious Teaching.
She has worked tirelessly to provide opportunities for students of all ages in an environment in which students are inspired to approach problems in new ways. Mundell's students have gone on to diverse careers on Broadway and in films, television, regional theater, corporate events and theme park design.
Dick Block, associate head of the School of Drama, has been a colleague of Mundell's for 25 years. Among her accomplishments, he cited the Growing Theater Outreach course, a yearlong class in which CMU students mentor grade school students to write and perform their own plays.
"The value for these young students cannot be overstated," he wrote. "They learn not only about story telling but so much more in the area of self confidence, the ability to create and the excitement of performing in front of a live audience."
Despite beginning at 8 a.m. on Fridays, the course is a favorite. Devrie Guerrero (A'13) spent two years as a mentor. The experience was among the most influential she had while at CMU.
"Because of Growing Theater, I found my passion of working with children at a young age to help improve their future," she wrote. "I hope to one day start a program like Growing Theater."
This fall, Guerrero will work as an elementary school teacher as a resident in the Baltimore City Teaching Residency.
Mundell also reaches across boundaries to work in other disciplines.
Reid Simmons, a research professor and associate director for education in Robotics, has worked with Mundell for more than a decade on character-based social robots such as Tank the Roboreceptionist and Victor the Gamebot. Simmons and Mundell also are creating a course on intelligent environments as part of the new IDeATe program.
"Over the years, Anne has designed about a half dozen faces for our various robots," Simmons wrote. "She also has helped develop the approach of creating backstories and evolving story lines for character-based robots. Anne is the perfect embodiment of a CMU faculty member - dedicated, passionate, visionary, interdisciplinary, collaborative."
The Award for Outstanding Contributions to Academic Advising and Mentoring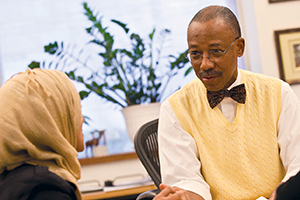 When Marion Oliver (S'72) arrived at Carnegie Mellon as a graduate student in 1967, he probably had no idea that nearly 50 years later he'd be working for the university halfway around the world from Pittsburgh.
Oliver, Carnegie Mellon in Qatar's First-Year Student Adviser and teaching professor of mathematical sciences, has been named this year's recipient of the University Advising Award for his contributions that span decades and continents.
After completing his master's and doctoral degrees in mathematics in 1972, Oliver joined the faculty and became part of the Carnegie Mellon Action Project (CMAP), which provided academic, personal and career development programs and services to minority students. In 1974, he was named the program's director.
"As acting dean of our Qatar campus, I had the opportunity to observe and to appreciate the depth of his concern for, and knowledge about each student, where they came from, and what their concerns and interests were. I cannot imagine an individual more committed to the successful integration of students into the Carnegie Mellon community," said G. Richard Tucker, the Paul Mellon University Professor of Modern Languages.
Oliver has served as provost and vice president for Academic Affairs at Millersville University, vice dean at the University of Pennsylvania's Wharton School and manager of training in the Middle East for Mobil Oil Corp.
His experiences and knowledge of Middle Eastern culture made Oliver an ideal fit for CMU-Q. He joined the faculty in Doha when the campus opened, teaching first-year calculus and advises approximately 100 students each year.
Students who were part of the CMAP program in the '70s and CMU-Q students today supported Oliver's nomination with letters remarkably similar, stating that Oliver was an important role model. Many credited academic, professional and career success to his advice and teaching.
"Marion was simultaneously an adviser, role model, confidant and friend for the students who participated in CMAP," said Russell Walker, teaching professor of mathematical sciences. "And it is much the same today for our students in Qatar. Marion Oliver's contributions to the success of Carnegie Mellon students are unique in university history."
The Barbara Lazarus Award for Graduate Student and Junior Faculty Mentoring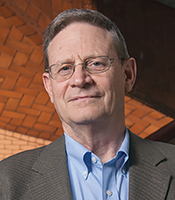 M. Granger Morgan has spent nearly 40 years at Carnegie Mellon, much of that time mentoring graduate students and young faculty members.
It is because of his untiring support since arriving at the university in 1974 that he is being recognized with the 2014 Barbara Lazarus Award.
Morgan is the Thomas Lord University Professor of Engineering and head of the Engineering and Public Policy Department (EPP). He also is a professor in the Electrical and Computer Engineering Department (ECE) and Heinz College, director of the Climate and Energy Decision Making Center and director of the Wilton E. Scott Institute for Energy Innovation.
His nomination for the award was supported by many letters, one of which was from Marvin Sirbu, a professor in EPP, industrial administration and ECE. Sirbu, who also founded the Information Networking Institute, wrote that he was in the unusual position of being able to speak to the role Granger played in his own mentoring and in the mentoring of his wife, the late Barbara Lazarus.
"Throughout my time at CMU, Granger has been a constant support, whether advising on bureaucratic issues at the Information Networking Institute, brainstorming new research ideas or simply being a sounding board when I had questions," Sirbu wrote.
Morgan is the first and only head EPP has ever had. James H. Garrett Jr., dean and the Thomas Lord Professor for the College of Engineering, wrote "the scope of Granger Morgan's positive influence is impossible to quantify." He said an extraordinary testament to Morgan's accomplishments is the successful promotion, tenure and career prominence of EPP faculty as it stands today.
Morgan also has touched the lives of hundreds of graduate students.
"A decade after finishing my Ph.D. in the Department of Engineering and Public Policy, Granger remains a strong role model, both for me and other members of my cohort," wrote Elizabeth Wilson (E'04), associate professor at the University of Minnesota. "We often joke among ourselves, 'WWGD?' (What would Granger do?) when we find ourselves in an extremely tricky or challenging situation. He embodies the ideal academic: intellectually honest and probing, driven by the love of knowledge coupled with a deep sense of personal integrity and humanity."
Mark Gelfand Service Award for Educational Outreach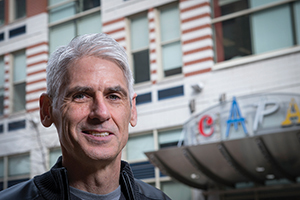 In his own work, award-winning author, poet and filmmaker Jim Daniels does not shy away from difficult subjects.
But Daniels, the Thomas Stockham Baker Professor of English, goes beyond putting words on paper to engage with the world. Since his arrival at Carnegie Mellon in 1981, he has been deeply involved in outreach efforts.
For this commitment and his work over the past 15 years with the Martin Luther King Jr. Writing Awards and his Advanced Poetry Workshop Class, Daniels is the recipient of the 2014 Mark Gelfand Service Award for Educational Outreach.
Detroit born and raised, Daniels often explores the culture of working-class life and his personal experiences. His upbringing left him with a longstanding interest in race and class issues. In 1999, he founded CMU's Martin Luther King Jr. Writing Awards to help Pittsburgh-area students better understand King's legacy of combating racial inequality. The program has received more than 2,000 entries from high school and college students.
"Everybody thinks the MLK Writing Awards program is a good thing, but those of us committed to creating a meaningful set of MLK Day activities at CMU know it to be a fabulous thing," President Emeritus Jared L. Cohon wrote. "Jim has invested a huge amount of time and effort into this community outreach - time and effort that he could have used in many other ways. Our community and the institution are better for it."
Daniels also incorporates service learning into his curriculum. Since 2001, students in his Advanced Poetry Workshop mentor literary arts majors from the Pittsburgh High School for the Creative and Performing Arts (CAPA). CMU students create lesson plans for the CAPA students, and they jointly publish the literary journal "Boundary Street" and perform a poetry reading.
Madeleine Barnes (BHA'12) met Daniels as a high school student. She enrolled at CMU after he invited her to attend student readings and sit in classes.
"Professor Daniels guided me through my first teaching experiences, taught me the happiness and excitement of collaborating on poetry projects with younger writers and motivated me to pursue writing and teaching poetry as a lifelong career," wrote Barnes, who is pursing an MFA at New York University. "I felt very connected to the CAPA students I was partnered with, and to this day, I still exchange poems with them via email."
To see all of the college teaching award winners visit the
Celebration of Education page
.