April 10, 2014
News Briefs
Spinoff's Surgical Device To Be Marketed in Europe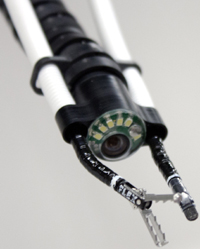 Carnegie Mellon spinoff Medrobotics Corp. has announced it will begin limited marketing in Europe of a robot-assisted surgical device that is based on the snake robot research of Howie Choset, Carnegie Mellon professor of robotics.

The Flex System (right) is a flexible endoscopic system that enables surgeons to access and visualize hard-to-reach anatomical locations. The system thus promises to extend the benefits of minimally invasive surgery — shorter hospital stays and recovery times — to a broader population of patients. The company initially has targeted the system for use in head and neck surgery, operating through the mouth.

Choset developed the surgical snake robot in collaboration with Alon Wolf, then a post-doctoral researcher and now a faculty member at Technion-Israel Institute of Technology, and Dr. Marco Zenati, then a professor of surgery at the University of Pittsburgh School of Medicine, now at Harvard Medical School. Choset, Wolf and Zenati co-founded Medrobotics in 2005.

Today, the company is based in Raynham, Mass., and has obtained the CE Marking that enables it to initiate a limited commercial launch of the Flex System in select European markets.

Learn more.
DHTI Launches Request for Proposals
The Disruptive Health Technology Institute (DHTI) has announced its 2014 Request for Proposals, kicking off its second round of funding opportunities. DHTI is seeking proposals from CMU faculty directed at addressing pressing issues in health care and improving community health and wellness.
 
Awards are intended to support research that identifies disruptive health care innovations, which can be clinically tested and rapidly delivered to a clinical setting or practice in the field. Technical focus areas have been identified in which it is believed innovation is likely to lead to rapid gains in health care quality and affordability. Areas are: Medical Diagnostics, Transforming Care Delivery, Chronic Disease Management, Computational Health Care, Re-Engineering the Health Care System, and Medical Robotics.

DHTI specifically seeks proposals in the technical focus areas listed, but is open to any proposals that the faculty deems relevant, provided they meet the criteria for leading to measurable, short-term impact on health care quality and affordability.

The deadline for receipt of proposals is May 8. Please visit www.dhti.cmu.edu/dhti for all information, templates and submission instructions. You may also contact Charlotte Emig at cemig@cmu.edu to answer questions or to obtain guidance.
New Executive Director Named in Australia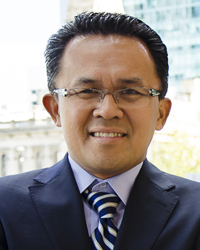 Carnegie Mellon in Australia recently introduced Emil P. Bolongaita (right) as its new executive director and hosted a lecture by Provost and Executive Vice President Mark S. Kamlet.
Bolongaita, who has extensive experience in international development and academia, joined CMU-Australia in August 2013 as deputy executive director. He was promoted to executive director this past March. He also holds the title of distinguished service professor in public policy. Prior to his appointment at CMU-Australia, Bolongaita was the unit head of the Central Asia Regional Economic Cooperation (CAREC) Program at the Asian Development Bank (ADB).

During his introduction, he spoke about the combination of circumstances that led to his appointment. Weaving personal anecdotes and historical references in his remarks, he professed his excitement at being part of Carnegie Mellon's strategic engagement with Asia. He underscored the vital importance that the university can contribute to the realization of the "Asian Century," when by 2050 Asia is estimated to produce more than half of global economic output, trade and investment.
Kamlet, considered one of the foremost thinkers on the future of education and the impact technology will have, discussed "Technology and Education: At Carnegie Mellon and Beyond."

In his lecture, Kamlet discussed CMU's approach to building financially sustainable businesses that offer high value-added technology to online education. He contrasted CMU's technology applications in education to the approach of massive open online courses (MOOCs). He discussed, as examples, Carnegie Mellon's corporate spinoffs, such as Acatar, Acrobatiq, Clearmodel, iCarnegie Global Learning, and Panopto.

Read more and watch Kamlet's and Bolongaita's remarks.
Register Your Child for Daughters and Sons to Work Day

Staff Council's Take Our Daughters and Sons to Work Day is Thursday, April 24. Faculty and staff are encouraged to bring their children between the ages of 8 and 15 to campus to give them a glimpse of the wide range of career and learning opportunities that exist at CMU. After a group lunch program, the children can attend two activity sessions for which they must pre-register.

The registration deadline is Tuesday, April 22.  See more details and register online.
Silicon Valley Researchers Seek To Improve Emergency Alerts
Researchers at Carnegie Mellon's Silicon Valley campus (CMU-SV) have received an 18-month, $874,000 grant from the Department of Homeland Security (DHS) to study how wireless technology can be improved to generate more informative emergency alerts. Additionally, they will explore if mobile devices can filter these messages based on an individual's location and needs.

When severe weather, terrorist threats or other emergencies occur, government officials alert the public by sending text messages to smartphones and other mobile devices that are enabled to receive wireless emergency alerts (WEA). These brief, 90-character messages aim to protect the public, but they also have generated confusion and frustration by not providing enough information and by alerting large numbers of people who are not immediately affected. Thus, it is common for individuals to block these warnings.

Martin Griss, founding director of the campus' Disaster Management Initiative (DMI), Bob Iannucci, associate dean and director of CMU-SV, and Hakan Erdogmus, professor of electrical and computer engineering, are heading the team that will study issues surrounding the creation, dissemination and reception of emergency messages and how first responders and the public react to different types of messages.

The team proposes to improve targeting messages by developing and piloting a prototype app that relies on a smartphone's ability to determine a user's location and movement patterns. A test bed system will simulate an emergency message's life cycle, from its creation and distribution to users' phones. This test bed will enable the team to explore a variety of scenarios and technologies. The more successful scenarios will be tested with public volunteers.

Learn more.
Take Information Security 101
The Information Security Office (ISO) has released Security 101, an online course designed to raise awareness about Carnegie Mellon's information security policies and guidelines, data classification, roles and responsibilities,  information security risks, and techniques for safeguarding institutional data and information systems. The course is designed to be completed at your own pace and convenience. The entire course will take approximately an hour to complete.

You can access the course at https://www.cmu.edu/blackboard.  Once you login with your Andrew ID and password, you will find Security 101 listed under My Courses. If you have any questions about using Blackboard or Security 101  itself, send email to advisor@andrew.cmu.edu.
Vanguard Presents Retirement Education Workshops, April 23
Vanguard is presenting three retirement education workshops on Wednesday, April 23 in the University Center's Dowd Room. They are:

A Practical Guide to Help You Make a Smooth Transition to Retirement, 10 – 11 a.m.

This workshop is geared toward employees who are three to 10 years from retirement. Topics include assessing whether you will have enough money, retirement "rescue" strategies, and managing investments during the transition. Participants will receive Spending Plan and Retirement Readiness Worksheets and an Investor Questionnaire.

Fine-Tuning Your Investments To Be Well-Diversified, 12 – 1:15 p.m.

This workshop is for employees who understand investing basics and want to build a well-diversified asset mix. Key points of discussion include understanding diversification and sub-asset allocation, fund selection and performance evaluation, and why smart people make investing mistakes. Participants will receive a workbook, The Big Picture Worksheet, and an Investor Questionnaire.

A Step-by-Step Guide To Planning for a Successful Retirement, 4 – 5 p.m.

This workshop is geared toward employees who are more than 19 years away from retirement. Participants will determine a retirement savings goal and annual savings needed to meet the goal, and evaluate their investment strategies using Retirement Savings and Cash Flow Worksheets and an Investor Questionnaire.

Note: Employees do not need to have retirement savings with Vanguard to attend these workshops. While registration is not required for these free workshops, space is limited. Reserve a spot by contacting HR Help at HRHelp@andrew.cmu.edu or 412-268-2047.
Dietrich College Seeks Student Volunteers To Organize Colloquium
Dietrich College (DC) is looking for student volunteers to serve on an organizing committee for the second annual Dietrich Undergraduate Colloquium (DUC) for DC majors and minors, Nov. 7-8, 2014. The colloquium is a student-centered event in which undergraduates present completed research or research in progress from courses, SURG/SURF research, experiences from alternative break projects and creative works.

Student volunteers, with the help of DC faculty mentors, are responsible for various components of the colloquium, including website development and/or a Facebook page for publicity, poster design/advertising, proposal guidelines, reading abstracts and making presentation selections, and providing technology support.

Interested students (and faculty mentors) should plan to attend an information (no commitment!) meeting at 4:30 p.m., Wednesday, April 23 in Porter Hall 226B. If you are interested but cannot attend the meeting, contact student co-chairs Meredith Crenshaw (mmc@andrew.cmu.edu) or Margaret Marchese (mmarches@andrew.cmu.edu), or faculty mentor Bonnie Youngs (byoungs@cmu.edu).
Nominations Now Open for Student Organization Awards
The Office of Student Activities is presenting the second annual Student Organization Award Recognition (SOAR) program to acknowledge officers, members and advisers of student government-recognized student organizations. During a reception at 5 p.m., Wednesday, May 7 in the University Center's Danforth Lounge, Student Activities will present awards and recognition for outstanding achievements in the following categories:
Outstanding Student Organization
;
Outstanding Student Organization Program
;
Outstanding Student Organization Leader; and

Outstanding Student Organization Adviser.
For award descriptions and how to submit a nomination please visit: www.cmu.edu/studentactivities/info/soar/index.html. All nominations are due by noon, Monday, April 28.
Meditation Sessions Thursdays
Ramakrishna Vedanta Ashrama Pittsburgh (vedanta-pitt.org), in collaboration with CMU's Indian Graduate Student Association, is conducting weekly meditation sessions from 6:30-7:30 p.m., Thursdays in Porter Hall 226B. RSVP would be helpful at http://tinyurl.com/bf4ptst. PLEASE NOTE: There will be no class today — the next session will be April 17. 
Learn To Swim; Improve Your Stroke
Carnegie Mellon's Adult Learn to Swim and Stroke Improvement Classes will be held each Wednesday in April (April 16, 23 and 30) in the University Center pool. Learn to swim sessions will be held from 4 – 4:30 p.m. and stroke improvement sessions will be held from 6:30 – 7 p.m. 

This program is designed to help the non-swimming adult and basic beginner adult learn survival skills, develop their stroke, overcome fears with swimming and treading, and to improve their overall fitness level by swimming. Instructors are trained to teach swimming skills at all levels. They are proficient swimmers and will be able to teach the necessary swimming skills/strokes for this class. They are varsity swimmers, lifeguards and members of the aquatics staff.

The cost is $15 per session and registration forms are available at the University Center Equipment Desk. Only credit cards or plaid cash will be accepted. Please pay the first night of the class.

Questions? Contact Pattye Stragar at pls@andrew.cmu.edu.
Responsible Conduct of Research Seminars Continue
The Responsible Conduct of Research (RCR) Seminar Series continues. Upcoming sessions are scheduled from 12 – 1 p.m. in the University Center. Dates and topics are:
Tuesday, April 15: Ethical Issues with Research Involving Human Subjects
Tuesday, April 22: Research Data Management
More information is available on the RCR website. Space is limited, so please register early.