May 13, 2013
Cool at School
Student Commencement Speaker To Reflect on Staying True to One's Self
By Abby Simmons abbysimmons(through)cmu.edu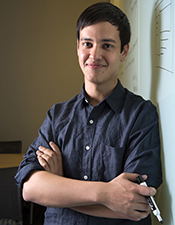 From the moment Brian Groudan (DC'12) arrived at Carnegie Mellon from Long Island, he knew college would be different from high school.
This place had a different definition of what it meant to be "cool."
"In high school, we're taught to police ourselves. It's not cool to try hard, it's not cool to show enthusiasm," Groudan said.
Rather, what passes as cool at CMU is working on an interesting project over the weekend, talking with a friend on the black couches in the University Center or painting the Fence.
"I felt like I've gotten so much out of my student experience here that I wanted to convey that and share that with everyone," Groudan said. "Commencement is about everyone, and that's what I want my speech to be about. That shared CMU experience, and what it means to be a CMU student."
Groudan's orientation experience inspired him to get involved in student life. He served as an orientation counselor his sophomore and junior years and was a resident assistant his senior year.
One of his favorite memories is of serving as booth chair for the Alpha Kappa Psi business fraternity's first Spring Carnival entry, an award-winning Blitz booth modeled after the board game Monopoly.
"I got to experience what it was like building a structure from the ground up with an organization where everyone is so reliable and so passionate and willing to stay up all night just to put on those finishing touches," Groudan said.
As a high school student, Groudan didn't know what major he wanted to pursue, but he chose CMU for its strong technical and creative programs.
"You don't need to have it all figured out when you get here. CMU helps you discover," Groudan said.
He ended up with two majors - information systems and human-computer interaction - and a minor in communication design. It allowed him
to be curious and explore a diverse range of interests.
"Brian is the kind of student that you love to have in the classroom - he is extremely intelligent and hard-working, but at the same is easy to get along with. I think of him as a triple threat - strong developer and designer, has business savvy and is a team player," said Jeria Quesenberry, assistant teaching professor for the Information Systems program.
Groudan's approach to solving problems calls upon his expertise in different fields.
"Nowadays problems that are presented to you aren't presented in a way that's neatly packaged. You have to draw upon skills from all these different disciplines," Groudan said.
This year, Groudan and three fellow seniors co-founded PayTango, a fingerprint-based payment and identification system, which has been tested on campus and is making national headlines.
"None of this was planned, and we've seen tremendous help from CMU every step of the way," Groudan said.
He finished his degree requirements in December and moved to Silicon Valley in January to further develop the company at the Y Combinator startup accelerator.
"Sometimes I feel like I haven't left Pittsburgh at all. I love this place, and I definitely want to keep close ties," he said.
The move to Silicon Valley has given him an early glimpse into how the world works.
"There are a lot of people out there just trying to be cool, kind of like what we experience in high school. Just
be yourself, and don't let that go," Groudan said.
For more on Groudan's work with PayTango, see "
It Takes A Village
."

Brian Groudan (DC'12)