May 13, 2013
It Takes A Village
CMU Community Helps Start Student Startup
By Abby Simmons abbysimmons(through)cmu.edu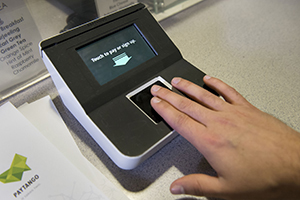 The Carnegie Mellon community opened doors - literally and figuratively - to help four seniors launch PayTango, which Inc. magazine has named among "America's Coolest College Startups."
Brian Groudan (DC'12), Kelly Lau-Kee (A, CS'13), Umang Patel (DC'13) and Christian Reyes (DC, CS'13) developed the fingerprint-based identification and payment system to eliminate the need to carry around student identification and debit cards.
PayTango grew out of a project for School of Computer Science Assistant Professor Luis von Ahn's inaugural Tech Startup Lab course in fall 2012.
"Luis von Ahn had two class rules: 1) Make this the primary purpose of your life and 2) Come to class. He might have been joking, but we took him very seriously," Groudan said.
While the idea started as a class project, CMU's culture for entrepreneurship and people helped the students move the company forward.
Von Ahn encouraged the team to enter the PennApps hackathon at the University of Pennsylvania in September, and they won several awards. Afterward, the students approached CMU's Housing and Dining Services to test their technology.
Randy Weinberg, director of the Information Systems program, provided the students with advice before making their pitch.
"Dr. Weinberg told us, 'Don't put them into a position where they can say no to you. Always begin with a conversation, learn from the people you meet and adjust your product or service to meet your customers' needs,'" Patel said.
The students presented PayTango to Joshua Frederick, director of Information Technology; Kim Abel, then-director of Housing and Dining Services and now director of Learning and Development; and fellow administrators.
"They asked us tough questions from all angles - finance, security, technology. That pushed us to work hard," Patel said.
Michael Baux, director of Dining Services, has been a champion of PayTango. He introduced the students to Mark Hastie, who along with his brother, operates The Underground and Skibo Café on campus, and owns Gullifty's in Squirrel Hill. Their staff embraced the opportunity to support the entrepreneurs.
PayTango tested its system with 100 students at The Underground in February. By March, all Pittsburgh-based students signed up for a university meal plan or flexible dollar program were able to enroll, and PayTango expanded to Skibo Café and The Exchange, operated by Mike Clarkson and Kevin Huber.
While Groudan, Patel and Reyes spent most of the spring semester at Silicon Valley's Y Combinator startup accelerator, Baux served as a liaison between the company and campus dining staff in Pittsburgh.
"Michael is always there to answer our questions. He's given us feedback on how to pitch this to other universities," Patel said.
Countless others have provided technical expertise, shared advice and made introductions to potential investors. Those individuals include College of Engineering faculty member Marios Savviddes, School of Computer Science faculty member James Morris and Human-Computer Interaction doctoral student Chris Harrison.
Lau-Kee turned to faculty at the School of Design for their guidance while she developed different iterations of the PayTango terminal.
"The faculty has been incredibly supportive of this venture. My education here has encouraged me to take risks and always seek out challenges," Lau-Kee said.
Students in Kinshuk Jerath's Marketing I course at the Tepper School of Business developed a marketing plan for PayTango during the fall semester, and students in Jenna Date and Vincent Aleven's Undergraduate Project in Human-Computer Interaction course worked with Housing and Dining Services to collect and analyze user feedback in the spring semester.
When the students moved to Silicon Valley, they connected with CMU alumni who previously participated in the Y Combinator program and met with Jonathan Kaplan (TPR'90), creator of FlipCam and CMU's Open Field Entrepreneurs Fund.
"Starting a company is very challenging, especially when you have a full course load. The Information Systems Department gave us space to work in, provided mentorship and were very flexible in course scheduling," Groudan said.
Paige Houser, administrative coordinator for the Information Systems program, set up conference calls, reserved rooms and literally unlocked doors for the team. That level of care continued as the students moved to Silicon Valley - she emailed the students low-cost, easy-to-prepare recipes and checks in on how they are doing.
"The PayTango group is a very talented and appreciative set of students," Houser said.
After commencement, the entire team will move to Silicon Valley. PayTango plans to use the round of seed funding it has raised to hire more staff, further biometrics development, expand to additional universities and introduce the system to fitness centers over the next year.

PayTango's registration process takes about 20 seconds. Users place two fingers on the terminal's fingerpad, swipe the card they want to register and type in a phone number. Any card with a magnetic stripe can be registered in the system, including credit, debit, gift, loyalty and identification cards. On repeat visits, users simply place their fingers on the fingerpad to make a payment. The service is paid for through contracts with merchants, making it free for users.
Outside Praise
Brad Keywell, co-founder of Groupon and Lightbank, mentioned CMU and PayTango in a Wall Street Journal blog on April 26.
He said:
"Universities must continue to build the educational structure and curriculum to support students who value both a college education and creating businesses. And Carnegie Mellon did just that. It stepped up to support its students, providing three campus locations as PayTango guinea pigs. While some of the most successful entrepreneurs - founders and co-founders of Apple, Disney, Facebook, Rolls-Royce, Tumblr, Coca-Cola and others - didn't have a college degree, those who opt for higher education need to take advantage of the flurry of networking opportunities and campus incubators like the Carnegie Mellon students did."