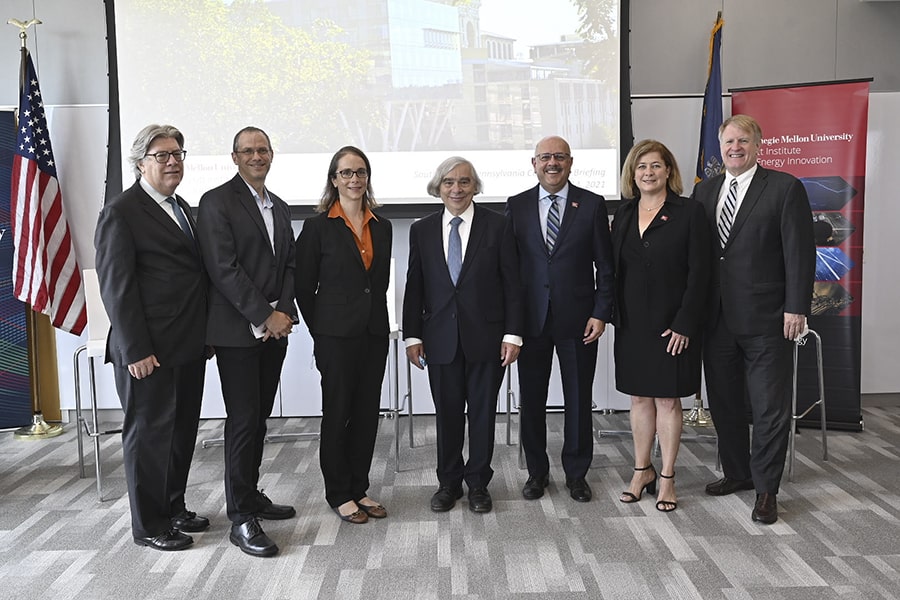 October 14, 2021
Roosevelt Project Case Study Shows How Southwestern Pa. Can Thrive in a Low-Carbon Future
By Ryan Scarpino rscarpin(through)andrew.cmu.edu
Media Inquiries
Ryan Scarpino
University Communications & Marketing
Researchers at Carnegie Mellon University — together with collaborators at Harvard University, Massachusetts Institute of Technology and Boise State University — released a research study on how Southwestern Pennsylvania can thrive during the transition to a future with net zero greenhouse gas (GHG) emissions. Expected to be one of the largest industrial transitions in history, the clean energy transition will affect sectors from electric power to heavy industry and transportation, and is necessary to address global climate change, according to the report.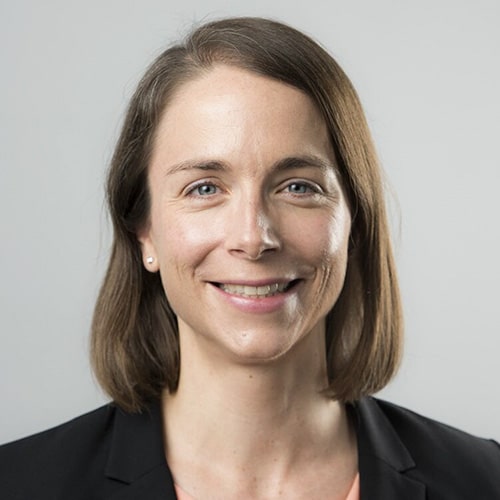 Carnegie Mellon Associate Professor Valerie J. Karplus (pictured at left), joined by former Secretary of Energy Ernest Moniz on CMU's Pittsburgh campus, presented the findings of the Roosevelt Project case study focused on Southwestern Pennsylvania to energy industry and economic development stakeholders at The Wilton E. Scott Institute for Energy Innovation. Karplus recently joined Carnegie Mellon from MIT, bringing extensive expertise on technology and policy theory of regional clean energy transitions around the world.
"The study shows that the region has built diverse strengths that will be in high demand in a low-carbon transition," said Karplus. "There is an opportunity for regional leadership to embrace this diversity as 'the next big thing' — and to develop a bold, targeted, and inclusive regional strategy and ongoing conversation to support its implementation. I am thrilled to join the faculty at Carnegie Mellon and to establish research here to support this agenda."
The Roosevelt Project was initiated by Moniz and takes a multidisciplinary approach to examine the transitional challenges associated with progress toward a deeply decarbonized U.S. economy.
"The case studies underscore the importance of policy and regulatory frameworks at the regional level to support technology deployment, ensure high quality jobs and diversify public revenues away from fossil sources," said Moniz. "Southwestern [Pennsylvania] has an opportunity to demonstrate how an 'all-of-the-above' strategy can generate jobs, build new industries, and secure livelihoods across the region's rural and urban communities, turning headwinds into tailwinds on the path to net zero GHG emissions nationwide."
Moniz, who currently serves as president and CEO of Energy Futures Initiative, joined CMU President Farnam Jahanian, Congressman Mike Doyle, Allegheny County Executive Rich Fitzgerald, and Pittsburgh Mayor William Peduto for the announcement.
"Carnegie Mellon is pleased to have been a key partner in The Roosevelt Project's study of the region and is committed to applying its research expertise in energy innovation and policy to support the transition to a sustainable, low-carbon energy future," said CMU President Farnam Jahanian. "By coming together as a region, we can ensure this transition creates opportunity and that everyone — including the most vulnerable — can participate in a clean and resilient economy."
The Southwestern Pennsylvania case study puts forth recommendations for how the regional economy can leverage its existing assets to help meet national and global efforts to address climate change, while creating new jobs and opportunities for existing fossil energy workers and their communities. The case study found major energy opportunities for the region during the transition:
Large-scale methane emissions abatement at pipelines and abandoned wells
Deep reduction of carbon emissions from power plants and industry via carbon capture and storage and hydrogen systems
Expansion of wind, solar and nuclear energy efficiency
Clean energy supply chain opportunities in manufacturing
Karplus' first order of business at CMU has been to establish her research group, the Laboratory for Energy and Organizations, or LEO, which will carry forward elements of the work begun in the Roosevelt Project case study. LEO focuses on how organizations — from business firms to governments and communities — can internally prepare to thrive in a clean energy transition by changing technology, strategy and practices.
"We are thrilled to have Dr. Karplus join us at the Scott Institute," said Executive Director Anna J. Siefken. "As she joins our more than 170 energy researchers, her work is pivotal to our overall decarbonization efforts. We look forward to continued collaboration with Southwestern Pennsylvania leaders to showcase and demonstrate best practices in the energy transition to the rest of the world."