March 16, 2021
CMU Energy Week 2021 Returns in Virtual Setting
By Michael Henninger mhenninger(through)cmu.edu
Media Inquiries
Anna Siefkin
Wilton E. Scott Institute for Energy Innovation
Carnegie Mellon University's annual
CMU Energy Week
, a gathering open to the public, government officials, business stakeholders and industry leaders to discuss the nation's critical energy needs and cleantech innovations, will move to a virtual format this year — from March 22-26.
Hosted by the
Wilton E. Scott Institute for Energy Innovation
, the weeklong summit features Energy Insight "Briefnotes," an investor forum with live startup pitches, a student poster competition and two late afternoon virtual networking sessions.
New to this year's summit is the
American-Made Solar Prize Round 4 Set! Pitch Showcase
. The
Solar Prize
is a $3 million Department of Energy-led challenge designed to revitalize U.S. solar manufacturing through a series of competitions and the development of a diverse and powerful support network that leverages national laboratories, energy incubators, universities and other resources across the country. The Scott Institute has served as a "Power Connector" with the Prize program in partnership with the National Renewable Energy Laboratory since 2018.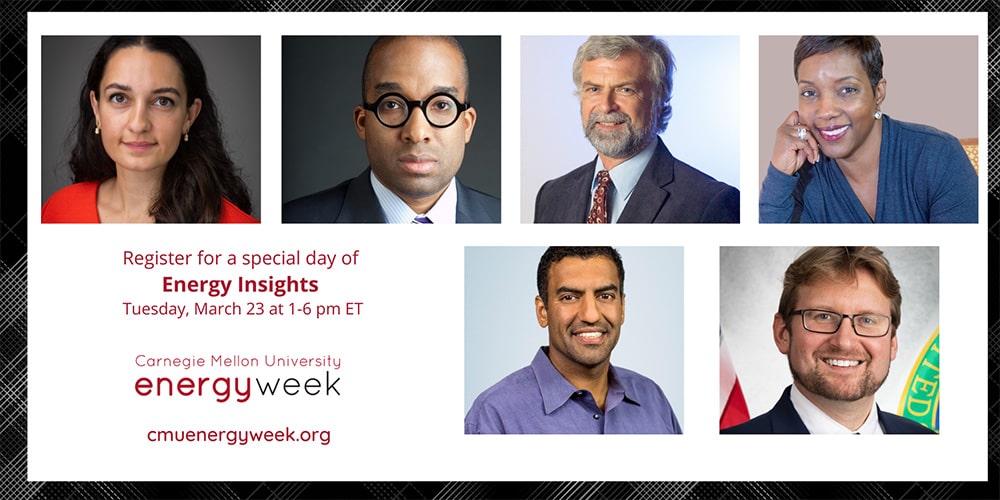 DOE leadership will be a highlight of the event, including
Shara Mohtadi
, newly-named chief of staff in the Office of Energy Efficiency and Renewable Energy and
Brian Anderson
, director of the National Energy Technology Laboratory.
"CMU Energy Week has always been an opportunity for industry, government, nonprofits and decision-makers to come together to discuss the future of energy," said
Anna J. Siefken
, the executive director of the Scott Institute. "But now the sense of urgency around climate change is heightened. This year's virtual event will be different, indeed, but the goals and vision of convening incredible thought leaders for important dialogue remains the same."
Other Energy Insight Briefnotes on March 23, 1-5 p.m. ET include:
More information, including the full schedule, can be found at
www.cmuenergyweek.org
.