July 09, 2021
"Godspell" Celebrates 50 Years of Performances
By Pam Wigley pwigley(through)andrew.cmu.edu
Media Inquiries
It was 1971, and the world needed some good news. The United States was almost six years into the Vietnam War, Charles Manson was sentenced for leading a murderous spree on the West Coast, and Marvin Gaye released "What's Going On?" about police brutality. One bright spot was the opening of Walt Disney World in Orlando, Florida, but few had traveled south to what would become one of the world's most famous vacation spots.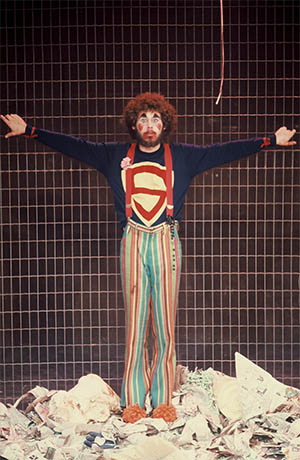 Andy Rohrer as Jesus
John-Michael Tebelak, in the process of earning his master's degree at Carnegie Mellon University's School of Drama, decided to take matters into his own hands. With his thesis project due, Tebelak focused his energies on creating a musical that would help people cope with stressful times.
"We were in the midst of the Vietnam War," remembers Susan Tsu, who was a sophomore in the school at the time. "So, the squeaky clean, positive, energetic sharing [of the musical experience] was like a balm to people."
Tsu, now the Bessie F. Anathan Professor of Design and a University Professor in the School of Drama, became part of Tebelak's project when she was tapped to create the costumes for his production, which became a little musical he called "Godspell." This year, it celebrates its 50-year anniversary and has been produced by countless theater groups, high schools and professional companies.
For Tsu, it doesn't seem possible that five decades have passed since she was assigned the task of designing the production's costumes from then-faculty members Cletus and Barbara Anderson. She conferred with Tebelak about his vision for the cast's outfits, and he gave her two words of inspiration: "Hippy clowns."
Her whimsical designs gave life to the production, which featured a cast of classmates (see sidebar) who were eager to be part of something special and, as a result, became part of history. Many still get together at impromptu reunions, Tsu said. When the production made its way to New York City, it welcomed fellow classmate Stephen Schwartz, who composed the music.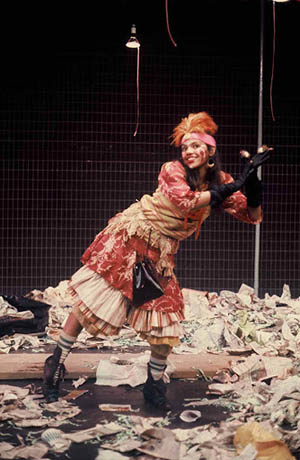 Sonia Manzano
Sonia Manzano (right), a gifted writer and actor who may best be known for her role as Maria on "Sesame Street," embraced her role. Upon the 50th anniversary in May, Manzano said she read the press coverage about the milestone and fondly recalled being in the cast. "It was an exciting time at CMU," she said.
Tsu worked with a budget of $150 — with the added benefit of full access to the entire School of Drama stock collection for materials. She had mere weeks to pull everything together. For the original show, Tsu said she put a piece of herself in every outfit. "The lace, superman, the raccoon tail ... well, everything."
Through the years, costumes have become less intricate and more "wash and wear." Tsu said she has been happy to see the costume design for every production tailored to the group performing it. "Godspell," she said, is made for companies to make their own.
She relishes the opportunity she was given. "It was my first show — who gets to do that?!" After its three-day run at CMU, the show went to New York. But, after experiencing life on the road, Tsu knew she wanted to return to CMU. "I knew what I didn't know, and there was a lot," she said.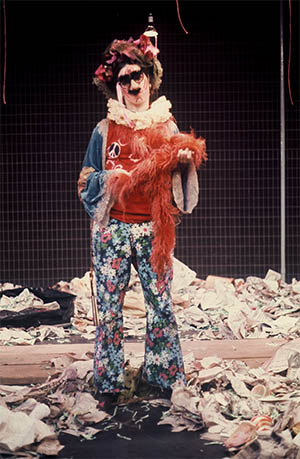 Mary Mazziotti
Tsu tells her current first-year students in CMU's top-rated costume design program that an experience like "Godspell" teaches them that they should always do their very best in all they do, as their teachers look to class performance in order to make their production assignments. "While unusual, I tell them, 'You are not always so far from your dream as you might think.'"
The production continues to delight and uplift audiences, most recently during the COVID-19 pandemic. As theaters sat vacant across the country, many longed to attend a show. In mid-summer 2020, the Berkshire Theatre Group in the Berkshires presented the musical to masked audiences; the actors performed behind shields. Audience members, in large part, reacted with tears of appreciation.
"Godspell" was, again, serving as a salve for the nation, and Tsu finds that timeless message satisfying and enriching.
"It was a message of love at the time," she said. "A beautiful, pure message that continues today!"