February 20, 2020
CMU Costume Studio Creates Onstage Magic Behind the Scenes
By Alexis Trbovich
Media Inquiries
The storytelling that happens on stage goes beyond an actor's performance — it begins in the very fabric of their costumes. At the Carnegie Mellon University School of Drama, costume design and production students use fabric, design and their imaginations to visually enhance an on-stage performance.
Tucked away in a corner on the third floor of the Purnell Center is Carnegie Mellon's Costume Studio, where nearly two dozen undergraduate and graduate students study costume design and production. Tiia Torchia Lager serves as the studio's manager. Lager managed professional theater shops in New York for 17 years, most recently New York's Public Theater.
"I'm here to help guide [the students] through the process, which many of them have never been through before," Lager said. "I teach them how to take a show from drawings and ideas to an actual 3D performance on stage in front of an audience."
The School of Drama presents more than a dozen productions each year and, along with professional theater productions in town and student-driven events, students find ample opportunities to create professional portfolios that establish them in fast-paced careers in regional and national theaters, studios and shops.

Costume design students have ample opportunities to create professional portfolios at CMU's School of Drama. Oona Natesan, a graduate student in costume design, is the show designer for this year's production of "Into the Woods."
Figuring out a Fairytale
For this year's spring musical, "Into the Woods," Lager began working with her students in September. Oona Natesan, a graduate student in costume design, is the show's designer. Matthew Gardiner is the show's director, and he brought a different interpretation to the production.
"Matt told us his take on the story: a dark, distressed, war-torn world, but also with the elements of whimsy and charm," Natesan said. "He wanted to be as collaborative as possible. I worked really closely with the set designer because there are a lot of things in the background that become part of the costume, and parts of the costume that become part of the background. We came up with the idea of how the characters would come out of the walls as if they lived in the walls, waiting to tell their stories."
"Into the Woods" features fairytale characters such as Cinderella, Rapunzel and Little Red Riding Hood. Natesan carefully analyzed the script, capturing her emotional response to each character in pictures and creating a board of images for each one. For Little Red Riding Hood, she compiled a picture board full of black-and-white photos of Victorian-era school girls in era-specific clothing.
"Something that drew me in to these images is the detail on the shoulders and the yoke [of their dresses]; they are very innocent and feminine. The sleeves had details to them, too. It has a sweet detail to it," Natesan said. She used these details as inspiration for her own design, giving Little Red's outfit its own feminine and child-like features, while keeping practicality in mind as well. "I thought it was much more practical to give her a romper as opposed to a dress. I mean, Little Red Riding Hood, skipping through the forest — why wouldn't she have a romper?"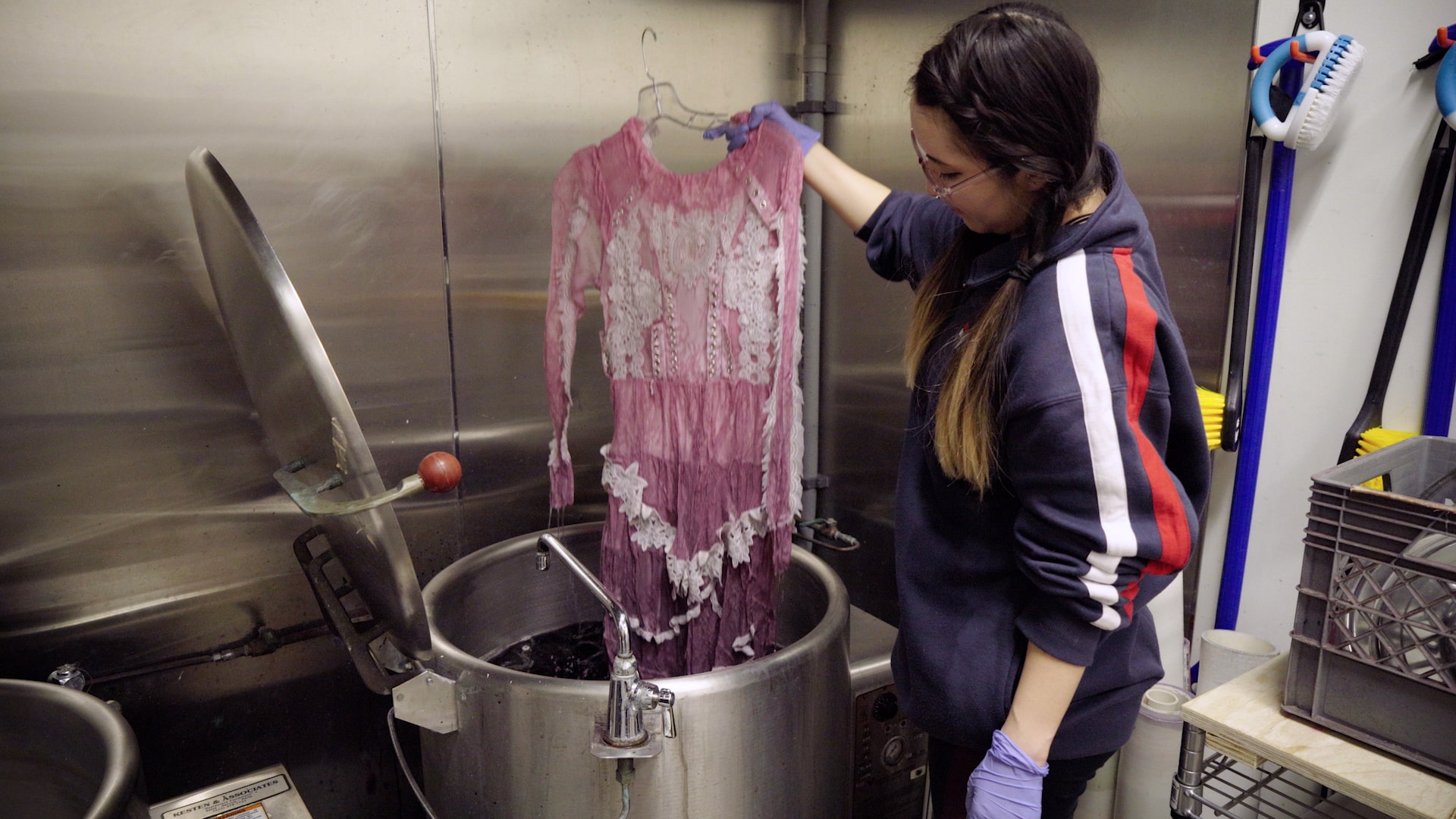 Third-year costume production student Minjee Kaskow dyed Rapunzel's dress prior to adding additional details.
For Rapunzel's costume, Natesan drew from images depicting captivity and translated them into her design.
"I used buckles and leather straps, [which were] symbolic of being locked up. Her clothes are layered because there's so much to her," she said.
Although each character has their own design, a theme runs throughout.
"This story is about what you will do to get what you," she said. "A lot of characters have similar color palettes but also something that offsets them from the others."
Originally from India, Natesan features traditional Indian fabrics and design elements: "I did inherently use a lot of my culture for inspiration because that's who I am, and it comes out in what I'm making," she said.
Wardrobe Work
Natesan's design for the witch's cape features six panels of fabrics varying in pattern and texture. During the show, the witch quickly switches between her cape and her gown. Celia Kasberg constructed the cape with this technical need in mind.
"The cape kind of cowls and hides her beautiful transformation gown," said Kasberg. "The cape is part of a quick change. The hem of the cape all gathers to the neckline, where there's a drawstring. When she pulls it, the hem of the cape releases."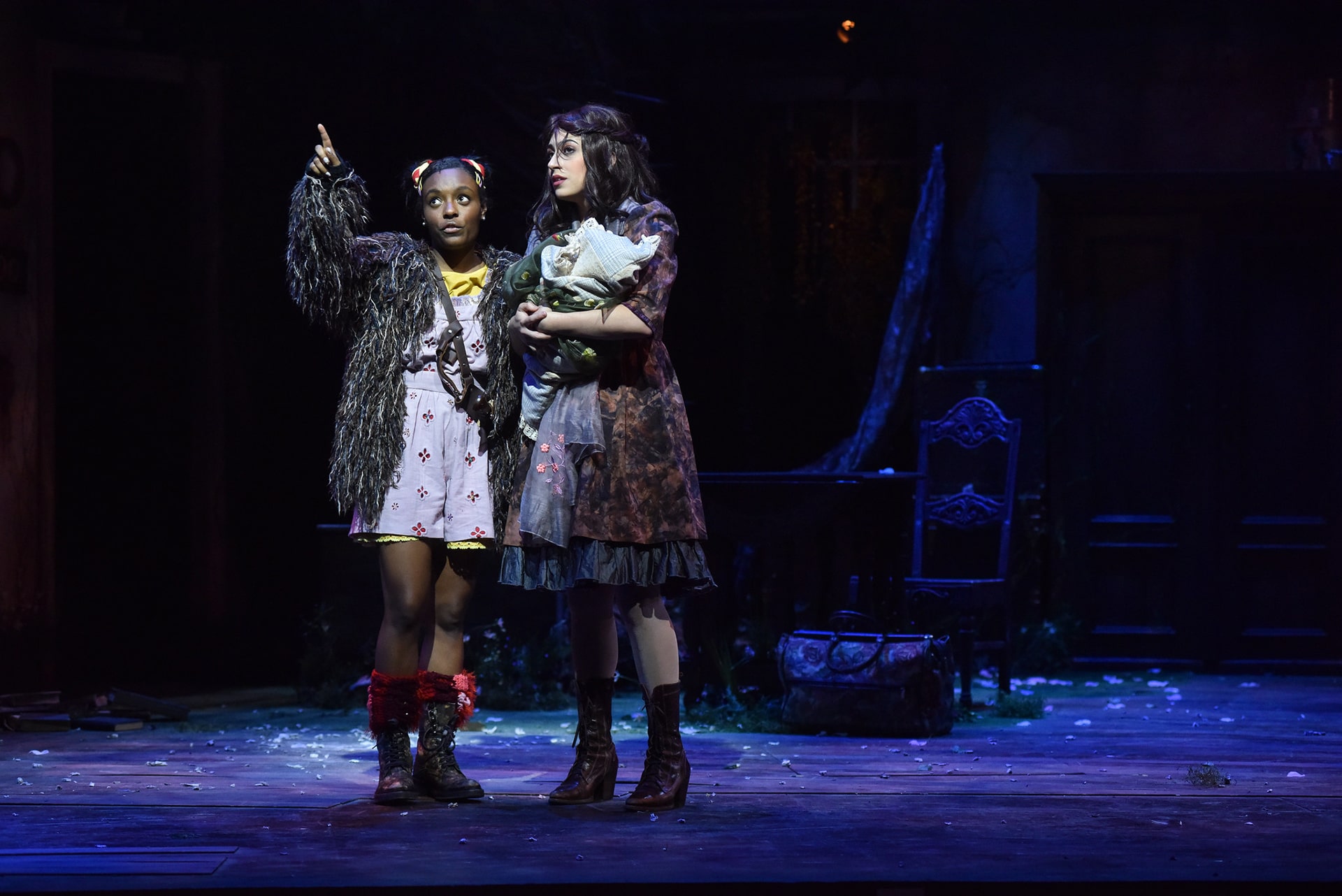 "Into the Woods" includes well-known fairytale characters such as Little Red Riding Hood, at left, played by junior drama student Khailah Johnson. Her romper was inspired by Victorian-era school girl clothes. Georgia Mendes, a senior in drama, plays the baker's wife. Image by Louis Stein
Similar to the witch's cape, the design for Little Red Riding Hood's romper required specific construction techniques.
"In this romper, we have a double lining so that one is closer to the body and holds it in place, and the top layer is more loose and free, and you'll never know that there's an inner structure that's holding it in place," said Ayelet Birman, a first-year graduate student in costume production, who built the costume.
After months of effort, the costumes are ready to be worn onstage. The costume shop team and Natesan see the full culmination of the design at the first technical dress rehearsal.
"That's when the idea of balance needs to be brought into the picture," Natesan said. "During tech is when decisions like adding trim or adding a ruffle is made so that a character doesn't look off, so that there's no awkward proportions on stage."
Beyond the Curtain Call
Long after any dress rehearsal or performance is over, costume studio students reap the benefits of learning their craft.
"I treat this just like any professional show I did in New York," said Lager of "Into the Woods" and every show she runs at Carnegie Mellon. The professional standard she and other faculty set does not go unnoticed by students, even in their first year.
"I'm really grateful to be here," said Ana Cobos, a first-year graduate student who built the character Jack's knickerbocker shorts as her semester production assignment. "We have really great professors here. I just learn so much in every single class, and then I get to apply that to my production assignments."
Birman also is confident in her choice to come here. She chose Carnegie Mellon specifically for its program in costume production.
"This is one of the only programs that exists for costume production," Birman said. "It's purely technical, and I love it. It's very tailored to my preferences. So far I feel very prepared for the real world of theater."