January 25, 2021
Brothers Complete Long Journey To Doctorates
By Heidi Opdyke opdyke(through)andrew.cmu.edu
Media Inquiries
Jason Maderer
Marketing & Communications
Brothers Andrew and Henry DeYoung have accomplished something very few siblings do: They defended their doctoral theses at Carnegie Mellon University within a few weeks of each other. Henry defended in December, and Andrew defended Jan. 22.
Both have spinal muscular atrophy, a progressive neuromuscular disease, that restricts the use of their hands and requires them to rely on breathing equipment and wheelchairs. Their immune systems are compromised, so they have to be careful about germs: even a cold can be fatal.
"The disease does progress very slowly," Andrew DeYoung said. "We're fortunate it's been a really slow progression."
That has not stopped either brother, however, in excelling in their chosen fields. Henry DeYoung, 35, started as an undergraduate in the School of Computer Science in 2003. After being accepted, he and his parents met with Mark Stehlik, then assistant dean for undergraduate studies, Larry Powell, then director of the Office of Disability Resources, and Mike Murphy, then dean of Student Affairs.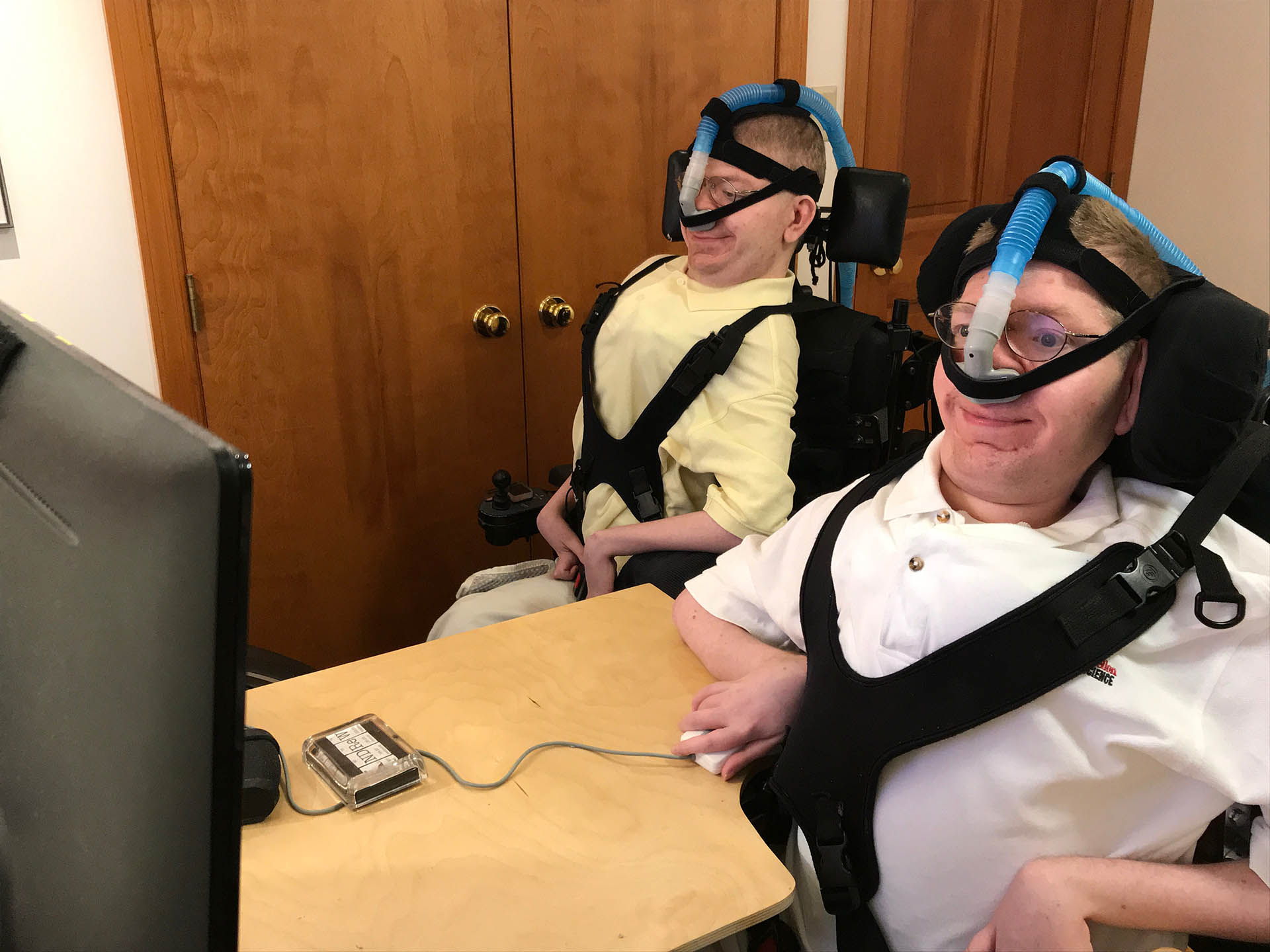 From left, Henry and Andrew DeYoung have been part of the CMU community for more than a decade.
"I was so impressed with this kid and his desire to learn. What educator wouldn't love that?" Stehlik said. "As a university, we should help brilliant minds advance independent of any other considerations."
Stehlik worked to find ways to help Henry DeYoung participate in classes. One way was by figuring out how to allow him to attend courses in Wean 7500, where many CS courses, including "Introduction to Computer Systems," were taught. At the time, the auditorium had no place for Henry DeYoung to safely park his wheelchair, which is longer than most. The solution: Stehlik worked with Jim Skees, then director of School of Computer Science building facilities, to cut a vertical slice out of a retaining wall and build a platform to park the wheelchair on.
"The Henry DeYoung notch survives to this day," Stehlik said.
The willingness of faculty and staff helped make the transition to college possible. Henry DeYoung would introduce himself to professors prior to classes beginning to discuss his situation and find ways to participate as much as possible.
"It's a testament to the creativity of people at CMU. Many of them said, 'We've never done this before, but we'll figure it out,'" Henry DeYoung said. "In my experience, everything went really smoothly. Mark Stehlik was welcoming, but so were all of the individual professors that I had for my courses."
When Henry's brother, Andrew, looked at colleges, he already knew where he wanted to go. While he applied to the University of Pittsburgh and MIT — his father's alma mater — CMU was always at the top of his list.
"I was hoping I would get accepted. I knew I wanted to go there," Andrew DeYoung said. He started in the Department of Chemistry in 2005, and graduated in 2010 with a 4.0. "CMU's culture of openness is really what made all of this possible."
Karen Stump, teaching professor and director of Undergraduate Studies & Laboratories in the Department of Chemistry, has advised students for more than 20 years. She said that Andrew DeYoung will remain one of the most impactful students she has ever worked with, both personally and professionally.
As an undergraduate, he collaborated with Stump to find a way to participate in lab courses. The solution involved using a graduate student to act as his hands, while he provided the direction for every step of each experiment.
"The graduate student became his hands," Stump said. "All three of us were very clear it was going to be Andrew directing. So Andrew would tell her specifically what to do, and she had to hold back if she knew it was wrong in terms of techniques or outcomes of the experiment unless there came a point where safety had to be taken into consideration. And in that way he was able to make mistakes.
"He was such a great partner in that process and very willing to do what he could. He wanted as much of an experience as he could get that mimicked what other chemistry majors got."
Working with Andrew DeYoung influenced her and other faculty members to reconsider what does it mean to be in a lab for a student and also how to develop courses.
"When I first met Andrew, I spent a lot of time thinking, 'How do we make this work?'" Stump said. "For most of us who worked with Andrew, we now go right away to the problem-solving moment. It was such a wonderful experience. Andrew helped us realize that there's value in education for everybody, and there are creative ways to accomplish your goals while also meeting the needs of the students."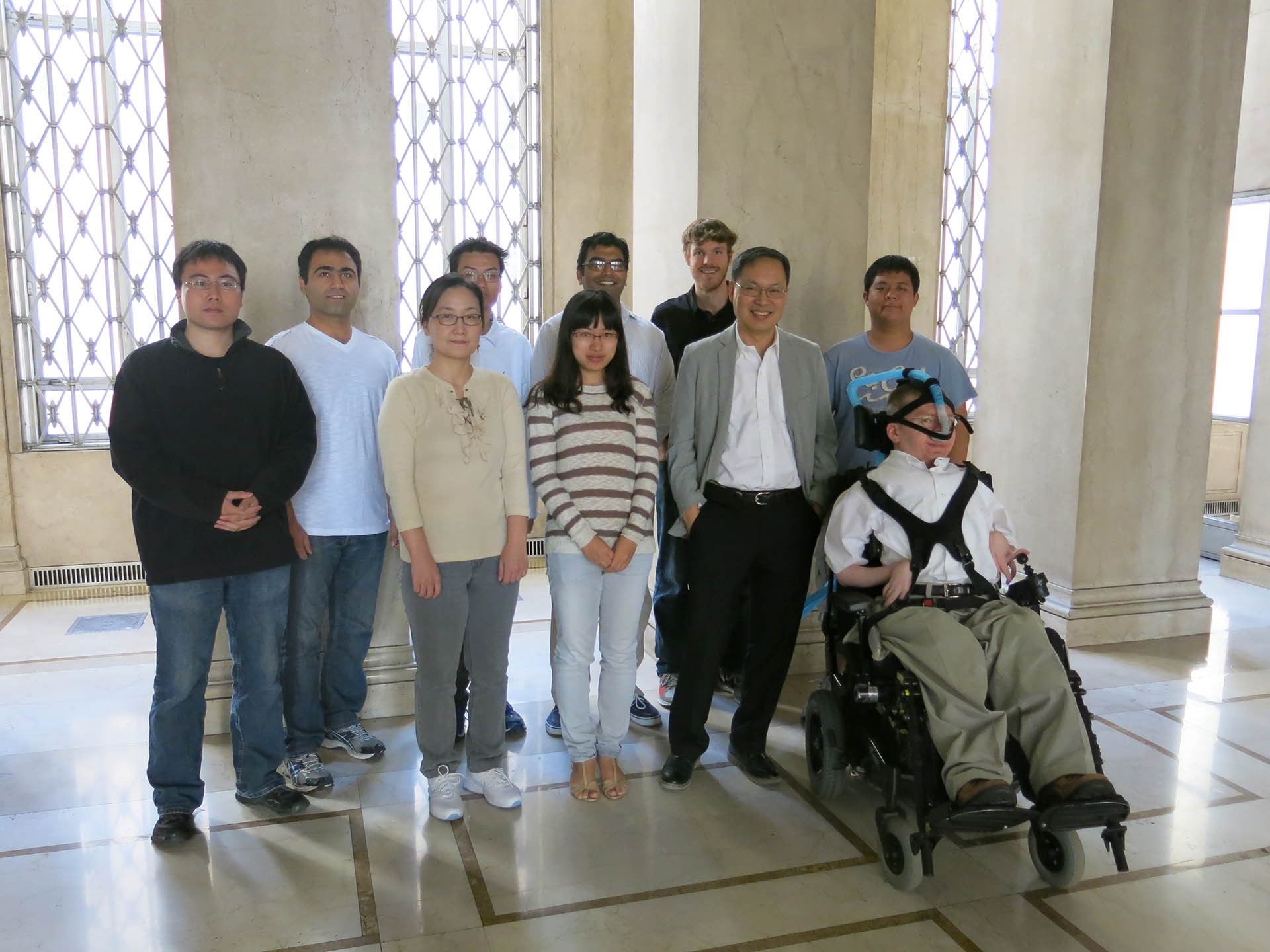 An photo from 2014 shows Andrew DeYoung with Hyung J. Kim's theoretical and computational lab group.
Catherine Getchell became the director of the Office of Disability Resources after Powell retired in 2016. Less than one percent of CMU students have permanent disabilities related to mobility, but she said that the DeYoung brothers' ability to self-advocate and initiate conversation with faculty is something all students with and without disabilities can learn from.
"Students can reach out to the office at any time," Getchell said. "If they know they're coming to CMU and that they may require accommodations for a disability, we urge them to contact our office. They can also contact us as prospective students. A discussion with us about our services and the accommodations process may help them make their decision. We won't be able to make final decisions on any accommodations until after they accept admission, but we will happily talk about what they might need and what the options are."
Getchell added that there's no deadline to receive accommodations, although the sooner students reach out, the more impactful their accommodations will be.
The ability to succeed at school for both Henry and Andrew DeYoung was a family affair, which included their parents, David and Joan DeYoung, and nurses and volunteers who helped them with day-to-day activities.
"Our days are incredibly shorter than most students," Henry DeYoung said. "There's less time for work."
Daily routines include breathing treatments in the morning and evening as well as getting into their motorized wheelchairs. Because of their limited mobility, they dictate assignments to their parents or others to type.
"I will not pretend to understand what a day in the life of the DeYoung household is like. I will assert that it was not easy and pretty hard at times," Stehlik said. "It was their collective will and desire to succeed. To see an example of a struggle that was surmounted in a very good positive way. I'm glad CMU played a small part in that."
"As a university, we should help brilliant minds advance independent of any other considerations." — Mark Stehlik
Henry DeYoung graduated with his bachelor's degree in 2008 with a 4.0 before starting his graduate studies. His graduate adviser was Computer Science Professor Frank Pfenning. Because of Henry DeYoung's compromised immune system, the two have met virtually since February 2019, the last time Henry was physically at the Pittsburgh campus.
"Over all these years, it's been a real delight in working with him," Pfenning said. "Henry is very smart, dedicated and detail oriented. He has a love of research and inquiry and answering very fundamental questions."
Being a doctoral student is not just about being smart, Pfenning said. "It's originality that you need, and to go where no one has gone before and forge your own path."
For Henry DeYoung's thesis he studied proof-theoretic foundations of session-typed concurrency. The work relates to understanding the relationship between logic and computation and how multiple computers communicate through protocols.
"It's significant work that will have an impact," Pfenning said. "I'm really proud of what he accomplished. For any student to do this kind of work and write this kind of thesis is a great accomplishment. That he was in the circumstances he was just adds to that."
Andrew DeYoung works in Professor Hyung J. Kim's lab. Kim was chemistry department head when he started as an undergraduate.
"Andrew is one of the most brilliant students I have had," Kim said. "He's probably the most conscientious worker — he always has followed up on whatever we discussed and things I mentioned in passing. He has been great, and he pays attention to all of the details."
Andrew DeYoung's thesis relates to theoretical work on molecular dynamics simulations. He's studying energy storage systems, in particular carbon-based supercapacitors.
"Supercapacitors are like batteries but are able to charge and discharge more quickly. One application of supercapacitors is in electric vehicles," Kim said.
Kim said that Andrew DeYoung has been exceptionally motivated to do research.
"When I took Andrew into my group, I was concerned because of his physical limitations and how much he can do. But he really put in a lot of effort and his will was really strong," Kim said. "That's how and why he's is where he is today."
Both brothers will continue to be part of the CMU community. Henry DeYoung recently began adjunct research, continuing his research with Pfenning and starting new collaborations. Andrew also is in making arrangements with Kim.
"I would love to continue to work with Andrew," Kim said. "I really like interacting with him on science."