December 08, 2021
National Robotics Engineering Center Has Transformational Economic Impact
New report finds Carnegie Mellon organization has helped advance its neighborhood, the region and industry
By Gera Jochum gjochum(through)andrew.cmu.edu
Media Inquiries
Shilpa Bakre
University Communications & Marketing
Ryan Scarpino
University Communications & Marketing
The National Robotics Engineering Center (NREC), an innovative model for academic-industry collaboration founded 25 years ago to catalyze robotics research, development and commercialization, has created a dramatic transformation of the economy of Pittsburgh, the region, and the robotics industry, says a report released by Carnegie Mellon University today.
"The impact of Carnegie Mellon's NREC has been game-changing, not just for igniting a thriving technology industry in Pittsburgh and Western Pennsylvania but also for revolutionizing robotics and catalyzing its impact across the globe," said CMU President Farnam Jahanian. "As NREC marks its first 25 years and plans for the future, the report's findings reinforce what insiders have always known: NREC's innovations have transformed entire industries, and are helping to solve some of humanity's greatest challenges."
The report finds that CMU's NREC was a key driving force in the emergence of Pittsburgh's "Robotics Row," which includes over 80 companies focused on robotics, artificial intelligence (AI) and related technologies, located along the Allegheny River from NREC's base in Lawrenceville to the historic Strip District. Many of these companies have ties to NREC — with a significant number founded or created by NREC alumni. Those NREC-affiliated companies today are valued at more than $18 billion.
CMU was joined by NASA, the Commonwealth of Pennsylvania, the city of Pittsburgh, local foundations and other partners to create NREC. The center began with an initial investment of less than $10 million and has raised more than a half billion dollars in total direct funding to date — a remarkable 50 times the original investment.
Among the report's other findings:
• The strong network of alumni and organizations that are connected to NREC is at the heart of Pittsburgh's economic resurgence. Three of five robotic/AI/tech sector firms in Pittsburgh have direct staff ties to NREC alumni. And alumni of NREC stay in Pittsburgh: 53% of former NREC researchers or staff members continue to live and work in the region today.
• NREC's impact is measured on a global scale. The center's technologies have been licensed more than 450 times by organizations in 31 countries, and its robots have been deployed on all seven continents, saving lives and revolutionizing operations in numerous industries.
•  Robotics technologies developed by NREC are improving lives every day. For example, NREC created technology to detect and locate land mines has been used in humanitarian and military applications saving people's lives. In fact, several robots developed by NREC are intended to be used in places too dangerous for humans. The huge humanoid robot, CHIMP, was designed for the Defense Advanced Research Projects Agency (DARPA) Robotics Challenge in response to the Fukushima nuclear accident and can assist in disaster response. Further, much of the cutting-edge research and talent that has given rise to the autonomous vehicle industry can be traced directly to NREC.
• NREC's educational programs increase access to robotics and grow the future science and technology workforce, having prepared tens of thousands of people for academic and professional success. The Carnegie Mellon Robotics Academy, for example, works with educators to develop curriculum and provide professional development that inspires K-12 students in science and technology. The Academy is also engaged in multiple initiatives to reskill adults for advanced manufacturing and robotics careers.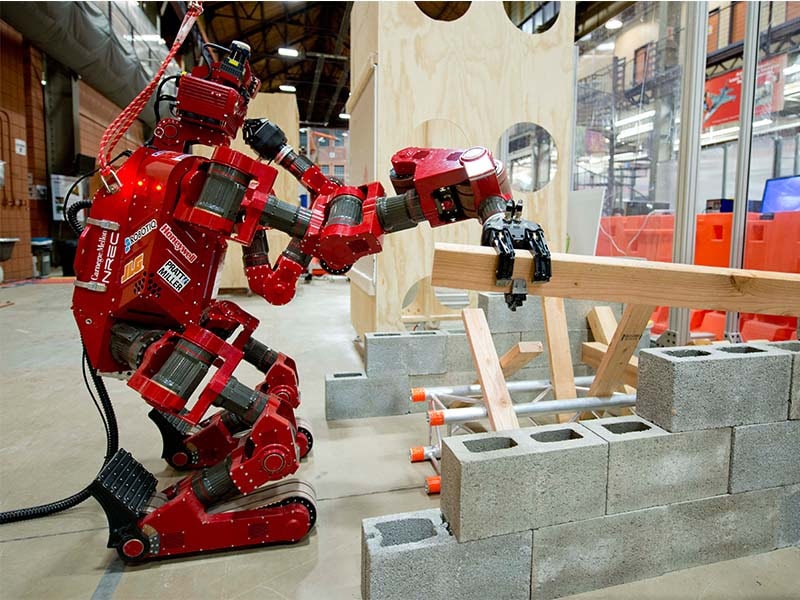 Experts at Carnegie Mellon's National Robotics Engineering Center have been changing the world for more than 25 years.
The report also finds that the success of NREC goes beyond the tremendous economic impact. NREC's leadership in innovation stems from its unique model for private-industry partnership, which makes it possible for NREC to produce prototypes and technology ready for commercialization than most comparable institutions.
"When companies or government entities need a robotic solution, NREC is the go-to place," said NREC Director Herman Herman. "We work closely with our partners to understand what problem they are trying to solve, prototype a solution, test and iterate it to ensure it adequately addresses the problem and then provide what is needed for the customer to effectively deploy or commercialize the solution."
For example, working with John Deere, NREC developed technology to provide near-real time images of grains as they are harvested to help improve quality and increase crop harvest. Today, John Deere offers combine harvesters with an option of this added technology, which most buyers elect when they purchase a combine.
To emulate NREC's success, the report provides several lessons learned. Engaging early with local businesses and other partners was beneficial to both helping to build the local economy and generating goodwill. These lessons learned will also be carried forward into future projects.
"Understanding the impact of NREC is informing Carnegie Mellon's plans for future development opportunities in the Pittsburgh area and beyond," said Jahanian. "NREC's successes span numerous fronts, and we aim to emulate its positive impacts and build on the lessons of the past 25 years as we continue to grow."