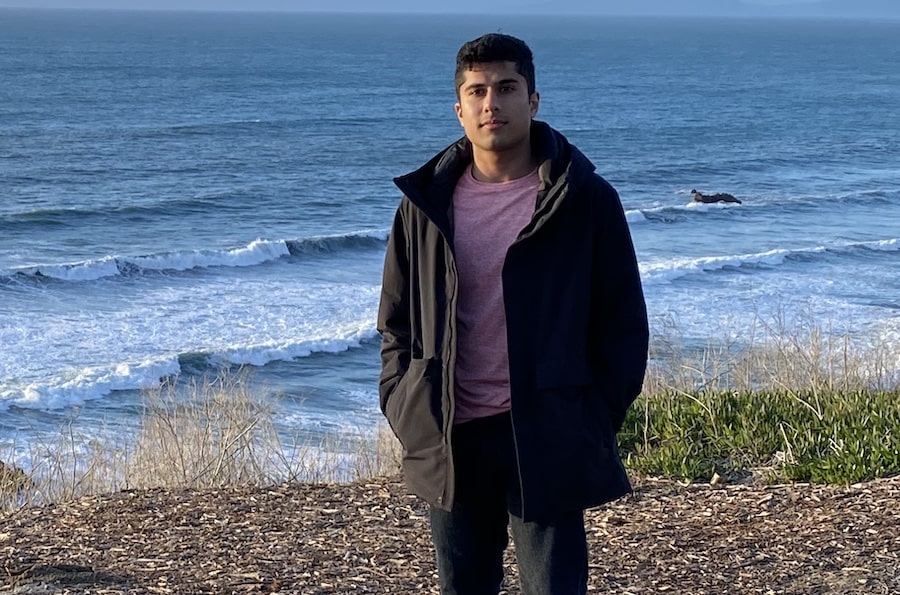 October 07, 2020
Crunching Numbers for Regenerative Medicine
SURF recipient applies computational skills to biomedical engineering
By Katy Rank Lev klev(through)andrew.cmu.edu
Media Inquiries
As a sophomore at Carnegie Mellon University, Sean Pereira took a seminar with biomedical engineering professor Rosalyn Abbott. Despite Pereira's focus on the computational aspects of biology, he was drawn to the work Abbott was exploring with silk applications to different challenges in biomedical engineering.
Abbott was new to Carnegie Mellon at that time and was just setting up her regenerative tissue engineering lab. Pereira approached her about a potential summer research position at the opportune time to help get the lab off the ground. "I got trained in the basics of working in a lab that first summer," he said.
"Sean was one of the first students in the lab," Abbott said. "He's absolutely exceptional, always there helping everyone out." Abbott recalls the early days of extracting silk proteins from discarded silkworm cocoons. "When I showed the students how to do the extraction, it worked perfectly. And then it didn't work again."
For weeks, Pereira helped troubleshoot until they figured out the lab did not have the correct detergent for cleaning supplies. They were using a lotion soap that left a residue on the glass. Once they had the proper reagents, Abbott said, the experiments went off without a hitch. "Sean definitely grew from that process and understood the importance of knowing how every aspect of an experiment works."
As Pereira continued his computer science coursework, he remained interested in the work of Abbott's lab. He applied for student research grants to support computational projects applying machine learning algorithms to the type of experiments Abbott was conducting.
Abbott was happy to have him continue in the lab. "He makes sense of our data," she said.
Abbott partners with clinicians from UPMC for an interdisciplinary exploration involving datasets from tissue labs. Pereira's current work examines a common surgical procedure that takes fatty tissue from one region of the body and moves it to another. Sometimes this procedure is not successful, but researchers aren't sure why.
Pereira is using his computational skills to search for patterns in the data that might indicate why one tissue works well in some procedures but not others. Evaluating the regenerative potential of different types of tissue could be a stepping stone to using Abbott's tissue engineering research as a tool to help fatty tissue successfully bond during transplants.
So far, Pereira has noticed that fibrosis on fatty tissue indicates that it doesn't do as well when placed in a new region of the body. "It's such a rich dataset," Pereira said of 200,000 rows of information he has about each patient from the UPMC lab. He's able to parse out patterns in glucose changes over the years or shifts in blood panel results.
The project has given him insight into the magnitude of chronic illness. He said, "A lot of these patients are suffering from a lot of diseases all at once." Abbott's lab is trying to correlate regenerative outcomes to the state of the patient's tissue, and it's important to know what features of the tissue can help predict a positive outcome in regenerative surgery.
As Pereira builds the user interface where researchers will look over the organized data, he's making sure scientists across different disciplines can all access his algorithm findings and understand them. "He's taught all of us so much about machine learning," Abbott said. "None of us have any background related to that at all and his unique contributions have been so valuable."
Pereira's work last summer was supported by a Summer Undergraduate Research Fellowship (SURF) from CMU's Undergraduate Research Office. He graduates in December with dual majors in chemical and biomedical engineering, plus a minor in computer science.
"Dr. Abbott's lab has provided the backbone of my experience here at CMU," he said. "She's really supported me in building my computational abilities to apply in a clinical/research setting."