May 05, 2020
CMU Team Produces Face Shields for Essential Workers
Carnegie Mellon partners with Global Links to produce and distribute face shields for workers who need them
By Gera Jochum gjochum(through)andrew.cmu.edu
Media Inquiries
Jason Maderer
Marketing and Communications
Carnegie Mellon University has partnered with Global Links, a Pittsburgh-based nonprofit, to supply personal protective equipment (PPE) to community organizations that need them during the COVID-19 pandemic. Producing and distributing these essential items is no small task, but with Carnegie Mellon expertise in design and engineering, along with facilities equipped with 3D printers, laser cutters and talented staff, more than 1,000 face shields have been produced in just the first week.

CMU has a number of maker facilities with state-of-the-art equipment to empower future creators and innovators. However, like many other university facilities across the world, CMU's maker spaces suspended operations due to the pandemic. For a short time, the equipment was put into hibernation.

It wasn't until Carnegie Mellon partnered with Global Links — to ensure products made would reach the hands of those in need — that maker spaces at CMU were reopened to select staff.

As the university considered what to make that would utilize their expertise and campus facilities, face shields stood out. Approved designs are readily available and face shields are one of the pieces of PPE that can be reused and easily disinfected between uses.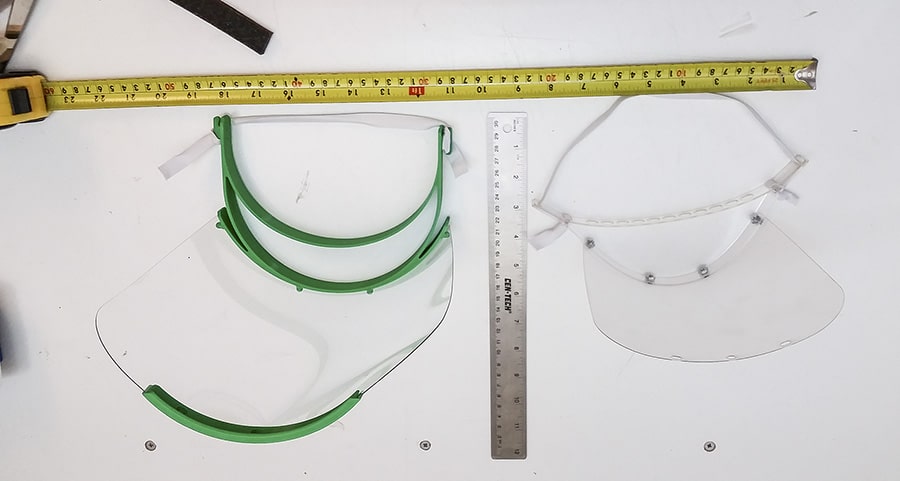 Carnegie Mellon University is using maker facilities to create face shields in response to the COVID-19 pandemic.

Rebecca Taylor, assistant professor in the Department of Mechanical Engineering, and her graduate student, Emma Benjaminson, are instrumental to the effort. Before making their way to academia, both worked in industry on medical product development.

The duo identified the full supply chain, including source materials, the means and the end users for the face shields.


The Source Materials
With material shortages around the country, including the plastic typically used to make face shields, finding enough to scale up production was no easy task.

"Emma has been invaluable in connecting people, finding resources and doing all of the really complex sourcing needed for CMU to make upwards of 30,000 face shields," said Taylor.

Benjaminson called businesses in the Pittsburgh area that used the plastic, sometimes finding they had a pallet they were willing to part with. Other times, she was connected to the business's distributor, who might have additional plastic to sell.

Benjaminson also connected with Sandra DeVincent Wolf, senior director of research partnerships in CMU's College of Engineering and executive director of the Next Manufacturing Center and Manufacturing Futures Initiative. Wolf provided additional insights that helped the team get additional plastic to make face shields.
The Means
The fabrication of face shields at CMU started in Tech Spark. The facility, under normal operating circumstances, provides students, faculty and staff of the College of Engineering and their collaborators across campus with equipment for rapid prototyping.

A subset of the staff, including Diana Haidar, Ryan Bates and Jen Hitchcock, have been granted access to Tech Spark to fabricate face shields.

"This terrific team has ramped up social distance manufacturing and learned to control and account for the cleanliness of the procedure and the product," said Taylor.

Each face shield is made from four pieces of plastic that are laser-cut and assembled with an elastic band to secure the shield on a person's head.



More than 1,000 face shields were made in the first week. To increase production, face masks will eventually be made in other maker facilities on campus including the Integrative Design, Arts, and Technology (IDeATe) collaborative making facility and the School of Architecture's Design Fabrication Lab (dFAB).
The End Users
Another key piece of the effort was identifying a way to get the face shields made at Carnegie Mellon to end users.

"Ramping up distribution — the idea of identifying who needs a shield and then getting those shields in their hands — is an incredibly nuanced problem that ideally requires a tremendous amount of infrastructure and experience," said Taylor.

To help, CMU partnered with Global Links. The medical relief organization has distributed more than 209,000 pieces of protective equipment to senior care and nonprofit organizations in response to the COVID-19 pandemic.

"We're grateful for this partnership with CMU and hope to find other ways to combine our networks and resources to serve our region during this unprecedented time," said Global Links Executive Director Angela Garcia. "These face shields not only provide urgently needed protection to safety net workers caring for our region's seniors, homeless and low-income individuals and families, they also help prevent the spread of the infection among the vulnerable communities they serve."

Global Links has distributed face shields made at Carnegie Mellon to several area community organizations that serve people with disabilities, victims of violence and abuse, families who have experienced significant trauma and the elderly. They include Alle-Kiski Area HOPE Center, Inc.; Emmaus Community of Pittsburgh; Holy Family Institute; Sisters of St Josephs in Baden; and Valley Community Services.

"It was important that we contributed to making PPE that would be accepted by and used in our community," said David Quinn, CMU's assistant vice president for Strategic Research Initiatives. "Partnering with Global Links helps us meet that goal and keeps with CMU's tradition of doing work that matters."