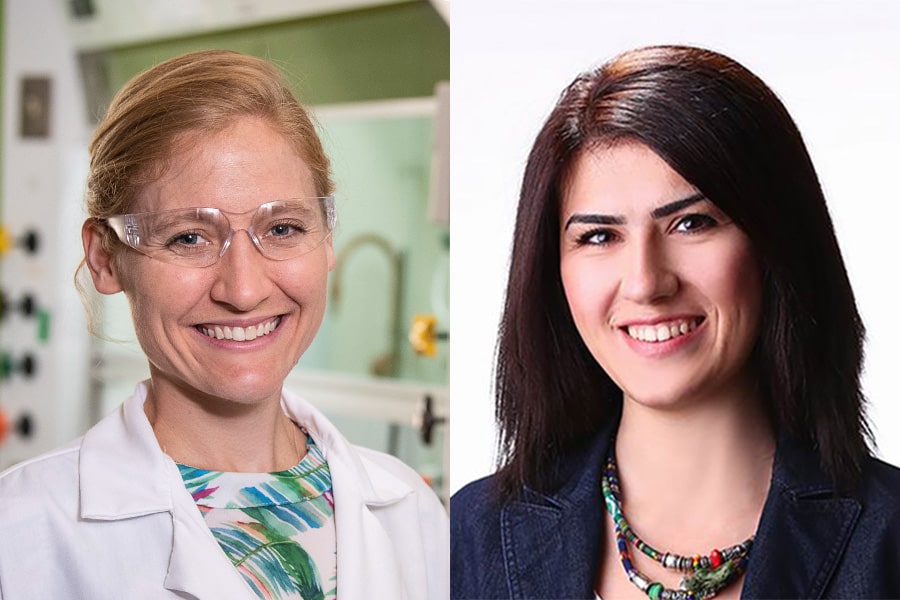 June 01, 2020
CMU Faculty Join WEF's Community of Young Scientists
Media Inquiries
Jocelyn Duffy
Mellon College of Science
Byron Spice
School of Computer Science
Two Carnegie Mellon University faculty members have been selected by the World Economic Forum (WEF) as part of the 2020 Community of Young Scientists.
Stefanie Sydlik
, an assistant professor of
chemistry
, and
Zeynep Temel
, an assistant professor in the
Robotics Institute
, join the forum's Young Scientists community, which recognizes scientific rising stars under the age of 40 who are pursuing high-impact research.
Created in 2008, the Young Scientists community engages researchers from a variety of disciplines and geographies to integrate scientific knowledge into society for the public good.
Sydlik, a 2007
Mellon College of Science
graduate, synthesizes innovative new polymers for biological uses. By modifying graphite with calcium phosphate, for example, her lab has been able to turn the material found in pencil lead into a scaffold that can be used to help heal traumatic bone injuries and then naturally degrade away. In a similar vein, her lab has also worked to develop additives for medical adhesives that can allow those adhesives to carry small-molecule drugs such as analgesics for pain or anti-inflammatories.
"I'm really excited to be involved in this global network and to be in a group where we can talk about the big problems and affect policy going forward," Sydlik said of the honor. In particular, she said she's hoping to engage with non-scientists from around the world and learn about the problems they hope scientists will work to solve.
One particular issue Sydlik is interested in tackling is microplastics, minute fragments of plastic that can accumulate in the environment and affect animals and even humans.
Sydlik joined the faculty at Carnegie Mellon in 2015 after completing a postdoctoral fellowship in chemical engineering and a Ph.D. in organic chemistry at MIT. As an MCS undergraduate, she was selected as a Beckman Scholar in 2006 and received the 2007 Judith A. Resnik Award.
Temel, who joined the CMU faculty in 2019, focuses on small biological systems, such as insects, which are able to repeatedly achieve incredible speeds and accelerations and/or exert great force. She uses analytical and computational models, as well as physical prototypes, to test hypotheses and explore bio-inspired designs. This work has included the fabrication of tiny jumping and swimming robots.
"I am very excited to be a part of the WEF Young Scientists community and incredibly honored to be representing CMU," Temel said. "It will be a great adventure to learn from amazing scientists and develop projects that will improve the state of the world."
In her Zoom Lab, Temel is developing advanced manufacturing techniques for producing these devices, as well as embedded sensors and actuators to add control mechanisms and intelligence to them. She anticipates applications in such areas as milliscale surgical robots, search-and-rescue swarm robots and space exploration.
Temel earned a Ph.D. in Mechatronics at Sabanci University in Turkey and was a post-doctoral researcher at Harvard and Brown universities before joining CMU.
Normally, members of the Young Scientists community attend the WEF's annual Meeting of the New Champions in China in the summer, but the event has been canceled this year because of the COVID-19 pandemic.