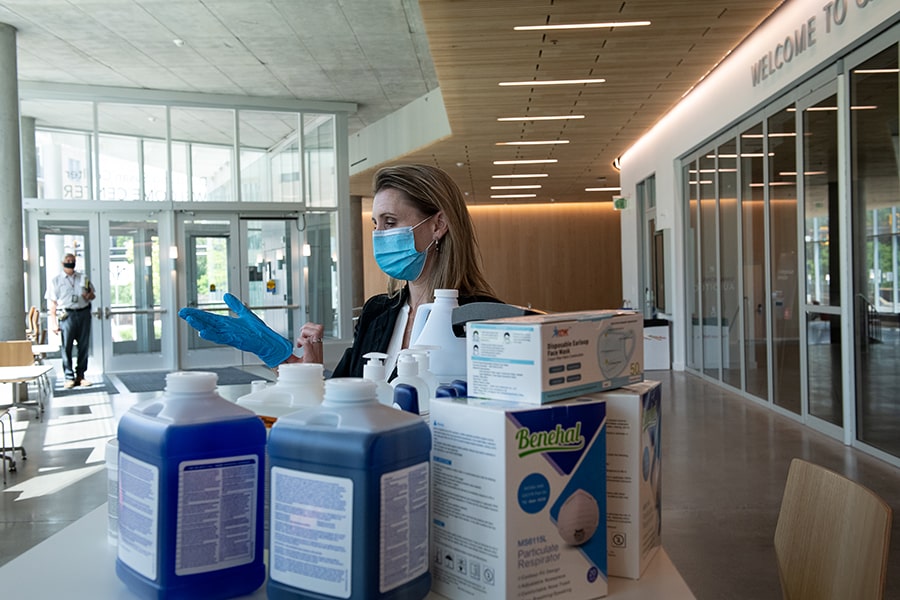 June 24, 2020
FMCS Duo Manages CMU's Deep-Cleaning Efforts
By Bruce Gerson bgerson(through)cmu.edu
At a time when cleanliness has never been so important, Charity Anderson and Dawn Roerink are overseeing an aggressive campus-wide deep-cleaning effort at Carnegie Mellon that will extend through the fall.
The massive project began in early April, when more than 170 custodians set out to clean the 6.6 million square feet of university space. Every room — from top to bottom — in each of the 100 buildings on campus is on the "to-do" list. Ceilings, walls, upholstery, furniture, baseboards, carpeting and floors are being cleaned and disinfected.
Common areas, bathrooms and high-touch surface areas are being cleaned and disinfected daily with high-powered hand-held electrostatic sprayers. Backpack sprayers that can hold more cleaning fluid have been purchased. Disinfectants being used are EPA-registered. 
"This includes everything — classrooms, labs, offices, residence halls, dining facilities, the University Center, the gym. Every building is like a different animal," said Roerink, who is confident all buildings are on track to be completed by mid-August. "This is something we never experienced."
As essential employees, Anderson, director of facilities operations, and Roerink, assistant director of custodial and grounds for Facilities Management and Campus Services (FMCS), have been working on campus since most employees set up their home offices in mid-March. 
Anderson joined CMU during spring break when the pandemic essentially closed campus. She oversees about 145 maintenance staff, from electricians and plumbers to HVAC specialists and laborers. Roerink, who came to FMCS in 2019 from Chatham University, is the liaison between CMU and its custodial staff.
"We've been here with full staffs every day," Anderson said. "We've been conducting building checks, flushing plumbing systems and still responding to emergencies and providing regular maintenance service. We had two water main breaks which occurred near Mellon Institute and we've had numerous electrical issues from Duquesne Light. We've been here through it all."
As research projects begin to return to campus, Roerink is collaborating with Environmental Health and Safety and members of the custodial team to consult with researchers on the cleaning aspects of their return to campus work plans. She said they've completed more than 70 consultations and are beginning to work with several educational and instructional units on their plans to return.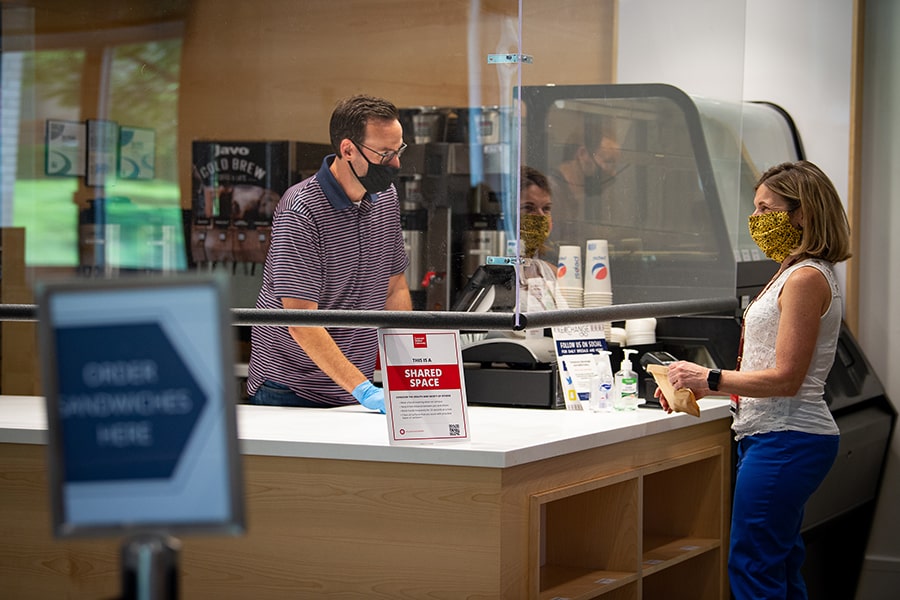 Plexiglass has been placed in the Parking Office, University Stores and in several dining locations. At right is Dawn Roerink. 
"We are counseling them on how they need to operate with regard to cleaning guidelines and what they need to prepare for. It's an opportunity for the labs and departments to ask questions," Roerink said. "One thing we need to know is who will be in the buildings and when, so we can go back and disinfect common areas and restrooms throughout the day. It's going to be a totally new way of operating."

The emphasis on cleanliness this summer will roll into the fall. Custodial porters will be on standby to wipe down common areas and high touch surfaces often.

"You're going to see custodial staff in common areas, restrooms, dining rooms and at ATM machines wiping things down," Anderson said.

In addition to cleaning, FMCS has installed signage, physical distancing "Pause Your Paws" floor decals, and plexiglass between cashiers and customers among their COVID-19 mitigation efforts. Plexiglass has been placed in the Parking Office, University Stores and in several dining locations. The FMS store room continues to provide hand sanitizer, disinfectant spray and sanitizing wipes to departments as they return.

Anderson said the latest initiative is surveying the restrooms for touchless faucets and toilets. The majority on campus are automatic, but there are a couple hundred that need to be updated, she said.

A civil engineer corps officer in the U.S. Navy for 10 years, Anderson previously was director of facility operations for the Supreme Court Building in Washington, D.C. She said she was drawn to CMU by its values, "incredible" robotics and science programs, and its people.

"I saw there were some really good people here during my interview process," she said. "They worked as a team and it seemed to be a collaborative effort. It's a good group and a good opportunity."

Roerink, manager of Facility Services and Housekeeping for 14 years at Chatham University before coming to CMU, agrees with Anderson's assessment.

"The people here are great, genuine and very helpful. That makes it welcoming and why people want to work here," she said.