October 04, 2019
Tran Overcomes Setback, Engineers Final Year of Football, Master's Degree
By Heidi Opdyke opdyke(through)andrew.cmu.edu
Media Inquiries
Jason Maderer
Marketing and Communications
Mark Fisher
Heart surgery couldn't sack Long Tran.
Tran, a defensive end for the Carnegie Mellon University Tartans, returned to the starting lineup last year after sitting out the 2017 season following heart surgery to stop premature ventricular contractions, or extra, abnormal heartbeats. He recorded 39 tackles, including 7.5 sacks in his comeback season.
A month into this season, Tran, who is pursuing an integrated master's degree in mechanical engineering, continues to shine. He has helped lead the Tartans to a 4-1 mark, including a 20-13 upset victory over 12th ranked Washington & Jefferson College. Through five games, Tran had 19 tackles, 6.0 sacks, and 7.0 tackles for loss.
"There's something special about this team," said Tran, who earned his bachelor's degree in both mechanical engineering and biomedical engineering in May. "That's why I came back."

After a heart condition sidelined him his junior year, Carnegie Mellon University student Long Tran returns for his final season as a Tartan.
Tran, who has played football since he was 9, is in his final year of eligibility for the Tartans, who play in the Presidents' Athletic Conference for football and compete on the NCAA Division III level. Athletic scholarships are prohibited in Division III, so students compete for the joy of the game.
For Tran, academics come first, but he prioritizes that and football over things like video games, Netflix and web surfing.
"You only have a finite amount of time to play sports," said Tran, who currently is fifth in career sacks for the Tartans with 17. "There will be time for other stuff down the road. That's a huge motivation for me."
Richard Lackner, head coach of the Tartans, said Tran brings a wealth of experience to the football field, has a strong work ethic and is great mentor to the younger players.
"Long contributes greatly to our success this year," Lackner said. "He's a young man who brings a whole lot of energy to our football program. And we are just incredibly blessed to have him. He brings so much experience to the table."
Lackner said the last time the team had an undefeated season was 2006, which also included fifth-year senior Jamie Ploetzner, who graduated with a degree in civil and environmental engineering.
"It's rare here. A lot of the guys who do have injuries don't take that fifth year. Most of them graduate on time and head out to their full-time job opportunities," Lackner said.
Tran said he considered attending NCAA Division I schools, but it came down to academics. As a first-generation college student, he said his parents supported his decision to pursue engineering at CMU.
"Carnegie Mellon allowed me to pursue football as a passion but at the same time is allowing me to set myself for the future," — Long Tran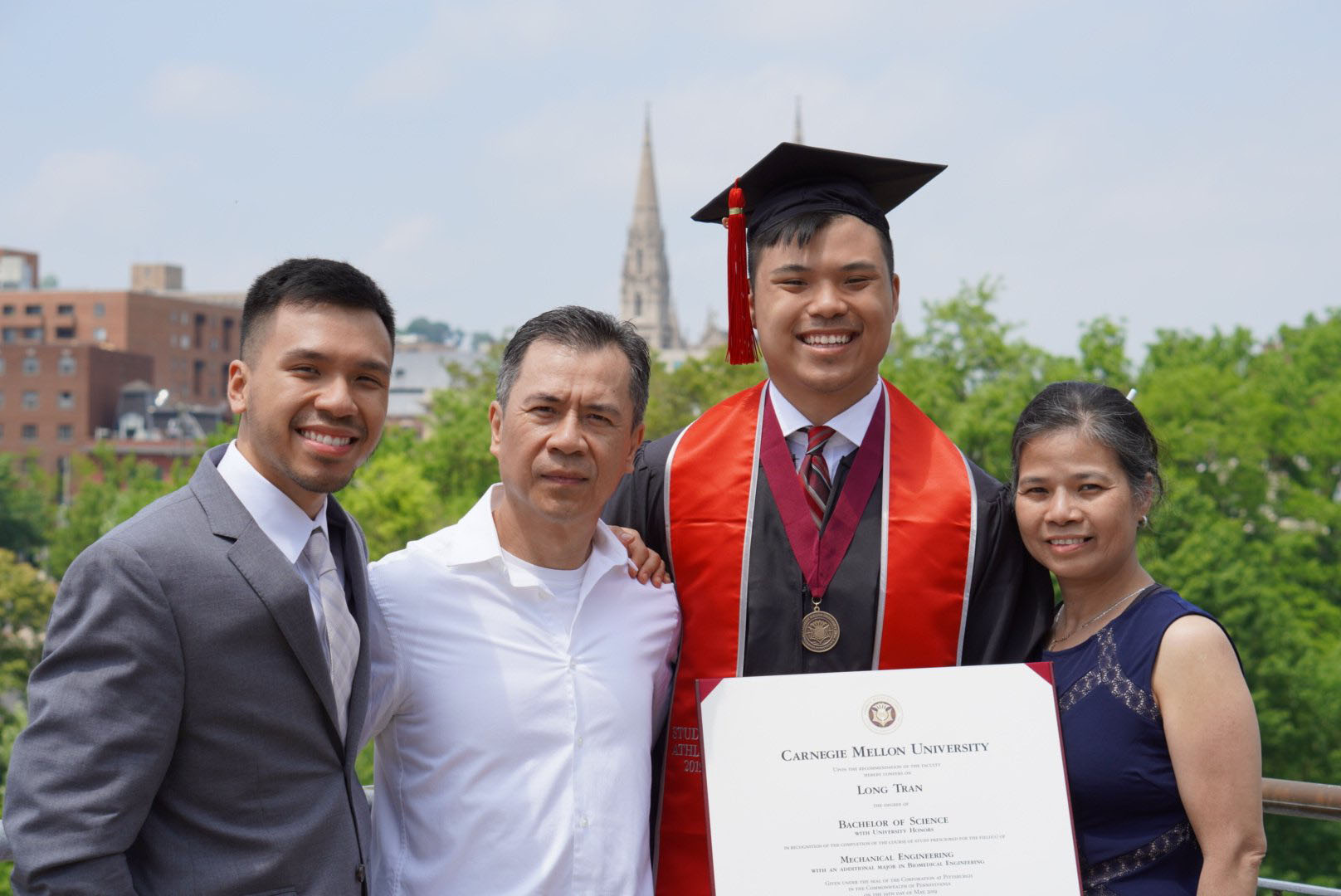 From left, Long Tran's brother Quoc Tran; father, Kim Tran; Tran; and mother, Kimsa Vu attended CMU Commencement in May when Tran graduated with degrees in mechanical engineering and biomedical engineering.
"Carnegie Mellon allowed me to pursue football as a passion but at the same time is allowing me to set myself for the future," Tran said.
He has taken advantage of the breadth of opportunities Carnegie Mellon has to offer including research opportunities on and off campus. Working with researchers such as Professor Howie Choset and Systems Scientist John Galeotti, both of CMU's Robotics Institute, has influenced his decision to go into the biomedical field.
"I've had the surgeries where they've put the catheter in my leg to go up to my heart. I hope to make my mark on the world and make someone's day easier down the line," he said.
With Choset, he is working on redesigning a part of a robot for minimally invasive surgery. He is helping with Galeotti's TRAuma Care in a Rucksack (TRACIR) project, which is developing a system for quick medical aid in combat environments. Internships at Forest Devices and Oberg Industries have supported his career goals.
"Going into my senior year, I had only worked on hands-on stuff. Howie does a lot of related medical projects, and working with him opened up the whole other half of robotics, the software," he said.
In addition to schoolwork and athletics, Long said he spent a large amount of time in the College of Engineering's Tech Spark facility, a space with equipment for rapid prototyping designs. Long, who said he loves building things and creating hardware, said the resources Carnegie Mellon offers is amazing.
"If you want to pursue research — whatever research you want — you can probably find it here. The mechanical engineering curriculum really focuses on transmitting the skills you find in the classroom to labs and projects, in particular team-based work," Long said. "In real life you're going to work on multidisciplinary teams on projects that you might not have a clue what to do. You learn new skills to deliver a project or a product. That's such a great thing that Carnegie Mellon does in helping people be collaborative."