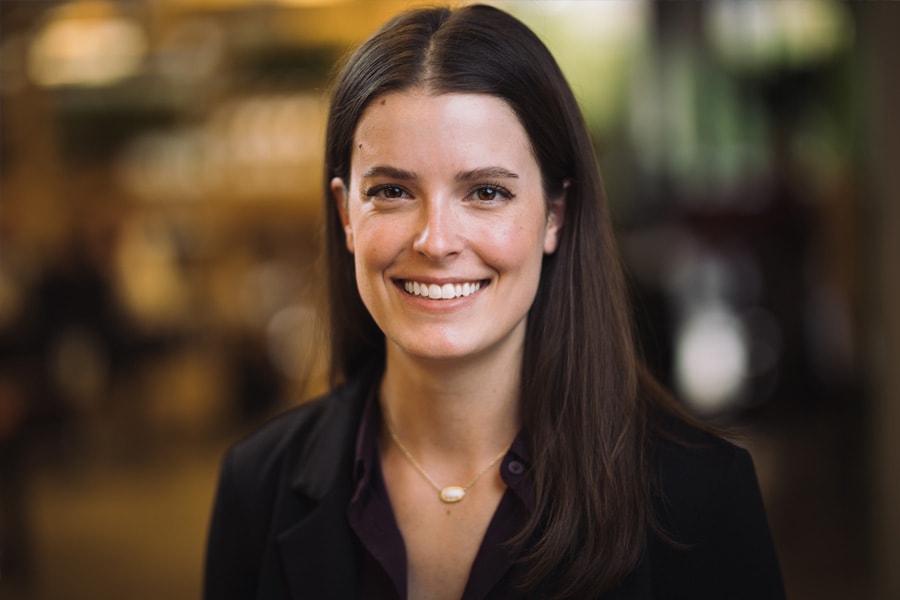 January 23, 2019
Dietrich College Alumna Fights Human Trafficking With AI
By Ann Lyon Ritchie
Media Inquiries
Abby Simmons
Dietrich College of Humanities and Social Sciences
For some students, a senior honors thesis can become much more than a capstone project.
Emily Kennedy, a 2012 Carnegie Mellon University alumna and president and co-founder of Marinus Analytics, transformed her work into a company that develops sophisticated machine learning tools to stop human trafficking.
Using the company's lead product, Traffic Jam, crime fighters are able to sift through internet data and quickly connect the dots in the search for victims and trafficking rings. The product has shortened the length of investigations by as much as 50 percent and has assisted in the rescue of hundreds of victims.
"Traffic Jam not only finds leads that would not otherwise be found, but also saves law enforcement a huge amount of time," said Kennedy, who graduated with a degree in Ethics, History and Public Policy from the Dietrich College of Humanities and Social Sciences.

Emily Kennedy discusses her mission to stop human trafficking and Marinus Analytics' roots at Carnegie Mellon. Credit: Toyota Mothers of Invention.
Kennedy has received global recognition for her work. She was named to Forbes magazine's 2019 list of 30 Under 30 Social Entrepreneurs and was honored as a 2018 Toyota Mother of Invention. In addition, she has been an invited speaker at international conferences hosted by the United Nations, Hewlett Packard Enterprise and Thomson Reuters.
Her path to using machine learning for good started with a single computer science course before she embarked on her senior honors thesis.
Her thesis adviser Jay Aronson suggested she take an approach that would apply her understanding of human trafficking to come up with novel ways to prevent it. Aronson directs CMU's Center for Human Rights Science, which brings together human rights practitioners with scientists and researchers.
"It's common at CMU to begin approaching a problem from one perspective and quickly realize that you need to reach out to others in the university community to actually make a difference," Aronson said.
After a few conversations about the project, Aronson suggested she reach out to research professor Artur Dubrawski, head of the School of Computer Science's Auton Lab, which researches new approaches to statistical data mining.
"Emily's idea of helping victims of human trafficking was inspiring to all of us," said Dubrawski, who hired Kennedy as a research analyst. "Once we developed the Traffic Jam tool, she worked tirelessly to get law enforcement to adopt it and make it a success in the real world. It's been extremely gratifying to see the victims rescued and perpetrators brought to justice with the help of our software. Emily's work is a great example of how artificial intelligence technology can make a noticeably positive impact while addressing key societal challenges."
Since 2014, Marinus Analytics has received funding from the National Science Foundation, Bank of New York Mellon and DARPA.
"I was never one of those people who dreamed of starting a company, but I was so focused on the issue," Kennedy said. "I thought, 'Well if starting a company will make it happen, then that is the way to go.' It was really a means to an end."
Carnegie Mellon University is committed to educating, empowering and aligning its community around the world to address the Sustainable Development Goals, also known as the Global Goals, which aim to create a more peaceful, prosperous planet with just and inclusive societies. Recognizing the critical contributions that universities are making through education, research and practice, CMU publicly committed to undertaking a Voluntary University Review of the Global Goals. The 17 Global Goals cover wide-ranging issues, including reducing violence, ending extreme poverty, promoting equitable education, fighting inequality and injustice, advancing economic growth and decent work, and preventing the harmful effects of climate change by 2030.

The preceding story demonstrates CMU's work toward attaining Global Goal 16.