January 03, 2019
From CMU to Capitol Hill: Alumna Heads To Washington
By Scottie Barsotti sbarsotti(through)cmu.edu
There were many stories that came out of the 2018 midterm elections, from the Democrats gaining the majority in the House of Representatives, the Republicans keeping the lead in the Senate, and a historic number of women and minority candidates who ran and won, including the first Muslim women and Native American women elected to Congress.
U.S. Representative Susie Lee — an alumna of the Dietrich College of Humanities and Social Sciences as well as the Heinz College of Information Systems and Public Policy at Carnegie Mellon University — is among the new members and was elected to represent Nevada's 3rd congressional district.
"My decision to run was a natural extension of all the work I've done in my career. And it came out of a frustration with Congress not helping the most vulnerable people in our community — the people I've been serving for the past 25 years," Lee said. She notes that the frustration with gridlock that she was feeling was commonly felt by her constituents.
"When you see that families are struggling and can't make enough money to pay their bills, they're worried about health care costs and that there's no action on gun safety legislation, there's a frustration in the type of leaders we've been electing to Congress," she said.
Lee moved to Las Vegas 25 years ago. In that time, she has built a career rooted in service to her community. She has started and led nonprofit organizations focused on education and homelessness, including her most recent role at the helm of a dropout prevention program.
"I have always been driven to service. I think that's because of my mother, who is Catholic and very spiritual," Lee said.
Those years of leadership experience played a big role in running her campaign and crafting a message that resonated with voters. She likened running a congressional campaign to starting a company and winding it down in a year's time. And as a nonprofit leader, she's no stranger to fundraising and building support for a mission.
"In a campaign you have to deal with human resources, budgeting, trying to get people invested in your cause and motivated to invest in what you're doing," Lee said. "It's different though, because in nonprofit work you're purposefully non-political, you can't be involved in campaigns. That was a challenge, but I also think it was an asset because I was used to connecting with people outside of politics."
Focused on the Issues
One disadvantage Lee faced in the general election is that she was up against a Republican opponent with very high name recognition in Nevada — Danny Tarkanian, son of longtime University of Las Vegas, Nevada basketball coach and local legend Jerry Tarkanian.
"I knew getting out of the blocks that I needed to define myself before he defined me, because people knew him," said Lee, adding that Tarkanian had previously run for political office, increasing his visibility. "I knew that I had to get out and communicate about what I stood for and who I was before they were able to attack me."
Early support and a focus on key issues helped Lee get her name out and define her message. She said her campaign focused largely on:
Health Care: "This year, we've seen the largest increase in seniors declaring bankruptcy, and in many cases it's because of health care costs. The Affordable Care Act is not perfect and there are fixes that need to be made to it, but it gave millions of people access to health care when they never had access before. Now you have an administration and a Congress trying to tear the ACA apart piece by piece, and that's something that motivated people to vote."
Education: "In Nevada, we have an economy that we've struggled to diversify, and the quality of our K-12 education system is one of the impediments to us being able to attract workers and families. We need to produce an educated workforce for the future, and we want to be able to attract businesses to our state and to our district."
Environment: "A big issue unique to Nevada is the Yucca Mountain Nuclear Waste Depository, which we've fought it in a bipartisan manner in this state. The federal government has been trying to force this down our throats, and we've resisted because we don't want the nation's nuclear waste coming into our state, on our roads and our railways."
Lee said she is excited to bring Carnegie Mellon-style analytical thinking to some of these complex problems.
"It's important to use data and technology to analyze and locate problems, and identify the solutions across the country that have proven to be effective. Any issue you want to take on, like mental health services or housing for example, you need to identify what the needs are and produce the resources to fill those gaps. That's what an education at Carnegie Mellon teaches you to do," she said. "Carnegie Mellon teaches you to be empirical, and really break problems down so you can solve them."
Work Ethic, Service and Swimming
Lee grew up in Canton, Ohio, one of eight children. At that time, Canton was in the midst of an economic and population decline endemic to many Midwestern "Rust Belt" towns in that era. She says her family always had enough, but that everyone worked hard and pitched in to help the family make ends meet — for her part, Lee started delivering papers as an 8-year-old. An avid swimmer, she then worked all through high school as a lifeguard.
That work ethic primed her for her years at CMU, where she balanced her undergraduate and graduate studies with a packed work schedule to pay her way through school. 
She also found time to swim for the Tartans swim team. She gives special acknowledgement to Donna Morosky, who worked in the Department of Athletics and Student Affairs for 38 years before retiring in 2013.
"Donna was my swim coach and my employer, and an incredibly important person in my life. I look back on my time at Carnegie Mellon and swimming was a big part of it," Lee said.
Her experiences also helped shape her current policy concerns.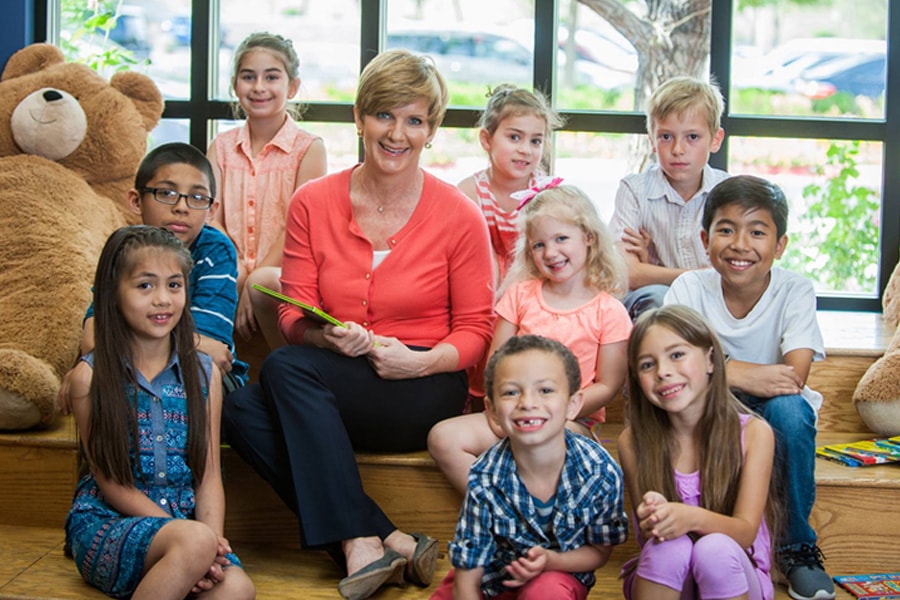 Before joining the 116th Congress, Lee was the founding director of After-School All-Stars Las Vegas, and most recently was the president of Communities in Schools of Nevada, a dropout prevention organization.
"Student debt is a big issue in this country right now, and making sure that all kids have access to higher education is important to me," she said. "When I was younger, I had a government that worked for the middle class. I was able to put myself through school without any help from my parents because of programs like Pell grants and work study. I want to turn around and help others because I've received so much help at critical points in my life."
She looks back fondly on all that hard work, the constant running from class to jobs and back again, and the bonds she forged in the local neighborhoods. She said that connecting with people locally is the No. 1 thing young people should do if they're interested in politics or passionate about a specific issue.
"Don't just study it, practice it. If there's an issue that's driving you that you want to be involved in, go out and be an activist, organize around it, educate yourself. Get out from behind your desk and get involved in the community. You have to understand what you're fighting for," Lee said.