February 25, 2019
Duo Selected as Finalist for NFL's Inaugural Big Data Bowl
By Michael Henninger mhenninger(through)cmu.edu
Media Inquiries
Abby Simmons
Assistant Dean for Communications
This year's NFL playoffs were marred by what some have called the worst missed call in history. A controversial pass interference no-call likely cost the New Orleans Saints a spot in the Super Bowl.

Now a pair of Carnegie Mellon University first-year students has been selected to present a pass interference rule change proposal to league officials as part of the NFL's inaugural Big Data Bowl competition. Brendon Gu and Peter Wu will travel to Indianapolis this week for the NFL Scouting Combine, where they will outline their suggestion and the analytics that shaped it.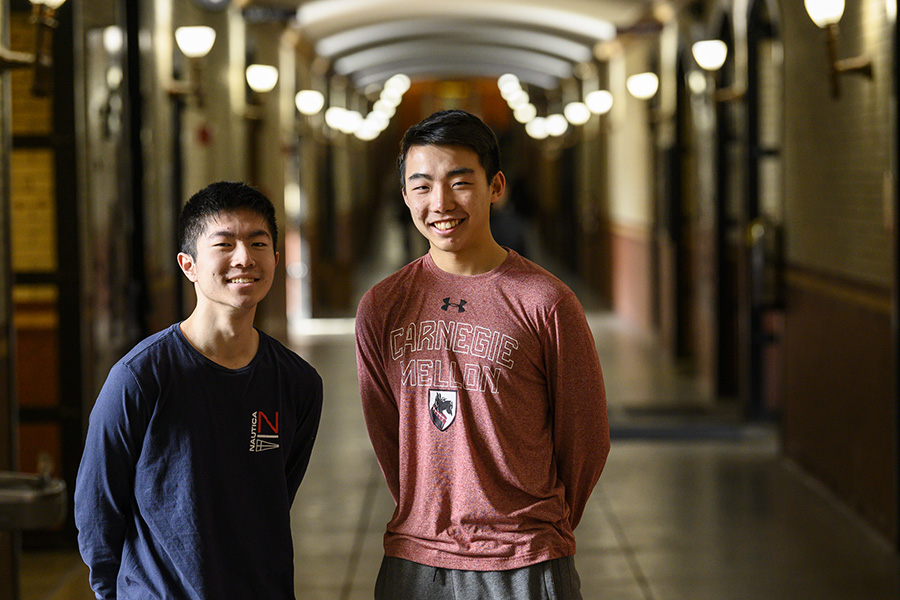 Peter Wu, left, and Brendon Gu in Baker Hall.

The idea came to Wu after watching a YouTube video on the longest pass interference calls and wading into the comments section. One comment suggested that if a team's game plan was to throw the ball 60 yards to try to get an interference call, there was a problem with the rules.

"Incorrect pass interference calls shift the game so much," Wu said. "There needs to be some checks and balances."

Gu and Wu are in the Carnegie Mellon's Science and Humanities Scholars Program, a joint program between the Dietrich College of Humanities and Social Sciences and the Mellon College of Science. They used a catch probability model to determine the sweet spot for an NFL pass interference call. If two different penalties generate the same catch probability, like defensive holding and defensive pass interference, then mathematically they should be penalized the same yardage.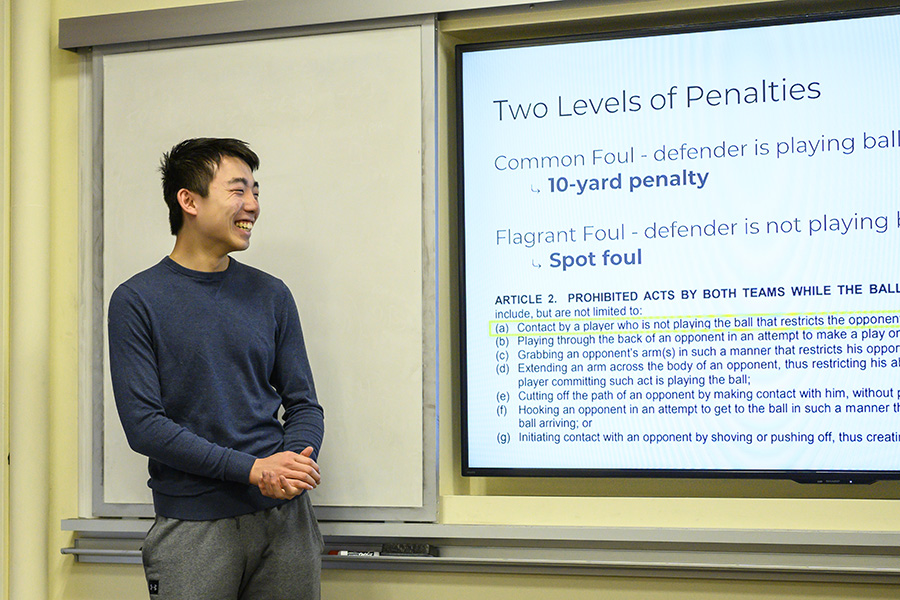 Brendon Gu jokes with members of the CMU Sports Analytics Research Group.

Currently, all pass interference calls are called "spot fouls," which means the ball is moved to wherever the penalty took place, regardless of whether it is 6 yards down the field or 60.

Gu and Wu have a different idea. Their proposed rule would continue to make all pass interference penalties a spot foul. However, for calls over 10 yards, replay would determine if the defender was actually trying to knock the ball away. If so, it would change to a 10-yard penalty. If not, the foul would remain a spot foul.

The Carnegie Mellon submission is one of four finalists in the college division of the contest, which explores statistical innovations for how football is played and coached. The students will present to league officials, team executives, industry-leading representatives and NFL sponsors. The winner receives four tickets to a 2019 regular season game and a $1,000 NFL gift card.

The Big Data Bowl marks the NFL's first major public release of player and ball tracking data.

"We are hopeful that the contest both highlights the work of the prize winners and provides insight to league officials about how player tracking data can improve or supplement their decision-making processes," said Michael Lopez, the NFL's director of data and analytics. "Additionally, we hope that the event provides a pathway into working in the NFL for current and future data scientists."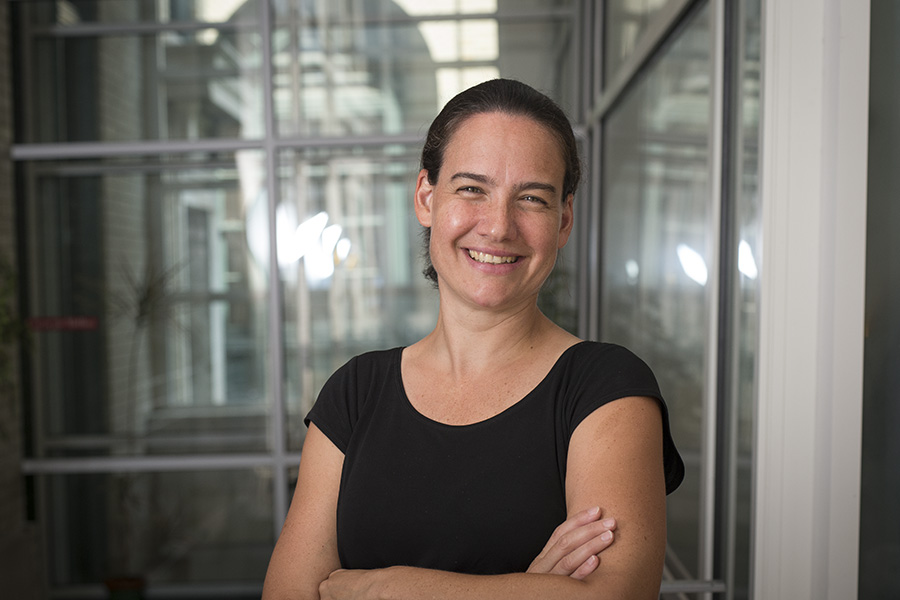 Rebecca Nugent

Rebecca Nugent, Carnegie Mellon's associate department head for the Department of Statistics and Data Science, is ecstatic to have CMU competing on a national level. As analytics are changing how sports are played, CMU experts are at the forefront of the field.

"Our department has embraced this emerging field and committed several resources toward it, including our annual Summer Undergraduate Research Experience in Statistics," Nugent said. "Another example is CMU's annual Sports Analytics Conference, which is held each October. It's an affordable way for high school and college students to have access to industry mentors."

Gu and Wu prepared for this week's presentation by showing their paper to the Carnegie Mellon Sports Analytics Club. They also practiced their pitch with Sam Ventura, a Carnegie Mellon alumnus and director of hockey research for the Pittsburgh Penguins, during a meeting of the Statistics in Sports Research Group. Ventura gave them advice about how to present the analytical material to a non-technical audience.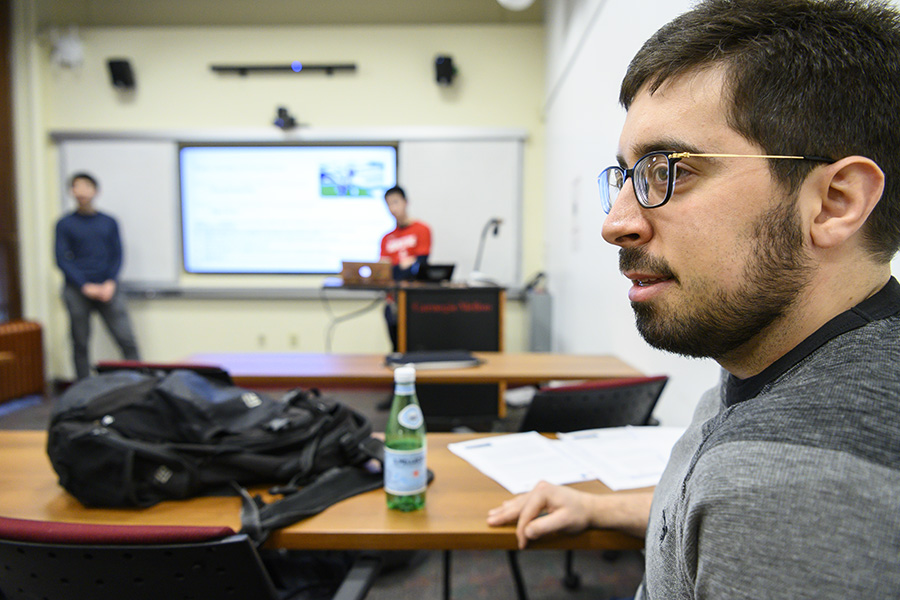 Sam Ventura of the Pittsburgh Penguins gives presentation tips to Brendon Gu and Peter Wu.

"Carnegie Mellon has two freshmen competing against students from around the nation. analyzing literally the most complicated football data set that has ever been created," said Ventura, who is also a CMU affiliated faculty member and coaches the university's hockey team. "This showcases Carnegie Mellon's excellence in statistics and data science, and how strong of a presence the university has in the world of sports analytics."

Before the contest, Gu and Wu saw sports analytics as a hobby. Now, they realize they can make meaningful contributions to the field.
"Big data has really gained prominence, both in sports and through companies and tech." Gu said. "You never go into something like this expecting to win. Being a finalist in the Big Data Bowl, flying to Indianapolis and presenting to the NFL, is immensely rewarding."
Watch video from the 2019 NFL Big Data Bowl featuring CMU students Brendon Gu and Peter Wu.