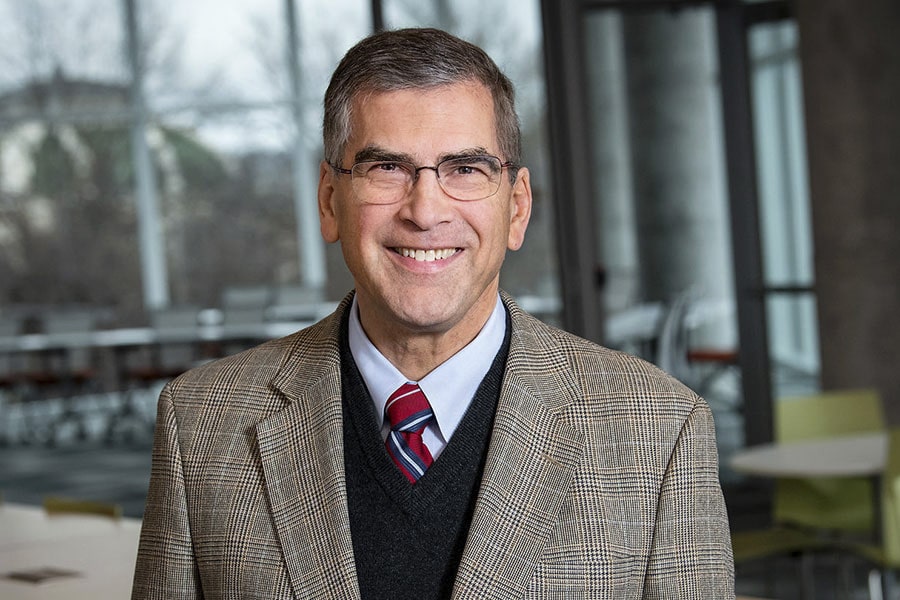 December 06, 2019
Remembering Marvin Goodfriend
Media Inquiries
Julie Mattera
Marketing and Communications
Marvin Goodfriend
, who held The Allan H. Meltzer Professorship in Political Economy at Carnegie Mellon University's
Tepper School of Business
, died on Dec. 5, 2019. He was 69 years old.
A leading expert in international monetary policy, Goodfriend joined Carnegie Mellon in 2005 following 25 years with the Federal Reserve Bank of Richmond where he was director of research and policy adviser from 1993 to 2005. Goodfriend focused much of his teaching and research on monetary theory and monetary policy practice with an emphasis on macroeconomic fluctuations, money and banking, international finance and economic development. Previously, he was a visiting professor of business economics at the University of Chicago's Graduate School of Business (now the Booth School of Business) from 1988 to 1990 and taught at the University of Rochester, Stanford University and the University of Virginia.
An outstanding teacher, he received the George Leland Bach Excellence in Teaching Award from the Tepper School in 2016, and the Excellence in the Classroom Award in the Undergraduate Economics Program in 2007.
Goodfriend was a highly sought-after expert on monetary policy. He was a visiting economist at the Federal Reserve Board from 1982 to 1983, and he served as a senior staff economist for President Ronald Reagan's Council of Economic Advisers from 1984 to 1985. Additionally, he had been a visiting scholar and advisor at the Bank of Japan, a member of the Federal Reserve Bank of New York Monetary Policy Advisory Panel, a research associate for the National Bureau of Economic Research and a member of the Shadow Open Market Committee, a group of independent economists whose deliberations are intended to improve policy discussions among policy makers, journalists and the general public.
Goodfriend was also commissioned by the Swedish Riksdag along with Mervyn King, the Governor of the Bank of England from 2003 to 2013, to undertake an External Review of the Riksbank and Swedish monetary policy.
Additional roles include visiting scholar at the European Central Bank, de Nederlandsche Bank, the Federal Reserve Board, the Institute for International Economic Studies at the University of Stockholm, the International Monetary Fund, the Swiss National Bank, and the Federal Reserve Banks of Atlanta, Cleveland, Kansas City and New York.
"Professor Marvin Goodfriend was an iconic figure in the field of macroeconomics and a prominent thought leader in monetary theory and policy," said
Farnam Jahanian
, president of Carnegie Mellon University. "His scholarship advanced important conversations about global financial systems and markets, and his legacy is rooted in leveraging scientific thinking to influence policy and address major societal challenges. His impact will live on in the countless students, faculty and staff who were fortunate to work alongside him."
"Marvin was a creative and disciplined scholar," said
Bob Dammon
, dean of the Tepper School. "His foundational contributions have had important impacts on both the theory and practice of monetary policy and macro-economics. He will be deeply missed by his colleagues and students."
Goodfriend was well-known for his unorthodox, prescient studies of central banking issues. In 2017, he testified before the Subcommittee on Monetary Policy and Trade of the U.S. House of Representatives' Committee on Financial Services, arguing that the Fed's commitment to price stability lacked reliability.
J. Alfred Broaddus, president of the Federal Reserve Bank of Richmond from 1993 to 2004, shared, "Marvin has played a central and hugely constructive role in both the analysis and practice of monetary policy over the last 40 years. He was an early advocate of inflation targeting and helped identify and promote the policy actions that eventually brought inflation down in the late 1990s. More recently he has made major contributions toward understanding how the Fed and other central banks can best conduct policy near the zero lower bound. Officially Marvin was my adviser when I was president of the Richmond Fed in the 1990s, but I saw myself as reporting to him as I worked to help him convey his seminal research and exceptional practical advice on monetary policy within the Fed and beyond it. Monetary policy as a discipline has lost an extraordinary contributor and those of us privileged to work with him have lost a dear colleague and friend."
Graduate school classmate and longtime collaborator Robert G. King of Boston University wrote, "When Marvin joined the Richmond Fed, he realized that a central bank's economists should play two roles. First, it was very important to contribute to the process of formulating the regular actions of a policy committee like the FOMC, working to sharpen its conceptual framework and its understanding of economic developments. Second, even more important, economists should provide analysis of situations not yet encountered. Marvin was unique in his important contributions to both regular and nonstandard modes of policy analysis. And he was bold and far-sighted in the nonstandard topics that he pursued: questioning in 1986 central bank secrecy, stressing in 1988 that discount window actions need not be monetary policy and were potentially unnecessary, and outlining in 2000 strategies a central bank could employ to drive interest rates to low or even negative interest rates. His guidance will be missed as central banks navigate the uncertain years to come."
"Marvin was a gifted teacher and a leading expert on central banking and monetary policy, who brought to bear tremendous practical experience and insight in both his teaching and research. We are continuing to learn much from his work, as illustrated by the growing importance of low and even negative interest rates in the global economy and his insights about both the fundamental causes of such interest rates and relaxing the zero interest rate bound in the global monetary system. He was a true independent thinker," said
Chester Spatt
, Pamela R. and Kenneth B. Dunn Professor of Finance at the Tepper School.
Fellow Tepper School colleague and friend
Dennis Epple
, The Thomas Lord University Professor of Economics, shared, "I admired Marvin tremendously. He cared deeply about economic policy and he thought deeply about economic policy. He stood firm in his convictions, but he was not dogmatic. He loved a lively debate. Through his research contributions and his intellectual leadership, he had a tremendous, positive impact on policy. Marvin and his wife, Marsha, were a wonderful team. They were truly fortunate to have each other. He was a great friend and a generous person. I will miss him deeply.
In November 2017, Goodfriend was nominated by President Donald J. Trump to fill a vacancy on the Federal Reserve Board of Governors.
Goodfriend served as co-editor of the Carnegie-Rochester Conference Series on Public Policy and has served on the editorial boards of the Journal of Money, Credit and Banking; the International Journal of Central Banking; and the Journal of Monetary Economics.
Goodfriend received a Ph.D. in economics from Brown University and a bachelor's degree in mathematics from Union College. He is survived by his wife Marsha, sister Miriam, his niece Rachael (Max), nephew Daniel, stepson William, and five grandnieces and nephews.