December 06, 2019
Student-Athlete a Finalist for Elite College Football Prize
By Mark Fisher mwfisher(through)andrew.cmu.edu
Media Inquiries
Senior business major Michael Lohmeier has achieved a great return on investment.
A standout defensive end on the Carnegie Mellon University football team, Lohmeier has invested his time well, enabling him to tackle all challenges in the classroom, on the gridiron and in the community to become one of 12 finalists for the National Football Foundation (NFF) & College Hall of Fame's 2019 William V. Campbell Trophy, presented by Mazda.
The award recognizes an individual as the best football scholar-athlete in the nation for his combined academic success, football performance and exemplary leadership. Lohmeier is the lone NCAA Division III representative and is one of only two non-Division I honorees.
"It is truly an honor to be recognized for this award. I am incredibly grateful for my family, teammates and coaches because their support has enabled me to accomplish this," said Lohmeier, the Tartans' team captain. "My position coach, Carmelo Montalvo, has been extremely crucial to making me the football player I am today. I don't think the defense or I could have achieved what we did this season and in past seasons without his influence."

CMU senior and Tartan defensive end Michael Lohmeier has invested his time well, and it is paying dividends.
Lohmeier has a 4.0 GPA and is the president of Carnegie Mellon's Investment Banking Academy, an organization that helps underclassmen land internships through interactive workshops, interview preparation and the club's mentorship program. This past summer, he was an investment banking analyst at Lazard in New York City, where he plans to return after graduation.
The hard work and sacrifices he had to make juggling academics and athletics was worth it, Lohmeier said.
"Classwork has taught me the necessary skills for the career I'm pursuing and refined a work ethic I never knew I had in high school," he said.
On the field, his talents and work ethic earned him All-Presidents' Athletic Conference (PAC) four times and All-University Athletic Association honors twice. He's a two-time CoSIDA Academic All-American, a two-time UAA Presidents Council Scholar-Athlete Team honoree, a UAA All-Academic honoree and has been named to the PAC honor roll three times.
This season, Lohmeier led the PAC with 22.5 tackles for a loss and tied for the team lead and ranks fifth in the PAC with 9.0 sacks. He ranked second nationally in total tackles for a loss, eighth with 2.2 tackles for a loss per game, and was 46th in sacks. Lohmeier was fourth on the team with 60 total tackles, forced two fumbles and recovered another for a touchdown this season. He ranks fourth all-time in program history with 20.0 sacks.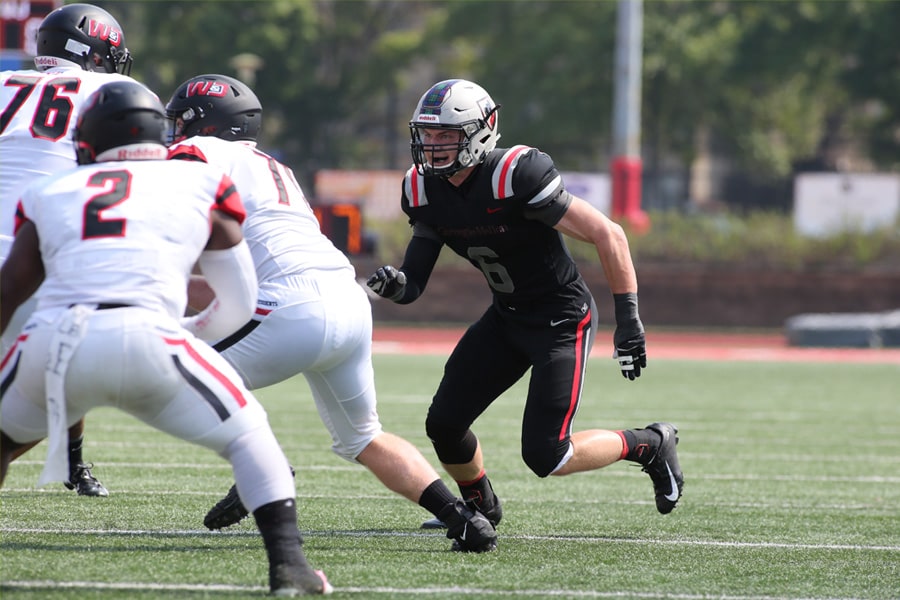 Michael Lohmeier
"Michael epitomizes the term 'student-athlete.' Michael's hard work, determination and commitment to excellence is displayed in his incredible performance in the classroom and on the football field," said Head Coach Rich Lackner. "As one of our captains, Michael has earned the respect of his peers and coaches. The entire Carnegie Mellon community is incredibly proud of Michael."
As a volunteer, Lohmeier has given his time and effort to numerous community service projects including Team Impact and fundraising activities for UPMC Children's Hospital of Pittsburgh. He has volunteered for Special Olympics of Pennsylvania.
On campus, he has served as an undergraduate analyst intern for Scottie Ventures and is currently a member of Alpha Sigma Phi Fraternity where he has served as philanthropy and fundraising chair. The senior recently was inducted into the Beta Gamma Sigma Honor Society and is a member of the Honor Society of Phi Kappa Phi.
"Michael has achieved at the highest level both academically and athletically, and has been a terrific leader within our university community," said Director of Athletics Josh Centor. "Being named a finalist for this most prestigious award is recognition of Michael's excellence in all domains. We are so proud of him."
CMU's football team finished the 2019 regular season with an 8-3 overall record and played Brevard College in the Eastern College Athletic Conference (ECAC) Scotty Whitelaw Bowl.
While Lohmeier is leaving football behind in some ways, the CMU football alumni network will keep the game close to him.
"One of the things I will miss most about football is the camaraderie and culture within the team," he said. "My teammates have become some of my best friends and I am just truly grateful that we were able to play for historically great coaches like Lackner and Bodnar."
Lohmeier is the Tartans' second National Football Foundation National Scholar-Athlete in the last three years and fifth overall. He joins 1987 honoree Bryan Roessler, 2006 honoree Aaron Lewis, 2008 recipient Brian Freeman and 2017 graduate Sam Benger. Five representatives is tied for the second most by a Division III institution.
The 12 Campbell Trophy finalists will each receive an $18,000 postgraduate scholarship as a member of the NFF National Scholar-Athlete Class. The finalists will travel to New York City for the 62nd NFF Annual Awards Dinner on Dec. 10. At the event, one member of the class will be declared the winner of the 30th William V. Campbell Trophy and have his postgraduate scholarship increased to $25,000.