April 29, 2019
CMU, University of Pretoria Create New Partnership For Human Rights Accountability
By Abby Simmons abbysimmons(through)cmu.edu
Media Inquiries
Abby Simmons
Dietrich College of Humanities and Social Sciences
Carnegie Mellon University's Center for Human Rights Science (CHRS) and the Centre for Human Rights at the University of Pretoria in South Africa have established a strategic partnership to pursue joint projects and academic activities that will foster human rights accountability through the use of technology.
"Our partnership is an effort to expand the voices and conversations about technology and human rights. We are particularly interested in engaging directly with researchers and practitioners in the Global South," said Jay D. Aronson, CHRS director and a professor in CMU's Department of History. "The Centre is the preeminent academic human rights research center in Africa, and the partnership will be a great opportunity to share technology and expertise."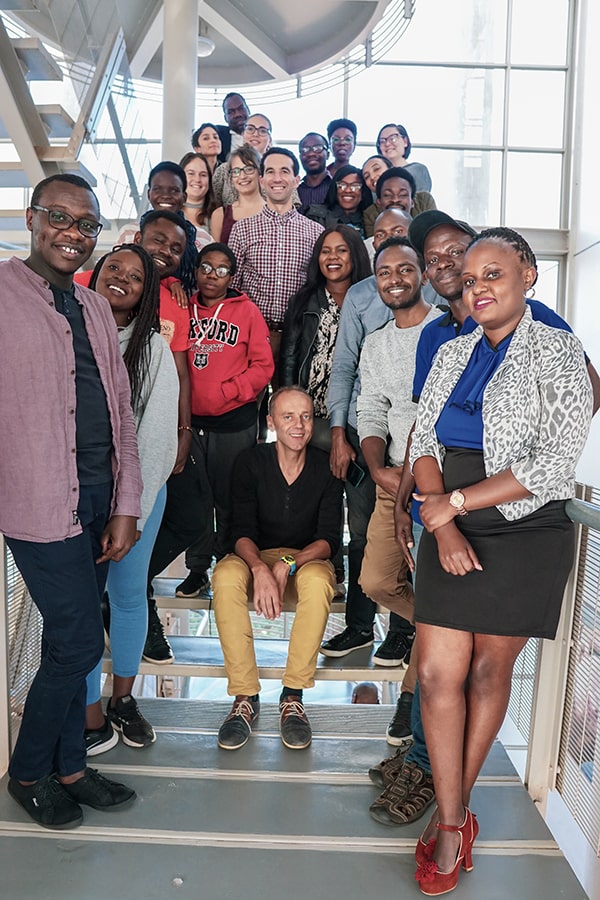 Jay Aronson, director of the Center for Human Rights Science at Carnegie Mellon University, gathers with graduate students at the Centre for Human Rights at the University of Pretoria, South Africa.
The cross-continental relationship also will allow for a robust exchange of ideas, solutions and approaches that will help the human rights community better prepare to tackle the challenges presented by rapid changes in technology. The partnership with initially focus on artificial intelligence, machine learning and data analysis, but will evolve as needs and opportunities emerge.
"Up to this point, conversations about the human rights impact of computing technologies have largely been exclusionary," Aronson said. "There is a robust community of computer scientists and human rights practitioners in Africa that do not have the same resources as their peers in North America or Europe and are generally not invited to participate in shaping products, policies and norms. This is an opportunity amplify voices that aren't being heard in the big meetings in London, New York or San Francisco. We want these conversations to expand to places like Accra, Dakar, Nairobi and Pretoria."
As part of the agreement, Aronson was appointed an Extraordinary Lecturer within the Faculty of Law, where the Centre for Human Rights is housed. He presented lectures to students in the University of Pretoria's Master's Programme in Human Rights and Democratisation in Africa on April 15-16, which he has done for the past two years, and he plans to co-advise a small group of doctoral student theses.
The partnership comes at a time when the Centre for Human Rights is planning a global conference with a focus on Africa's human rights response to technology. The event, which is scheduled for 2020, will bring together activists, experts and stakeholders within Africa and beyond to discuss what the human rights approach should be to innovations being witnessed in automation, machine learning and deepfakes. It will also address African governments' actions with respect to freedom of expression, the spread of hate speech and disinformation, and access to the internet and social media.
This partnership grew out of three years of work Aronson has completed with faculty and researchers at the University of Pretoria. Adebayo Okeowo, project coordinator for the Centre for Human Rights, previously visited Carnegie Mellon, and exchanges between the two universities will continue.
CHRS also is in the process of building similar partnerships in Latin and South America.
Carnegie Mellon University is committed to educating, empowering and aligning its community around the world to address the Sustainable Development Goals, also known as the Global Goals, which aim to create a more peaceful, prosperous planet with just and inclusive societies. Recognizing the critical contributions that universities are making through education, research and practice, CMU publicly committed to undertaking a Voluntary University Review of the Global Goals. The 17 Global Goals cover wide-ranging issues, including reducing violence, ending extreme poverty, promoting equitable education, fighting inequality and injustice, advancing economic growth and decent work, and preventing the harmful effects of climate change by 2030.

The preceding story demonstrates CMU's work toward attaining Global Goals 16 and 17.