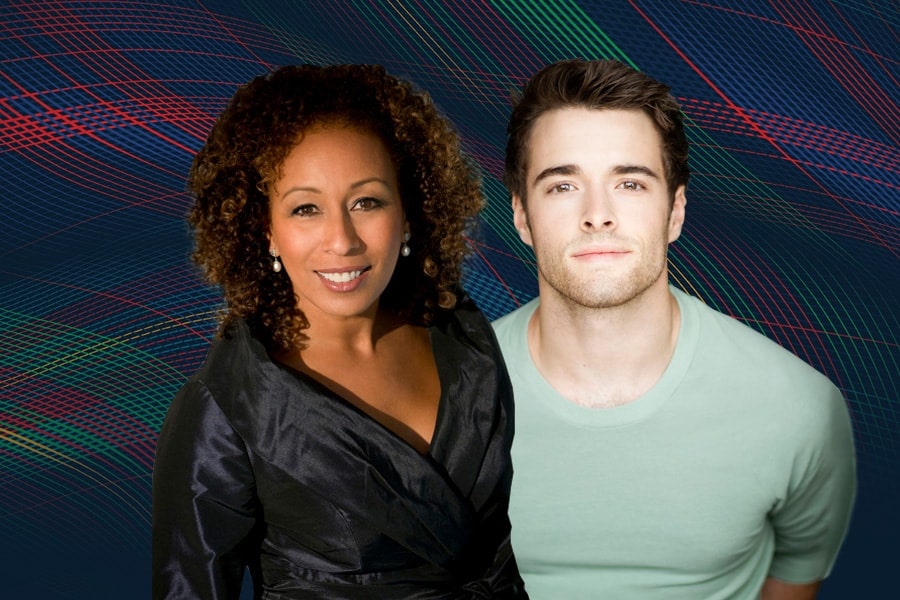 October 04, 2018
CMU Announces Speakers and Performers for Presidential Inauguration
Salesforce CEO Keith Block, Cornell President Martha Pollack, and actors Corey Cott and Tamara Tunie to celebrate event
By Robert Vickers rvickers(through)andrew.cmu.edu
Media Inquiries
Jason Maderer
Marketing & Communications
Dr. Farnam Jahanian's inauguration as the 10th president of Carnegie Mellon University will feature performances by noted alumni entertainers and remarks by titans of industry and higher education.
Keith Block, Salesforce co-CEO, a 1984 alumnus of Carnegie Mellon with a bachelor's degree in information systems and a master's degree in management and policy analysis and trustee, will deliver the keynote address of the celebration, on Friday, Oct. 26. Martha Pollack, president of Cornell University and a former colleague of Dr. Jahanian at the University of Michigan, also will speak about his leadership and impact in academia during the investiture ceremony.
The celebration will feature performances by alumni and stage and screen fixtures Corey Cott and Tamara Tunie and will be followed by a campus-wide picnic and an inauguration symposium showcasing faculty members and their expertise from across the university. Jim Rohr, chair of the CMU Board of Trustees and a former chairman of PNC Bank, will preside over the ceremony.
Celebrations will continue through the next day, as the university hosts Geneva College for homecoming, and the CMU Naval ROTC celebrates its 30th anniversary.
Dr. Jahanian, who served as interim president from July 2017 - February 2018, is a nationally recognized computer scientist, entrepreneur, public servant and higher education leader, who brings extensive leadership and administrative expertise to CMU.
He served as CMU provost and chief academic officer from May 2015 to June 2017, after leading the National Science Foundation Directorate for Computer and Information Science and Engineering (CISE) for three years, and serving as the University of Michigan Edward S. Davidson Collegiate Professor, chair for Computer Science and Engineering and director of the Software Systems Laboratory.
Members of the CMU community are encouraged to join in the inauguration celebrations, with various events designed for faculty, staff and students over the two-day event. Those interested should register in advance.
About Keith Block
At Salesforce, the world's No. 1 customer relationship management platform, Keith Block oversees rapidly growing, multibillion dollar global sales and services business, alliances and channels, industry strategy, corporate development, corporate affairs, marketing and business operations. Block, who earned his bachelor's and master's degrees in management and policy analysis in information systems from Carnegie Mellon, currently serves on the World Economic Forum's Information Technology Community as a governor, and on CMU's H. John Heinz III College of Information Systems and Public Policy Advisory Board. In February 2018, Block and his wife, Suzanne, helped establish the Block Center for Technology and Society at Carnegie Mellon, which aims to create meaningful plans of action to ensure emerging technologies can be harnessed for social good, are more inclusive and improve quality of life.
About Martha Pollack
Martha Pollack has served as the 14th president of Cornell University since 2017. Among Pollack's top priorities at Cornell are promoting the university's founding commitment to diversity and egalitarianism, and fostering an inclusive community. She convened the Presidential Task Force on Campus Climate, led the President's Visioning Committee on Cornell in New York City, and initiated substantial changes to policies for fraternities and sororities, designed to end hazing and other serious misconduct, promote safety and encourage responsible leadership. A computer scientist with research expertise in artificial intelligence, Pollack previously served as the provost and executive vice president for academic affairs at the University of Michigan.
About Jim Rohr
Jim Rohr is the retired executive chairman and former chief executive officer of The PNC Financial Services Group, one of the largest diversified financial services companies in the United States. Rohr has played a prominent role in supporting civic, cultural and educational institutions around Pittsburgh, and has served on various boards that enhance the economic and cultural vibrancy of the region. He served on the CMU Board of Trustees for 23 years, before becoming chairman in 2015.
About Corey Cott
Corey Cott is an actor and singer, best known for his performance in the Broadway musicals "Newsies" and "Bandstand." Cott began his acting career as a Carnegie Mellon student, appearing in professional Pittsburgh productions of "Miss Saigon," "Jekyll and Hyde" and "Jesus Christ Superstar." The CMU School of Drama alumnus has appeared on television in "Z: The Beginning of Everything," "The Good Fight," "Madam Secretary" and "Law and Order: SVU."
About Tamara Tunie
Tamara Tunie is an award-winning actor, director and producer whose body of work has garnered international acclaim and shines a light on important social issues. Tunie first came to prominence on the legendary television series "Law & Order: SVU," and has appeared in "As the World Turns," "24," "Better Call Saul," "Blue Bloods," "Billions," "Elementary," "Zoo," "The Good Wife," "Law and Order," "Sex and the City" and "NYPD Blue." She also has had roles in films, such as "The Devil's Advocate." The Pittsburgh native, and CMU Musical Theatre alumnus boasts a storied career in theater as an actor and producer, appearing in a Broadway production of "Julius Caesar" and starting in revivals of "Cat on a Hot Tin Roof" and "Dreamgirls."