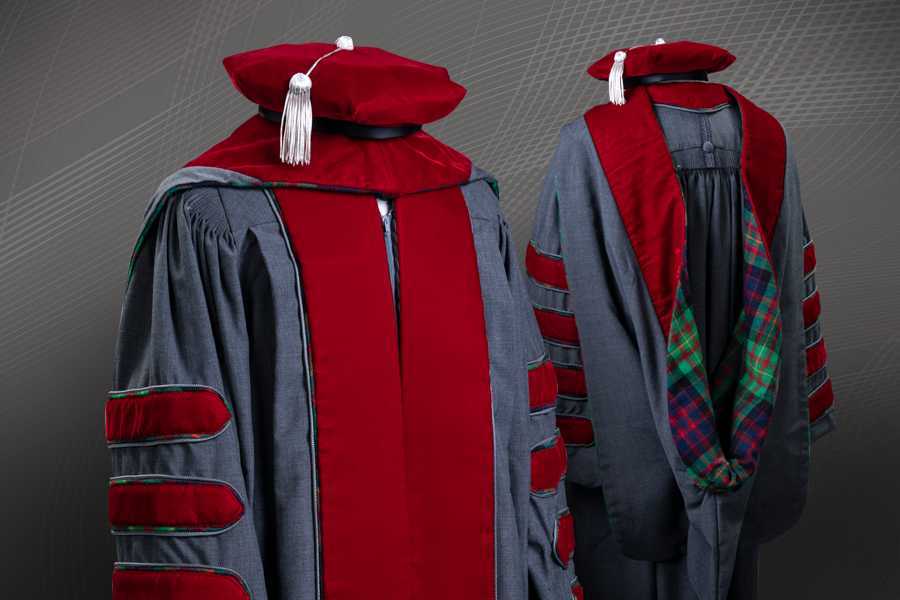 October 24, 2018
Best Dressed: A Look at President Jahanian's Regalia
By Kelly Saavedra ksaavedra(through)cmu.edu
Media Inquiries
Jason Maderer
Marketing & Communications
As the Carnegie Mellon University community celebrates the inauguration of its 10th president, all eyes will be on Farnam Jahanian, who will formally take his place in university history wearing a cap and gown crafted especially for him.
There are many rules when it comes to academic regalia, but aside from the requirement of four horizontal bars on each sleeve to denote the highest university rank, presidents are free to design their own. Jahanian wanted his regalia to be simple and understated, with a gown that reflected CMU's traditions and the university's humble beginnings.
"A president's regalia should be unique," said Kathleen Grace, director of University Stores at Carnegie Mellon, who assisted Jahanian with his choices. "In many institutions, the president's regalia tends to be very colorful because the president should really stand out."
Jahanian's gown is charcoal gray and made of tropical wool fabric, a surprisingly lightweight fabric meant to be more breathable than polyester or a poly-cotton blend.
On each side of the gown's opening are vertical, scarlet velvet panels trimmed in Tartan and gray cording. The panels, which are generally black, are typical of the doctoral degree gown. While faculty typically wear three horizontal bars, the four bars on Jahanian's sleeves, called chevrons, indicate his role as president. Jahanian's chevrons are scarlet velvet to match the panels on his gown and hood and are handsewn on each sleeve.
Jahanian is wearing a doctoral hood that is charcoal gray with scarlet velvet. It is fastened at the back to keep it from slipping off the shoulders. A unique feature of his and all Carnegie Mellon University hoods is the Tartan lining.
A 6-sided tam in scarlet velvet with a silver tassel completes the look.
"I think it's stunning," Grace said. "The colors make him stand out in a classy way."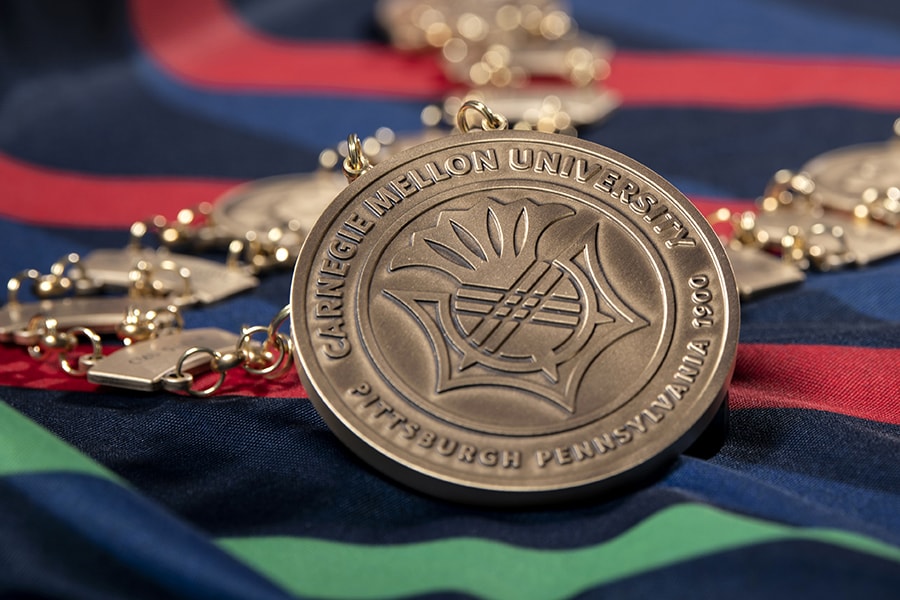 It is a Carnegie Mellon tradition that the president receives a medallion at the inauguration. The university's chain of office, which will be presented to Jahanian during the investiture ceremony, is anchored by a 3-inch medallion bearing the university seal. Weighing in at nearly 3 pounds, the brass medallion with antique finish hangs from a 36-inch antiqued brass ornamental chain.
The chain is adorned with four half-inch brass medals. Two of the medals are engraved with the thistle, the national flower of Scotland. The other two medals feature photographic images of university founders Andrew Carnegie and Andrew Mellon.
Between the medals are 12 curved, brass banners engraved with the names of each of the colleges and schools, the University Libraries and Carnegie Mellon's campus locations around the world. A "president's banner," distinguishable from the other banners by its decorative accent, sits above the medallion and features Carnegie's famous motto, "My heart is in the work."
For the first time in the university's history, the chain of office and medallion are designed to be passed down from president to president.