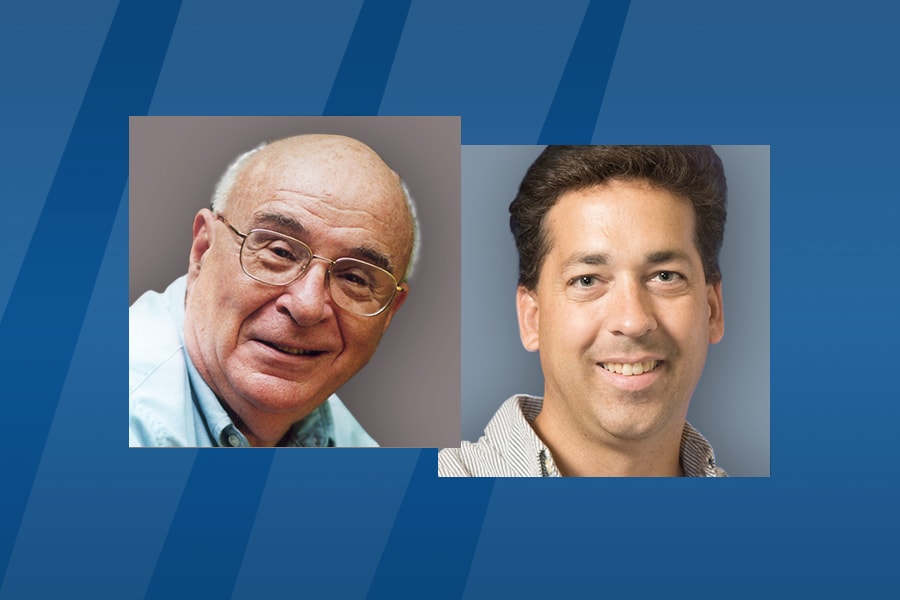 November 27, 2018
Farber, Lowry Elected to AAAS
Media Inquiries
Byron Spice
School of Computer Science
Alexandra George
Carnegie Mellon University's Greg Lowry and David Farber have been selected fellows of the American Association for the Advancement of Science (AAAS).
AAAS is the world's largest general scientific society and publisher of several highly regarded journals, including "Science." Fellows are elected by their peers to honor their scientifically or socially distinguished efforts to advance science or its applications.
Lowry, the Walter J. Blenko, Sr. Professor of Civil and Environmental Engineering at Carnegie Mellon, has been working to advance new environmental nanotechnologies while studying how nanomaterials behave and interact with the environment.
"It is an honor to become an AAAS Fellow," Lowry said. "It is wonderful recognition for the hard work of many students and post-docs who have performed research in my lab over the past 18 years. I am energized by this award and recognition, and I am excited to continue to develop and deploy innovative nanotechnology-enabled solutions to solve society's grand challenges, including providing clean water and making agriculture more sustainable."
Lowry was elected for his distinguished contributions to safe and sustainable use of nanomaterials, remediation methods for contaminated sediments and brines, and mitigation of fossil fuel use impacts. His current research focuses on water quality and environmental nanotechnology, contaminant fate and remediation, and how nanomaterials behave in complex environmental systems. Lowry leads a collaborative research consortium called NanoFARM that studies the effects of nanoparticles on agriculture and how they could be used as fertilizers and fungicides for crops.
Farber's distinguished career spans more than 50 years, including a stint as chief technologist for the Federal Communications Commission. He was the Alfred Fitler Moore Professor of Telecommunication Systems at the University of Pennsylvania's Wharton School before joining CMU in 2002 and is affiliated with the School of Computer Science and the Institute for Software Research. Farber is currently a Distinguished Professor at Keio University in Tokyo and co-director of the Cyber Civilization Research Center.
Farber has made foundational contributions to electronics, programming languages and distributed computing. He also is moderator of the long-running "Interesting People" email list, which focuses on internet governance, infrastructure and other topics he favors. He also is known for his way with words, known Farberisms, such as "another day, a different dollar," and "Don't look for a gift in the horse's mouth."
His work has earned him countless awards and honors, including induction as an IEEE Fellow, ACM Fellow, the 1995 SIGCOMM Award for lifelong contributions to computer communications, and a spot in the Pioneers Circle of the Internet Hall of Fame.
Lowry and Farber will be inducted on Feb. 16 at the AAAS annual meeting in Washington, D.C. They are among 29 CMU faculty members who have been elected an AAAS fellow.