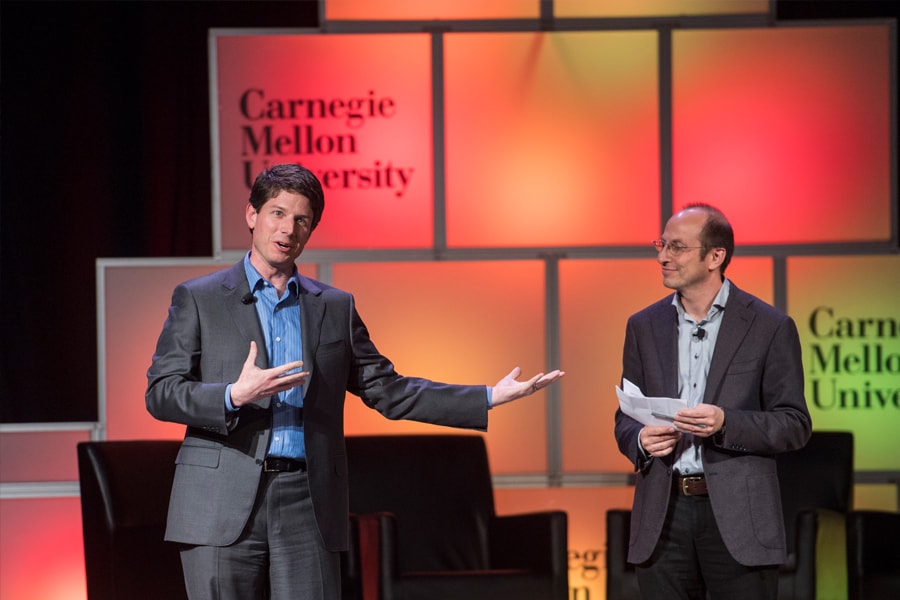 May 10, 2018
Experts Discuss Ethical, Social and Policy Issues of Artificial Intelligence
By Abby Simmons abbysimmons(through)cmu.edu
& Julie Mattera jmattera(through)cmu.edu
Media Inquiries
Abby Simmons
Marketing & Communications
Thought leaders from industry, academia, government and the media gathered to discuss the ethical, social and policy issues surrounding emerging technologies April 9-10 at the first Carnegie Mellon University - K&L Gates Conference on Ethics and AI.
The conference, sponsored by the K&L Gates Endowment for Ethics and Computational Technologies, focused on issues surrounding the equity of access and impact, trust in human-machine relationships, policy and regulation of technological advances, and the potential for technology to empower people.
"We are at the center of an ongoing economic and societal transformation that will continue for decades to come," said CMU President Farnam Jahanian as he opened the conference. "As we embrace the internet of things, unprecedented access to massive amounts of data, and the rise of automation and robotics, we are barreling toward a future run by cyber-enabled systems. While these technologies will enhance our comfort, security and quality of life, their deployment has had unprecedented consequences for our workforce, our education system, for social justice, for fairness and for privacy, and many other aspects of society."
Policy experts debate how to regulate #AI intelligently: https://t.co/mIywnXR3n4 H/T @CarnegieMellon @mldcmu @KLGates #CMUAIEthics #ethicalAI #aiethics pic.twitter.com/ebB3olsR2J

— Alan Boyle (@b0yle) April 11, 2018
James R. Segerdahl, global managing partner of K&L Gates, said ethics will be important to consider as technology advances.
1st @CarnegieMellon & @KLGates Conference on Ethics and #AI was a great success! Fascinating discussions around the impact and ethics of #EmergingTech. pic.twitter.com/66HqcYAZ9x

— K&L Gates LLP (@KLGates) April 10, 2018
"We can see that a critical dimension to many of the choices that will have to be made, whether implicitly or explicitly as technology is developed, is the ethical dimension. This is going to be important as our policymakers grapple with difficult issues as time goes on," Segerdahl said. "We all have a stake in the outcome of these discussions."
Segerdahl said the conference honored CMU and K&L Gates' commitment to further the understanding of the opportunities and the challenges presented by the evolving role of technology in society, including that of AI, machine learning and robotics.
Eric Horvitz, technical fellow and director of Microsoft Research Labs, delivered the K&L Gates Distinguished Lecture. Throughout the talk, he referenced the writings of CMU's late Herbert Simon, a pioneer in AI and cognitive science, who he first encountered as an undergraduate student.
"We have an ethical imperative to apply AI to the best that we can to save lives and to raise the quality of life, where we can," Horvitz said. "We're facing some very tough problems, and I want to talk about 'satisficing' — one of Herb [Simon]'s words. He said that professional responsibility is not to discover the laws of the universe, but to act responsibly in the world by transforming existing situations into more preferred ones."
Listening to @erichorvitz talk about his AI hopes and fears was humbling. We must account for machine trust, human values, and potential misuse whilst building computational systems #cmuaiethics

— Umang Bhatt (@umangsbhatt) April 9, 2018
Funding from the K&L Gates Endowment for Ethics and Computational Technologies also created two new professorships, which were awarded during the conference. Illah Nourbakhsh, professor of robotics and director of the CREATE Lab, received the K&L Gates Professorship in Ethics and Computational Technologies and Molly Wright Steenson, associate professor of design, received the K&L Gates Career Development Professorship in Ethics and Computational Technologies.
Congratulations to @maximolly @cmudesign for becoming first K&L Gates Career Development Professor in Ethics & Computational Technologies #CMUAIEthics pic.twitter.com/pax5sATfIO

— Dan Lockton (@danlockton) April 9, 2018
Nourbakhsh served as a co-chair of the conference with David Danks, head of CMU's Philosophy Department and the L.L. Thurstone Professor of Philosophy and Psychology.
Additionally, the conference included talks by the inaugural K&L Gates Presidential Fellows from Carnegie Mellon: Veronica Marotta, a doctoral student studying information systems and management; Abigail Marsh, a computer science doctoral student; Allanté Whitmore, a doctoral student in civil and environmental engineering and engineering and public policy; and Zachary Wojtowicz, a social and decision sciences doctoral student.
CMU, in partnership with K&L Gates, will host the conference every two years, alternating between its Pittsburgh campus and other cities around the world.