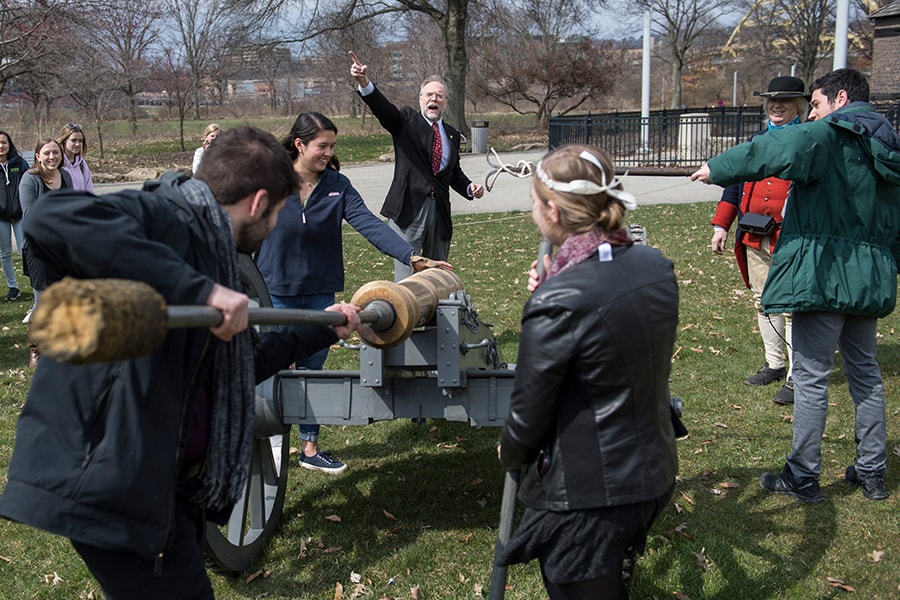 May 02, 2018
Museum Executive, Alumnus Shares Hands-on History Lessons
By Stefanie Johndrow stef(through)cmu.edu
Media Inquiries
Stefanie Johndrow
Dietrich College of Humanities & Social Sciences
Carnegie Mellon University alumnus Andrew E. (Andy) Masich knows a thing or two about history.
The president and CEO of Pittsburgh's Senator John Heinz History Center — a Smithsonian affiliate and Pennsylvania's largest history museum — shared his expertise with students through his new course "Public History: Learning Outside the Classroom."
A historian and scholar, Masich received his Ph.D. in history from CMU in 2014 and wanted to show students that there are meaningful careers in history beyond the classroom.
"While talking to students in the History Department at CMU, I was asked about my work at the Heinz History Center," Masich said. "They wanted to know how academic historians differ from public historians and then were surprised to learn that we can explore history in many ways."
Throughout the course, students have taken behind-the-scenes tours of museums, field trips to public places and have explored archaeology, exhibitions, food traditions, monuments, films, oral history, living history demonstrations, publications and social media.
"The History Department has truly been delighted to offer 'Public History' this semester to our students," said Donna Harsch, professor of history and head of the department. "The course provides a variety of unique opportunities to learn history outside the classroom, and it builds creatively on the department's long tradition of pioneering new approaches to researching, packaging and disseminating the ever-changing history curriculum."
She added, "We're fortunate indeed to collaborate with an innovative teacher and scholar like Andy Masich to make this pedagogical adventure available to Carnegie Mellon students."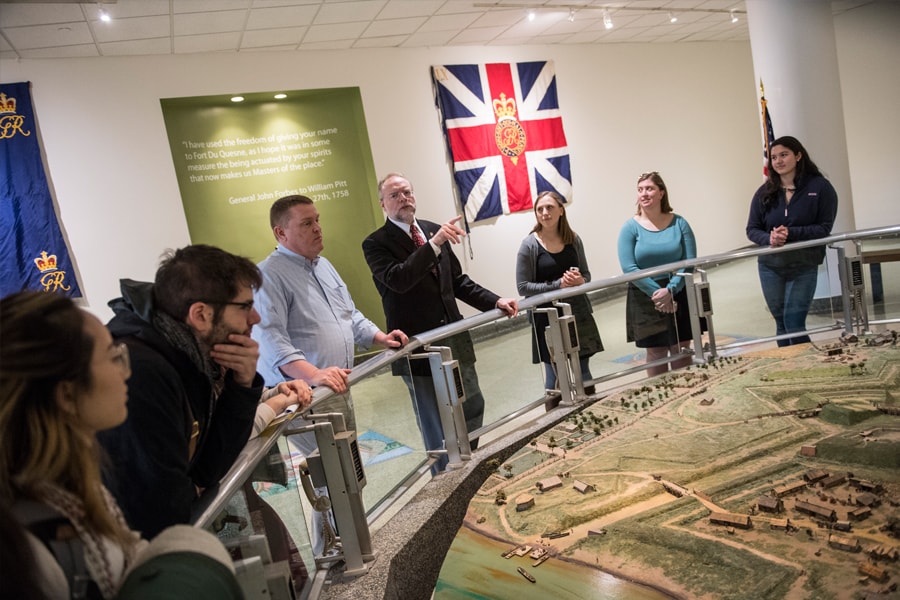 Students have taken behind-the-scenes tours of museums and field trips to public places.
Getting a firsthand look at Pittsburgh's past has been impactful for Hadrian DeMaioribus, a sophomore majoring in social and political history.
"It's an amazing opportunity to explore beyond campus into the world of public history," DeMaioribus said. "The challenges and theory behind public applications of history absolutely add a richness to my academic courses."
At the Fort Pitt Museum, students experienced proper procedures for firing a cannon and hand-washing clothes.
"My favorite part of the course has been diving into Pittsburgh's history from so many different perspectives with so many different professionals," said Rebecca Kern, a senior majoring in information systems. "Even though I'm from Pittsburgh, I've still learned so much that I didn't know and have gotten to explore places that I've never been."
Maggie Edwards, a senior majoring in ethics, history and public policy, said she has a greater appreciation for all that goes into maintaining museums.
"One thing I have taken away from this course is the value that museums bring to their visitors," Edwards said. She said that the love museums staffers have for their work helped emphasize how important sharing history with the community is.
The class visited the Fort Pitt Museum where they learned how Fort Pitt has shaped the course of American and world history. At the museum, students got to experience proper procedures for firing a cannon and hand-washing clothes.
"As I wrap up my undergraduate career, this experience was the pinnacle of an incredible four-year journey," said Grace Dzina, a senior history major. "I leave the course each week inspired and eager to walk the streets of the city, eyes peeled for symbols denoting stories of the past. There is a richness to the built landscape that I simply didn't comprehend the depth of before, and I am all the more curious to engage and learn about the origins of what has endured into the present."
As a former student and now an instructor, Masich said he is drawn to the CMU community.
"There is an energy and excitement at CMU that's driven by smart people, from all over the world, engaged in different disciplines and cutting-edge research," Masich said. "The chances for cross fertilization of ideas is tremendous - and that's exactly what Andrew Carnegie hoped for when he got the ball rolling over 100 years ago."
He added, "If you want to make a difference, Pittsburgh is the place to be."