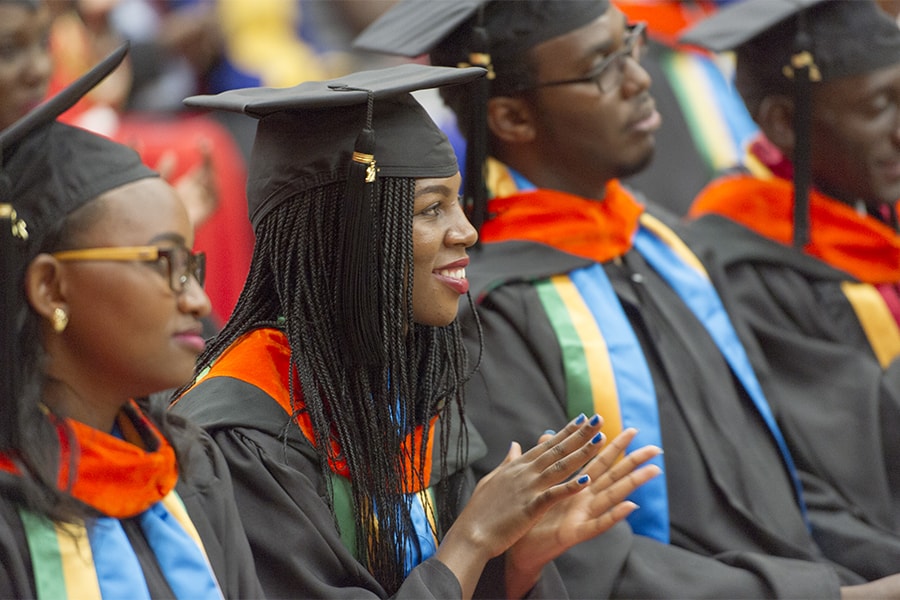 May 29, 2018
Carnegie Mellon University Africa To Celebrate Fifth Graduation Ceremony
Graduates are fueling Africa's digital revolution
By Tara Moore tararaemoore(through)cmu.edu
Media Inquiries
Carnegie Mellon University Africa will celebrate its fifth graduation on Tuesday, June 5, marking another year of advancing technology education in one of the fastest growing economic regions in the world. The 45 students will receive master's degrees in both information technology and electrical and computer engineering.
Since 2011, the campus based in Kigali, Rwanda, has focused on addressing the shortage of information and communication technology (ICT) skills required for Africa to compete in the Fourth Industrial Revolution. Building on the digital revolution, this fourth epic wave is characterized by physical, cyber and biological systems converging to transform the lives and livelihoods of the world's citizens in unprecedented ways. The program provides students with the skills to face regional problems so they are uniquely positioned to respond to the demands of Africa's technical revolution.
The students in this year's graduating class worked on a variety of projects and internships that will give them the expertise to be transformative engineers in Africa. These projects ranged from research on language models at the IBM Research - Africa lab in Kenya, to building efficient systems through programming at Rancard Solutions in Ghana. In Rwanda, students worked with the Rwanda Revenue Authority to develop a model to predict the features to be used by the Risk Differential Framework to classify taxpayers.
This ceremony also will mark the graduation of the first cohort of MasterCard Foundation Scholars. Together with their colleagues, they aim to make an impact in their communities, with more than 85 percent of CMU-Africa students working in their home countries after graduation. These include six African countries: Rwanda, Uganda, Kenya, Tanzania, Ghana and Nigeria.
The graduation ceremony will take place at Serena Hotel in Kigali, Rwanda, with Reeta Roy, president and CEO of The MasterCard Foundation, serving as the graduation speaker.