June 20, 2016
CMU Joins MasterCard Foundation To Educate Next Generation of African Tech Leaders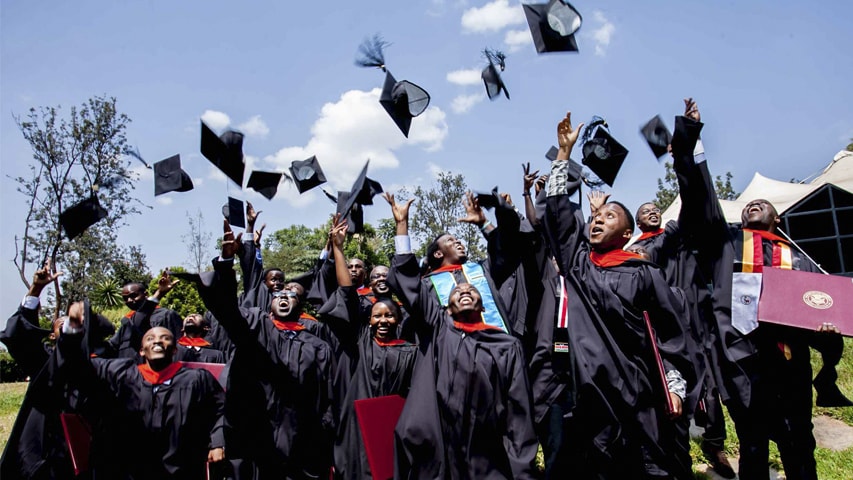 Members of the Class of 2016 celebrate their graduation from Carnegie Mellon in Rwanda.
Carnegie Mellon University's commitment to educating Africa's next generation of technology leaders and entrepreneurs received a boost today with a $10.8 million commitment from The MasterCard Foundation. This new partnership, which will be established at Carnegie Mellon's College of Engineering program in Kigali, Rwanda, will benefit 125 academically talented but economically disadvantaged students from Sub-Saharan Africa as part of The MasterCard Foundation Scholars Program.
Carnegie Mellon will join a global network of 23 scholars program partners, comprising educational institutions that are committed to developing Africa's young leaders. These scholars will go on to use their knowledge and skills to lead change in their communities and contribute to meaningful transformation across the continent.
Since 2011, Carnegie Mellon University in Rwanda has contributed to enhancing the quality of the engineering workforce in Africa. This effort has addressed the critical shortage of information and communication technology (ICT) skills required for Africa to compete in the Fourth Industrial Revolution, in which physical, cyber and biological systems converge through information, computing and communication technologies to transform the lives and livelihoods of citizens around the world in unprecedented ways.
The talented graduates of Carnegie Mellon in Rwanda play a strategic role in Africa's trajectory, leveraging ICT to digitally leapfrog socio-economic development across the continent. With transformative support from The MasterCard Foundation, Carnegie Mellon will be able to multiply its impact on higher education and the ICT sector in Africa, as part of the Rwanda Government's vision to create a Regional Center of Excellence in ICT and to serve as a technological hub for the region.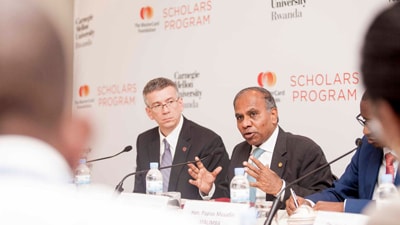 CMU President Subra Suresh makes a point during the partnership announcement in Kigali, Rwanda. At left is College of Engineering Dean Jim Garrett.
"We are excited to partner with Carnegie Mellon University in Rwanda, an exceptional institution committed to training the next generation of African engineers, innovators and entrepreneurs to meet pressing global challenges," said Reeta Roy, president and CEO of The MasterCard Foundation. "Investment in STEM education is pivotal to Africa's future and will ensure that African nations have the opportunity to identify, develop and deploy their wealth of talent."
By offering globally recognized degree programs in ICT to 125 students from lower-income families in Africa, Carnegie Mellon will have impact in three ways: first, this program will dramatically expand future career options for each of the scholars; second, it will be an essential educational and research resource underpinning growth and development of the technology sector in Africa; and third, alumni and faculty will benefit from Carnegie Mellon's resources for supporting entrepreneurship and innovation. The MasterCard Foundation Scholars Program at Carnegie Mellon in Rwanda will attract a diverse mix of scholars from Rwanda and the rest of Sub-Saharan Africa, with a priority on increasing the enrollment of women.
"With this generous support from The MasterCard Foundation, we can multiply the impact of our program in Rwanda and educate a new cohort of exceptional engineers who will become catalysts for Africa's digital transformation," said CMU President Subra Suresh. "CMU shares the foundation's commitment to elevating intellectual and economic vitality around the globe, especially in developing regions. Students attending Carnegie Mellon in Rwanda receive a world-class education that enables them to become leaders in Africa's growing innovation ecosystem."
The MasterCard Foundation Scholars Program will provide holistic student support, including comprehensive scholarships, leadership development, volunteerism and industry-driven career services — developing highly skilled, transformative leaders to catalyze Africa's digital transformation. The program will start in fall 2016 and conclude in 2023, underscoring the importance of establishing long-term education programs in Africa.
Research underway at Carnegie Mellon in Rwanda also takes a long-term approach. The faculty understand that to address Africa's technology needs, students require time to analyze and solve problems in the context in which they occur. Research at Carnegie Mellon explores critical topics relevant to Africa: wireless networking, mobile applications, energy systems, cyber security, agriculture, financial services and telecommunications.
The partnership announcement was made on June 20 during Carnegie Mellon's graduation ceremony, when 24 students received master's degrees in information technology and electrical and computer engineering. CMU President Suresh, and Jendayi Frazer, a member of the Board of Directors of The MasterCard Foundation, attended the graduation ceremony. To date, the program has graduated 70 students hailing from Rwanda, Kenya, Uganda and the United States. The vast majority of these graduates are working in their home countries, making an impact in the private sector, government and academia, and the rest are pursuing the creation of startup companies as well as doctoral programs.