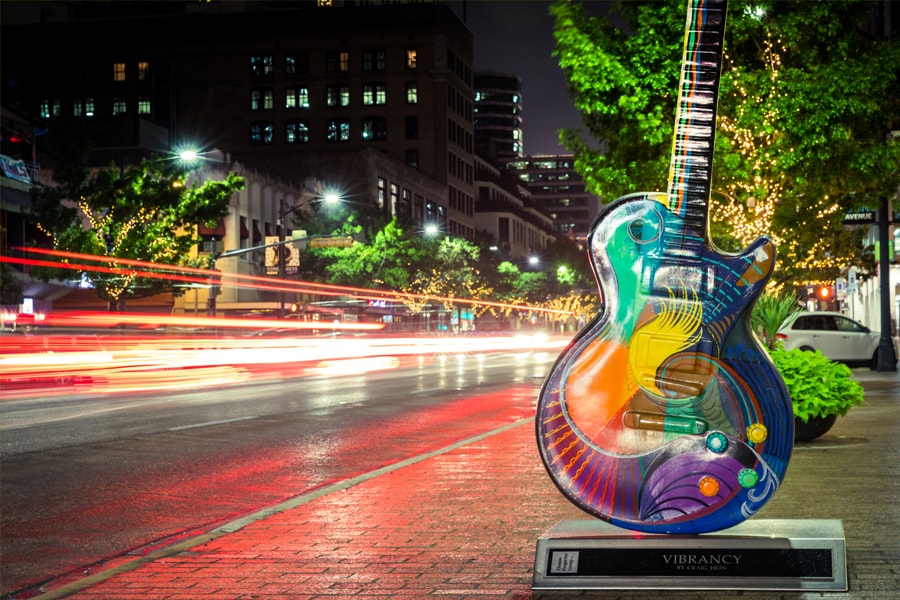 March 09, 2018
CMU Students, Researchers, Entrepreneurs Head South by Southwest
By Laura Kelly laurak(through)andrew.cmu.edu
Carnegie Mellon University students, faculty and alumni will be among the thousands descending onto Austin, Texas, for South by Southwest (SXSW) 2018. From panel discussions to CMU-specific programing, Carnegie Mellon will touch a wide range of topics SXSW is focused on this year.
The Masters of Entertainment Management (MEIM) program, which is a joint program between the Heinz College of Information Systems and Public Policy and the College of Fine Arts, is once again creating exclusive content for their first-year students, who attend SXSW as a part of the program's curriculum.
Paul Luckenbaugh, a graduate student in the program, is interested in the way social media influencers transition to film and music.
"A lot of influencers go on to do other things in more traditional media. There will be a panel (at SXSW) with two influencers, Tyler Oakley and Hanna Hart. Hanna, for example has done TV and film." 
For the first time this year, the MEIM program is creating programing for students who have a specific interest in music.
"This past year we just launched a music track in the MEIM program. In the past, the focus has been on screen-based media, but I kept getting so many music students interested in the program, that we went ahead to start this music concentration," said Dan Green, director of MEIM. "Students still take the core classes, but they know they have the chance to take electives focused on the music industry."
"A lot is changing because the music industry is going very digital, which is really big," said Valentine Banor, a MEIM student. "Revenue and profits come into mind, as things are changing as to how people are getting paid. I'm looking forward to sitting in on those panels to hear what the experts have to say."
Faculty and alumni presentations will cover topics including artificial intelligence and cybersecurity.
Ari Lightman, a professor of digital media and marketing in the Heinz College, will present "Welcome to the 'Internet of Threats'" along with alumni Earl Crane and John Gift, and Tom Pageler.
The panel will discuss how to protect data while remaining productive.
"I hope (the panel) gets the audience thinking about the ethical and moral challenges associated with widespread IoT (internet of things) deployment," Lightman said. "There is unbridled enthusiasm to connect everything to everything including the cloud and be able to interact with them through different interfaces, but what are the risks weighed against the utility that the new interaction/technology provides?"
George Kantor, a senior systems scientist in the Robots Institute, will present "AI Will Help Feed a Growing Planet." In the presentation, Kantor will discuss the research being done to feed the future planet, which is currently projected to have a population too large to feed by 2050.
"There will be about 9.6 billion people in the world by 2050," said Kantor, who heads the Farmview project. "If you look at the way that yields are increasing, they're not increasing fast enough to feed 9.6 billion people."
Kantor's research brings together robotics, sensor technology and machine learning to improve yield.
"We can grow more food with less water and less land," he said.
Carnegie Mellon also will participate in the Startup Crawl, the kickoff pre-party of SXSW hosted by The Capital Factory.
Joshua Baer, CMU alumnus and founder and managing director of The Capital Factory, had a knack for entrepreneurship since college.
"It was pledge week my freshman year and I was sitting on a wall on Morewood Avenue at a fraternity event and an upperclassman asked me what I wanted to do when I graduated. I said, 'You know, I think I want to work for myself.,'" Baer said.
Baer expects up to 20,000 to attend this Startup Crawl.
"With so many big companies coming to Austin for SXSW, it's hard for local startups to get noticed. This gives them that chance," he said.
Additional alumni presentations will take place throughout the festival, and a complete schedule of events can be found below.
CMU Speakers