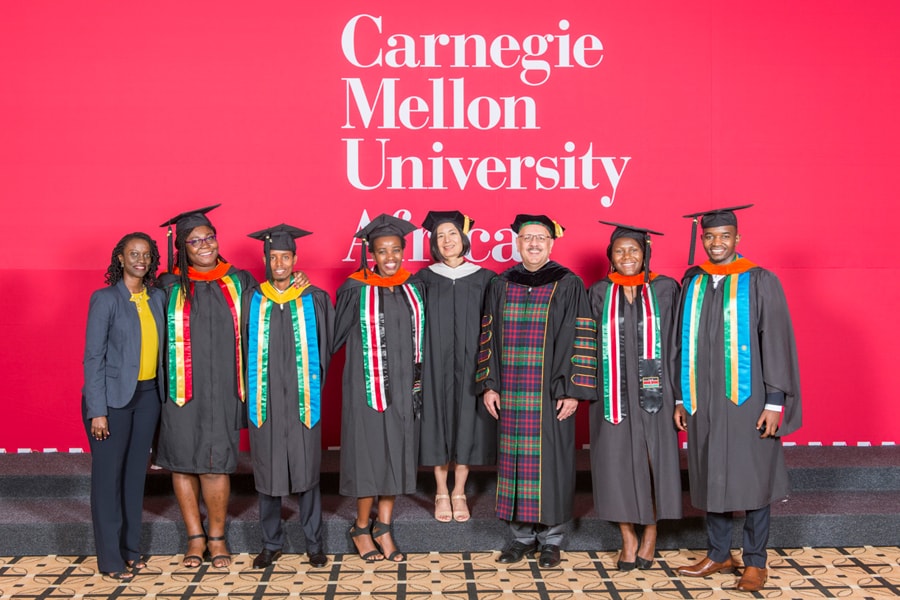 June 05, 2018
CMU-Africa Graduates Poised To Engineer the Future
By Tara Moore
Media Inquiries
Carnegie Mellon University in Africa held its fifth graduation ceremony June 5 in Kigali, Rwanda, where forty-five students from Rwanda, Uganda, Kenya, Ghana, Nigeria and Tanzania received master's degrees in information technology and electrical and computer engineering that will help them play a significant role in advancing Africa's information and communications technology infrastructure.
"You are graduating at a pivotal time for humanity. Today, the acceleration of digital technologies and automation is causing unprecedented societal disruption — not just here in Africa, but around the world," said CMU President Farnam Jahanian. "Never has life been more complex or so full of potential — and more in need of CMU graduates like you."
CMU-Africa's alumni have joined top doctoral programs around the world and are raising the profile of research on the continent.
"Every time I visit the region, I continue to be excited about the future of Africa, our role in educating the next generation of African leaders, and your role in delivering this exciting future," said James H. Garrett, Jr., dean of Carnegie Mellon's College of Engineering.
This year's ceremony marked the graduation of the first cohort of Mastercard Foundation Scholars at CMU-Africa. In 2015, CMU-Africa partnered with The Mastercard Foundation, which committed $10.8 million to benefit 125 academically talented and economically disadvantaged students from Sub-Saharan Africa.
The first graduating cohort of CMU-Africa's Mastercard Foundation scholars comprises five students from Rwanda, Ghana and Kenya.
Keynote speaker Reeta Roy, president and CEO of The Mastercard Foundation, applauded the graduates.
Another step towards advancement of knowledge & technology in Africa. Happening is 5th graduation ceremony @cmu_africa with 45 graduates of masters in IT, electrical & computer engineering. Congs! #CMUAfricaGrad in #Kigali pic.twitter.com/908FfgtAbC

— Emmanuel Hategeka (@ehategeka) June 5, 2018
"You will define the future of work in Africa. We are counting on you to dream up the solutions to problems and the new models that will create the knowledge economy of the future. Expect to be challenged and expect to meet resistance. When that happens, take it in stride, be bold, be brave, and be fearless. For Africa to advance, we need fresh air, fresh thinking and your fresh spirit."
The guest of honor at this year's graduation ceremony was Hon. Isaac Munyakazi, minister of State for Primary and Secondary Education. The minister praised CMU-Africa's diversity, noting that current students come from 10 different countries in Africa, with Rwandan students accounting for roughly 50 percent of the student population and with women accounting for 34 percent of the students.
"Use the skills and knowledge you have gained not only in your own future careers, but also in the support of the future of Rwanda and the region as we continue to develop towards our future knowledge-based economy," Munyakazi said.
Among the attendees celebrating the graduation was U.S. Ambassador to Rwanda Peter Vrooman.
Honored to witness 🎓 of 45 Master of Science in IT & Master of Science in Electrical Engineering @cmu_africa in #Rwanda with CMU President Farnum Jahanian & Director Vijaykumar Bhagavatula. 34% of grads are Women! pic.twitter.com/IRb6ic2OdU

— Ambassador Peter Vrooman (@USAmbRwanda) June 5, 2018
During the ceremony, two students received the Lakshmi Subramanian Student Excellence Awards, which were presented by Interim Provost Laurie Weingart. The Student Excellence Award for the Master of Science in Information Technology program was presented to Fred Otieno and the Student Excellence Award for the Master of Science in Electrical and Computer Engineering program was presented to Gifty Buah. Graduating student Brian Otieno also was recognized at the ceremony as the second recipient of the Jeremiah Mpagazehe Rising Researcher Award, which was established in honor of the late alumnus and faculty member.
"To quote Charles Dicken's 'A Tale of Two Cities,' 'It was the best of the times, it was the worst of times," said Aggrey Muhebwa, the 2018 student speaker. "But if you asked most CMU students, we would tell you that we would do it all over again because the whole experience teaches you to look at the world from a different perspective. CMU teaches you to challenge the status quo."
Jahanian urged the students in his closing remarks about their importance in finding solutions to Africa's unique challenges.
"Today, you take the first steps towards turning your passion, creativity, ingenuity, and fearlessness into a lifetime of societal impact, personal fulfillment, and professional success," Jahanian said. "I'm truly excited for you. And I'm excited for the future, which you hold in your hands."