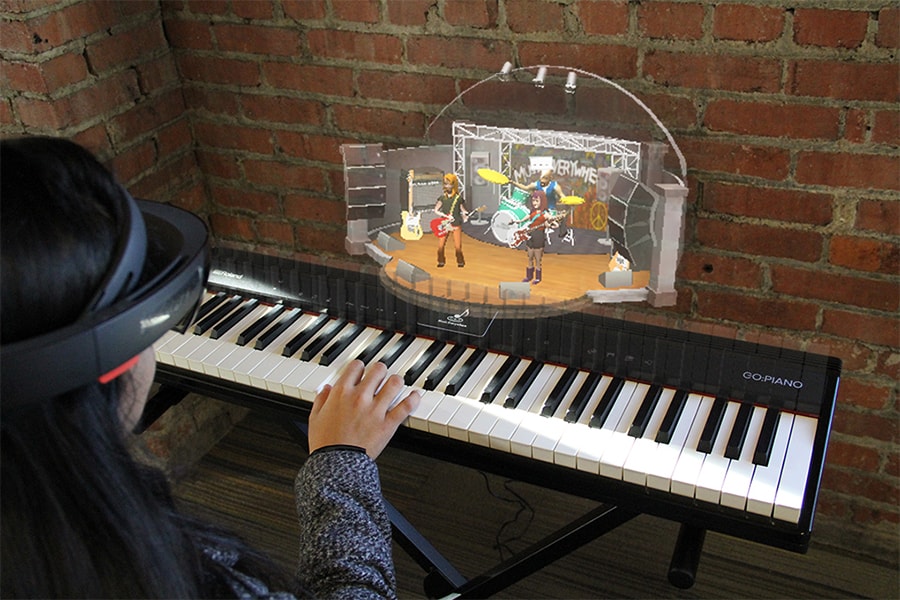 January 25, 2018
Prize-Winning Music App Widens the "Playing" Field
By Kelly Saavedra ksolman(through)andrew.cmu.edu
A team of alumni from the Entertainment Technology Center at Carnegie Mellon University won the $100,000 grand prize in Microsoft and Unity's HoloLens competition with their app-turned-CMU-spinoff Music Everywhere.
Music Everywhere is a piano learning tool that engages people through augmented reality.
Unlike virtual reality, in which users cannot see the real world while wearing the head-mounted gear, augmented reality is similar to wearing a pair of eyeglasses. It allows users to see their hands while virtual musicians atop a real piano instruct them with key highlights and indicators in a fun and instantaneous learning experience.
Last year, the team demonstrated a prototype at conferences in San Francisco, Los Angeles and Copenhagen.
"We were flooded with people wanting to try it out," said Seth Glickman, the company's CEO and music director. "We watched people who never had a music lesson, and within a few minutes, they were having a legitimate musical experience. You could see the joy in their faces. That was extremely rewarding."
Fu Yen Hsiao, Music Everywhere's visual designer, created the system's user interface and all of its animated characters. Byunghwan Lee, the team's software engineer, developed the system's infrastructure and functionality.
Overwhelming interest in the prototype led the team to form a startup company around the app after they graduated in 2017. They garnered support from CMU's Project Olympus and AlphaLab, Pittsburgh's nationally ranked startup accelerator, which helped them to, among other things, identify their target audience.
"We don't want to replace the piano teacher. Our goal is to reach the people who are not already engaging with music — the people who may have taken piano lessons at some point in their lives and stopped, or people who have never touched a piano — and open up that world to them, again or for the first time," Glickman said.
Glickman began playing piano when he was 3 years old, and has since added double bass, flute, clarinet, tenor sax, mandolin and guitar to his repertoire. He believes music offers a unique way for people to connect with each other, and he is driven to inspire people to include music in their lives.
Although he returned to graduate school 15 years later than most students, he said he realized quickly that the ETC program was the right place for him at the right time, given the nature of the program, its access to cutting-edge technology and the department's invaluable faculty mentorship.
"We would not have been able to do this anywhere else," Glickman said. "The beauty of the ETC program at Carnegie Mellon is that after an intense first semester of learning, the rest is all about group project work. The essence of the program, or what Randy Pausch used to call the 'head fake' or what you really learn at the ETC, is how to successfully integrate your skills as an artist, or a musician, or a computer programmer with someone else's skills in a field different from yours to create something one person could not make on their own."
Until technology like the HoloLens becomes more affordable for consumers, the team intends to capitalize on its success and set up installations of Music Everywhere in various locations around Pittsburgh.
"We are looking at schools and senior centers, places where people have the extra time and the interest in learning but perhaps don't have the access to something like this," Glickman said. "I am personally interested in locations like senior centers, where Music Everywhere would be purposeful and bring a lot of joy and education to that community."
They also will work on raising the funds to continue developing the app.
"We have a lot of work we want to do with regard to additional content and expanding to other instruments. We'll be looking for investors who understand that the future for Music Everywhere is only two to three years away, and it's better to be first and have the best product out there than to arrive late," Glickman said.