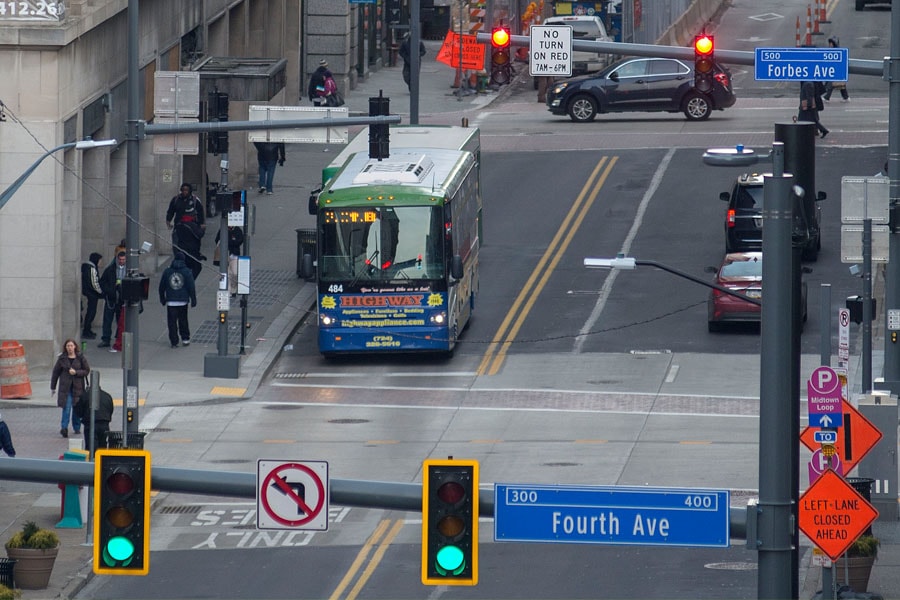 February 28, 2018
CMU To Host Smart Cities Conference, March 2
Media Inquiries
Abby Simmons
Marketing & Communications
University's Metro21 Smart Cities Institute uses technology and policy innovations to enhance city life
Carnegie Mellon University will host a one-day conference on March 2 to formally launch the Metro21: Smart Cities Institute, a university-wide effort for research, development and deployment of solutions to improve the quality of life in communities.
The institute addresses issues such as traffic congestion, pedestrian safety, road infrastructure, energy efficiency, law enforcement, health care, fire prevention, and air and water quality. Originally founded as a university initiative in 2014, the elevation of Metro 21 to an institute positions it to leverage its resources and partnerships for greater impact.
"Metro21 and its partners have played a critical role in establishing Pittsburgh as a global model for innovative cities," said CMU Interim President Farnam Jahanian. "Thanks to our strengths at the nexus of technology and humanity, CMU is generating real-world solutions to the evolving needs of our cities — including enhancing the delivery of city services, increasing the resiliency of urban infrastructure, and encouraging greater access and inclusion."
Working with the philanthropic community, corporate partners, the City of Pittsburgh, Allegheny County, and state and federal agencies, Metro21 has produced successful outcomes that other cities are implementing.
"Metro21 brings people, technology and policy together to shape the smart and connected cities of the future," said Ramayya Krishnan, dean of the Heinz College of Information Systems and Public Policy.
"Our problem-solving approach harnesses the expertise of researchers across the university to deploy technologies and models that can be utilized worldwide," said James H. Garrett Jr., dean of the College of Engineering.
The March 2 event will include panel discussions and presentations from CMU faculty and partners, focusing on Metro21's future plans to accelerate its real-world impact and potential. A full schedule is available at https://www.cmu.edu/metro21/conference/metro21institute.html.
Jahanian; Rich Fitzgerald, Allegheny County chief executive; Karina Ricks, director of mobility and infrastructure for the City of Pittsburgh; and Grant Oliphant, president of The Heinz Endowments, will deliver opening remarks.
Raj Rajkumar, Metro21's director and the George Westinghouse Professor of Electrical and Computer Engineering, will provide an overview of the Smart Cities Institute.
David Roger, president of the Hillman Family Foundations, will be the featured speaker at lunch.
Scheduled panel discussions include:
Smart Cities Research and Education
Deans from across the university will discuss CMU's approach to interdisciplinary research and education where people, technology and policy intersect.
The Science of Smart Cities
CMU faculty members will present their scholarly perspectives on how the science of smart cities can be constituted and realized.
Smart Cities Public-Private Partnerships
Panelists will discuss the role of public-private partnerships in creating financial models for investing in smart and connected cities.
The conference will conclude with an interactive poster session featuring smart cities projects from faculty and students.