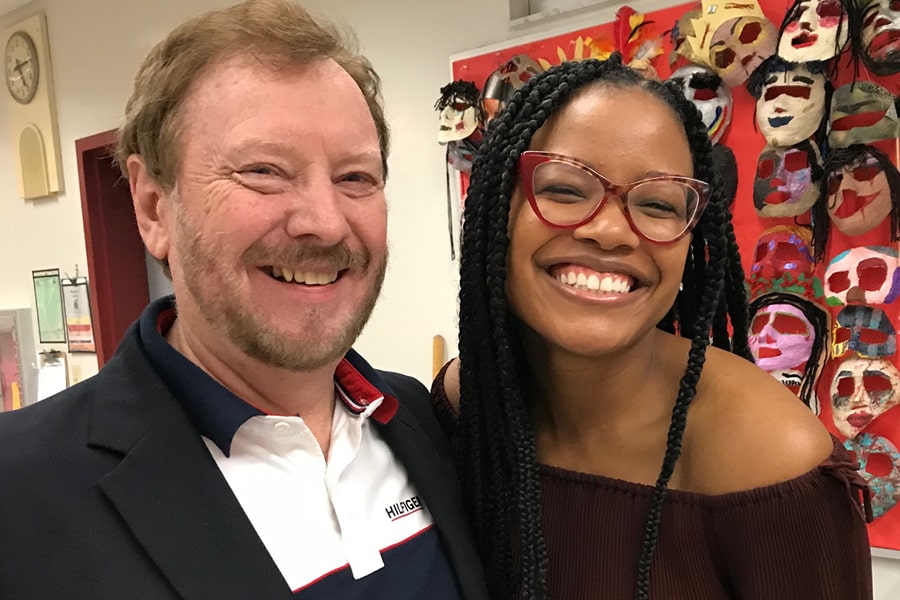 December 04, 2018
CMU Presents Drama Master Class to Florida Students
Class is perk for Theatre Education Award winner Melody Herzfeld
By Pam Wigley pwigley(through)andrew.cmu.edu
Media Inquiries
Melody Herzfeld continues to reap the benefits as the
recipient of the Excellence in Theatre Education Award
(EITEA) at the 2018 Tony Awards.  
As part of her prize, Herzfeld, drama teacher at Marjory Stoneman Douglas High School in Parkland, Florida, hosted Carnegie Mellon University School of Drama Professor Don Wadsworth and CMU alumna Chante Adams, who presented a master class to Herzfeld's students in mid-November.
It was the first time a master class was offered to an EITEA winner's school.
About 50 students took part in the two-day master class, in which Wadsworth presented interactive instruction on such topics as dialect, Shakespeare and how to prepare for auditions.
Adams, a 2016 CMU graduate who starred in the Netflix original film "Roxanne Roxanne," provided her perspective on the importance of arts education and answered students' questions about her path from high school to CMU to professional actor. A native of Detroit, Adams was a student of the 2016 EITEA recipient, Marilyn McCormick.
"This was a wonderful experience, and I'm grateful to Carnegie Mellon and the Tony Awards for all that they've done for me, as the 2018 winner, and for my students," Herzfeld said. "Having this class allows them to see that the things they learn here can take them on to the next step in their education and in their careers. I think it really helps to prepare the serious students for what comes next."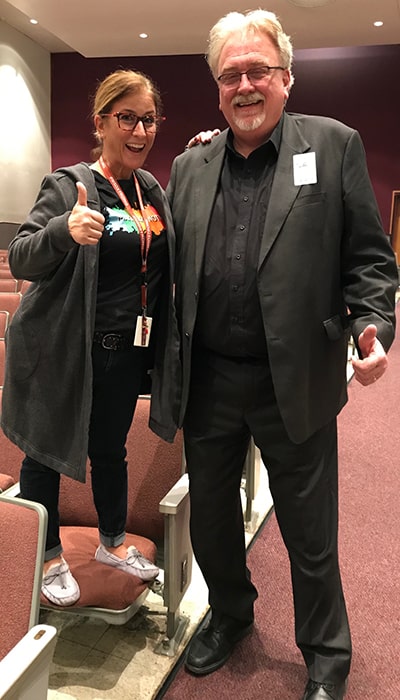 The master class came at a time when Herzfeld's students were preparing for a drama competition in Florida. Many students shared their planned auditions with Wadsworth and Adams, who offered constructive criticism aimed at helping the students fine-tune their performances.
"They're amazing," Wadsworth said. "It's terrific to see how much they care about their work. The arts have become an outlet for young people to express themselves, at a time in our world when they truly need that outlet."
Adams, who will serve as a primary ambassador for this year's EITEA, traveled from the West Coast to be part of the class experience.
"It was such an honor working with the students," she said. "I absolutely loved being there!"
As a Carnegie Mellon ambassador, Adams will help to promote the EITEA submission process, encouraging people to recognize a theater arts teacher who has positively influenced their lives — whether they have gone on to pursue study or a career in the entertainment industry.
"I was a student at Cass Technical High School in Detroit, and Ms. McCormick was a huge influence on me. She introduced me to Carnegie Mellon, and she was the first person I told about getting the lead role in 'Roxanne Roxanne,'" Adams said. "Through the EITEA, people can thank the teacher who helped them, and it's a wonderful way to highlight their hard work."
In addition to the award that will be presented at the Tony Awards in New York City in June 2019, the EITEA winner receives a cash grant for his/her theater program, tickets, travel and accommodations to the Tonys, the CMU master class and two scholarships for students of their choice to attend CMU's School of Drama Summer Pre-college Program in 2020.
"It has been an amazing experience," Herzfeld said. "I have shared this award and its benefits with so many people, especially my students. It means so much to me that a former student, Monica Andrews, submitted my name. To know that I played a role in shaping her future is so powerful, so meaningful. That's what teaching is all about."
Through the partnership with the Tony Awards and Carnegie Mellon, the Excellence in Theatre Education Award was created to help recognize a K-12 theatre educator in the U.S. who embodies the highest standards of the profession and demonstrates a positive impact on the lives of students, advancement of the theatre profession and a commitment to excellence. The winner is announced at the annual Tony Awards ceremony in New York. The 2019 Tony Awards will be held Sunday, June 9 at Radio City Music Hall in New York.