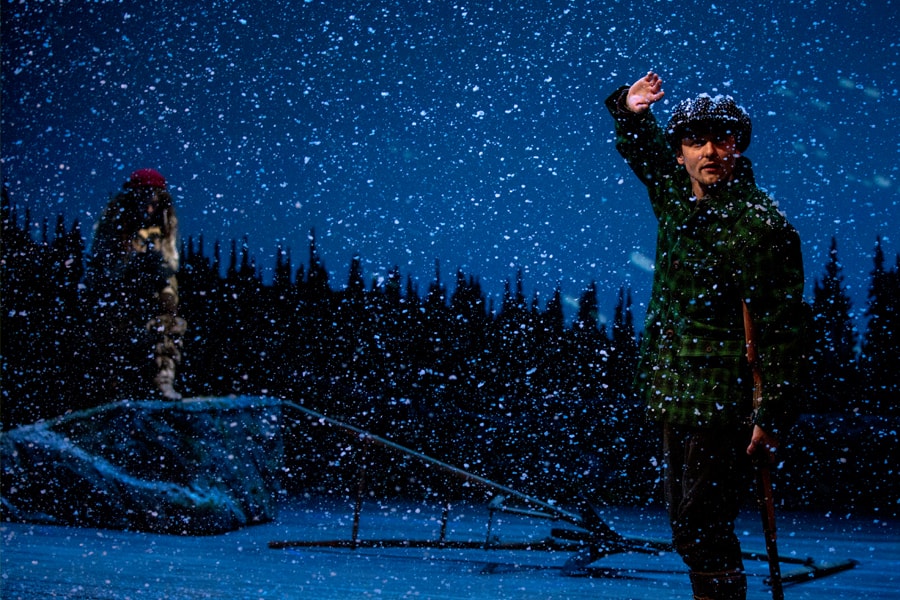 August 28, 2018
Krause Steals the Spotlight Behind the Curtain
By Katie Booth
Media Inquiries
While many pursue theater for the starring roles, Carnegie Mellon University alumnus Joel Krause thrives behind the scenes.
Krause graduated in 2008 from CMU's School of Drama  with a master of fine arts in production technology and management. As director of production for Arena Stage at the Mead Center for American Theater in Washington, D.C., he facilitates a team of managers, technicians and artisans to figure out how to turn a director's ideas into reality.
Krause's job is part stage-tech, part budgeting and part management, but it's all about creating a whole that is greater than the sum of its parts.
"I think the thing that really hooked me," Krause said, "was the level of creative problem-solving - steering a group of people away from living in the problem and sort of blowing things open."
In production, they needed a table where the audience could see the actors despite being seated on a platform.
The crew dove into how to build this table, what the design would look like and how to do it on their already-pressed schedule. Krause took a step back. "Is this something we could rent?" he wondered. He pictured narrow tables used in seminars.
At CMU, Krause learned these problem-solving skills though student-run productions, and the mentorship that emerged through them.
David Holcomb, the School of Drama's production manager, explained that his goal in these productions is to give students as much autonomy as they can handle. It's an opportunity for a teacher to shift away from simply imparting knowledge and toward guiding students to take on more independence.
"I'm going to help you figure out how to learn for yourself," Holcomb said of his approach.
Holcomb said mentorship is baked into the School of Drama. Because many of the faculty members have had significant professional careers in theater, they understand that working collectively is a necessity - and they bring that value to CMU.
After working with Krause during his first year, Holcomb recommended him for a summer job at the Williamstown Theatre Festival. Three years later, Krause became the festival's production manager. In that role, he was able to bring on new CMU students, paying forward the mentorship that he found with Holcomb.
"There's always going to be a transition in moving from an educational environment to a professional environment," says Krause. "Mentoring really provides the opportunity to share my experience as a professional with someone who is entering that world."
And these mentorships are microcosms of the work as a whole. After all, production management is about guiding a group of people to work with care, innovation and grace. At its center is a shared devotion to an intensely collaborative form. It's a job in which Krause thrives.
"I enjoy the fact that every day is different," he said. "There's always a new challenge.... There's always a new problem to solve."