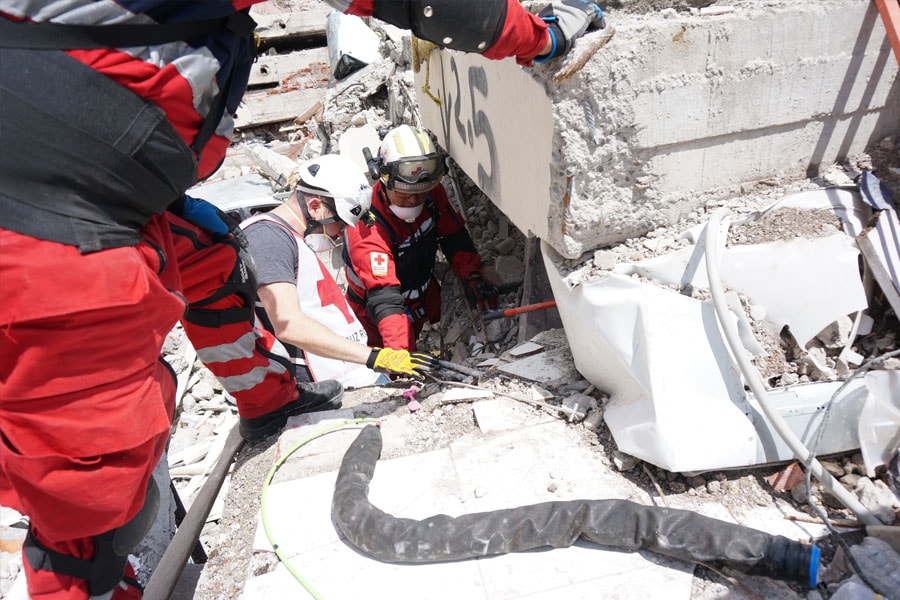 September 27, 2017
Carnegie Mellon Snake Robot Used in Search for Mexico Quake Survivors
Multi-jointed rescue robot gets first experience in live disaster
Carnegie Mellon University researchers last week deployed a snake-like robot to search for trapped survivors in a Mexico City apartment building that collapsed in the 7.1-magnitude earthquake that shook the city Sept. 19.
The multi-jointed snakebot provided rescue workers with a video feed from two different passes through the rubble, but did not find any survivors, said Matt Travers, systems scientist in CMU's Robotics Institute.
"We had hoped our robot could in some small way reduce the tragedy that occurred in Mexico City," said Travers, who is co-director of the Biorobotics Lab that developed the snakebot. "The robot performed well and the Mexican Red Cross workers with us said they would like to have a similar tool in the future."
Urban search-and-rescue has long been considered a possible application for the snakebot, and last week's deployment marked the first time it had been used during an actual disaster. Until then it had been tested only in simulated disaster settings.
Howie Choset, a professor of robotics who has led the development of snake robots for more than two decades, said the experience in Mexico City was valuable in demonstrating the robot's capabilities and in identifying additional qualities that will be necessary to make the robot a useful search-and-rescue robot.
Travers, along with Julian Whitman, a Ph.D. student in robotics, and Nicolas Zevallos-Roberts, an artist-in-residence in the Biorobotics Lab, traveled to Mexico City at the invitation of Guillermo Alberto del Moral Rondero, a Mexico City entrepreneur, and the Mexican Red Cross. They worked in conjunction with the Mexican Red Cross for the four days.
"The snake robots developed by the Biorobotics Lab are amazing and unique in their capabilities," said Andrew Moore, dean of the CMU School of Computer Science. "What happened in Mexico City over the past few days, I believe, is just the beginning of what will someday be a heroic story for robots. I'm particularly impressed by the energy, enterprise and bravery displayed by Matt, Nico and Julian in getting our robot into some very dangerous places."
In addition to the collapsed apartment building, where three people supposedly were unaccounted for, Travers said the CMU team was taken to a number of other sites where authorities thought the robot might be useful, but the apartment building was the only place where it was actually used.
 "It was a lot of 'hurry up and wait,'" Travers said, "which is something that all of the rescue workers encountered. A crucial decision is when operations switch from search-and-rescue to recovery because that's when they bring in the heavy equipment and buckets and the robot is of no use."
The team used a modular snake robot that is two inches in diameter and 37 inches long and tethered to a control and power cable. Its body consists of 16 modules, each with two half-joints that connect with corresponding half-joints on adjoining modules. The head of the robot includes lights and a video camera.
The robot body has 16 degrees of freedom, enabling it to assume a number of configurations and to move using a variety of gaits. Some are similar to a snake's natural undulations, but others take advantage of the robot's unique mechanical characteristics, such as its ability to roll.
In addition to urban search-and-rescue, snakebots can move through and around pipes, giving them potential applications in surveillance and inspection of nuclear power plants and other industrial plants. The robots also have been tested for archaeological exploration.
For the robots to be most useful in earthquakes and other disasters involving collapsed buildings, future snakebots should be equipped with sensors to detect gas leaks in the rubble, and should have both microphones and speakers to aid in finding and communicating with trapped survivors, Travers said.
Choset said the Mexico City experience underscored the need for additional funding to build new and improved robots. The robot used last week is more than 10 years old, he noted, and "is on its last legs, even though it doesn't have any."
"This robot performed admirably," Choset added. "But this experience has shown how much work and further development we still have to do."
Initial funding for this robot came from the National Center for Defense Robotics and the Defense Advanced Research Projects Agency, with additional support from the National Science Foundation.