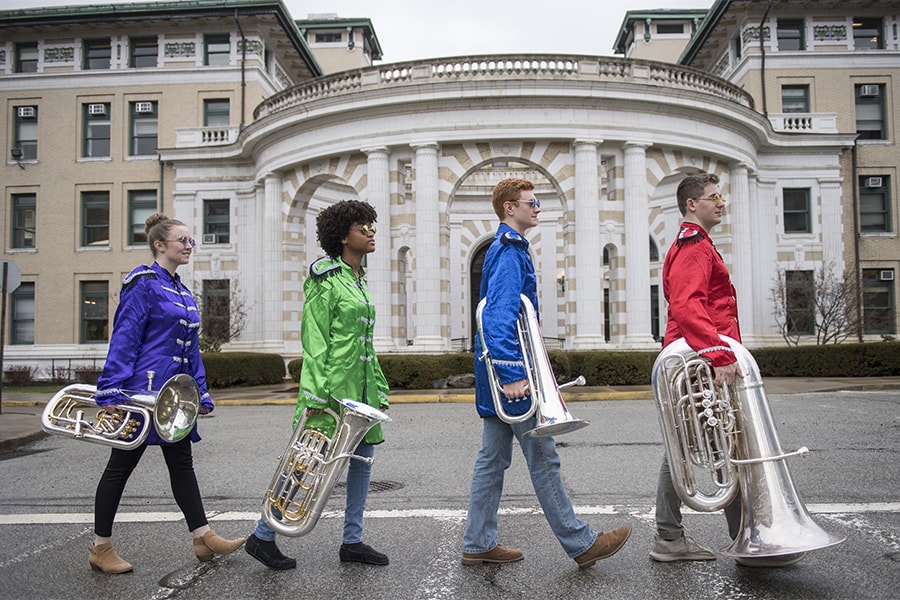 April 13, 2018
Musicians Create Beatles Concert with a Little Help From their Friends
By Emily Rybinski-Benish erb17(through)andrew.cmu.edu
Media Inquiries
Emily Rybinski-Benish
Pam Wigley
When Lance LaDuke began brainstorming how his Tartan Tuba Band could help celebrate Carnegie Mellon University's 50th anniversary at Spring Carnival, he knew it had to be something fun and unexpected. And what could be more unexpected than a tuba and euphonium ensemble covering The Beatles "Sgt. Pepper's Lonely Hearts Club Band," an iconic album that CMU students would have been listening to 50 years ago?
"Two-thirds of each semester is spent going deep on very difficult and challenging repertoire. We then spend a third of the semester doing something that's more outward-facing and more fun," said LaDuke, director of the band. "It is no secret that being a student at the college level is very intense. I firmly believe that if I can provide an outlet for them by bringing some joy and fun to the thing they are studying, then I am doing those students a favor. It's an indication that life is more than work."
The Tartan Tuba Band is composed of 12 students, six of whom have contributed arrangements from the "Sgt. Pepper's" album for the Spring Carnival performance. First-year euphonium master's degree student and Tartan Tuba Band member Abigail Lannan said the arrangement process has been simpler than she expected it to be. Lannan said the students started by considering the essential elements of each song and then arranging music for the instruments in the band.
"We work together and, eventually, it comes out sounding the best that it can. It has been a lot of fun," Lannan said.
LaDuke said he has been very impressed with the quality of the arrangements being produced by the students. Even though this performance is about fun, he said there is an educational element to the project.
"Not only are they figuring out how we will play these tunes, but they are also learning about event production," LaDuke said. "How far in advance do we need to plan? What kinds of questions do we need to ask? Who's going to handle the set-up? Interpersonally, they are learning about how to tell our friend that we're not crazy about an arrangement. It is exposing students to the sorts of challenges that they will experience as pros, but giving them a safe environment to go stretch and try things they might not ordinarily be asked to do."
Singers, guitarists, a bagpiper and other instrumentalists will join the Tartan Tuba Band to perform the concert. Sophia Masterson, a sophomore voice major, is looking forward to collaborating with an instrumental group with which she does not usually have the opportunity to perform. Masterson said she is hopeful the audience will sing-a-long, tap their feet and appreciate how unique the song covers will be.
"I've never sung with a bunch of tubas, so this experience should be really cool," Masterson said.